The Natural Stone Institute has announced a year-long partnership with Architectural Record to present the Natural Stone Academy, an interactive continuing education platform featuring articles and webinars about natural stone. Architects, designers, and stone industry professionals can take courses in the Academy to earn CEU credits. Individuals who complete all courses will receive a special badge.
There are seven courses available in the Natural Stone Academy, covering the following topics: anchorage systems for natural stone cladding, specifying natural stone, residential design, landmark design, design strategies, the enduring allure of working with natural stone, and the NSC 373 sustainability standard.
Since launching in September, over 1,500 individuals have completed courses through the Natural Stone Academy.
The Natural Stone Institute would like to thank the following companies who have sponsored this program: Alamo Stone, Camarata Masonry Systems, Ltd., Coldspring, Egymar International, International Marble Company, LLC, Lurvey Supply, North Carolina Granite Corporation, PICCO Engineering, Polycor, Raducz Stone Corporation, and Rugo Stone LLC.
To access the Natural Stone Academy, visit www.naturalstoneinstitute.org/academy.
###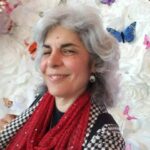 Editorial Director and Senior Writer for TileLetter and TileLetter ARTISAN
Lesley Goddin has been writing and journaling since her first diary at age 11. Her journey has taken her through a career in publishing and publicity, landing her the editor position of TileLetter and its special publications in 2006. Her goal is to educate, inspire, recognize and encourage those in the tile industry -- especially the tile and stone contractor. Other interests include the soft, purring marvels known as cats, labyrinth walking, drumming and percussion, and a range of spiritual, musical and artistic pursuits.