"Cultivate the habit of being grateful for every good thing that comes to you, and to give thanks continuously. And because all things have contributed to your advancement, you should include all things in your gratitude." 
– Ralph Waldo Emerson
---
My autumn feels a bit off balance. Why? I missed being with you all in Grapevine, Texas last month at the Total Solutions Plus conference. Family medical matters needed my attention, but I kept track online and on social media, and even called in to a planning meeting one day. I look forward to seeing you all at one of the trade shows and conference in 2019!
Those of you who did attend Total Solutions Plus undoubtedly engaged in a lot of discussion about qualified labor and the lack thereof, as well as training, apprenticeship and ways to recruit new tile setters into the fold. NTCA has always been synonymous with training, from the early days of the "road shows" – but association leadership is taking it to a new level with NTCA University's Apprenticeship programs. Not only that, NTCA is working with the Department of Labor to offer curriculum for acceptance as a nationally-recognized Tile Finisher Apprenticeship Program and Tile Setter Apprenticeship Program that will combine online education, classroom lessons, and on-the-job learning. NTCA is developing resources for its members to announce and promote these training opportunities in high schools, technical and trade schools and career awareness programs. In fact, take a look at Becky Serbin's NTCA University Update this month, which goes into more detail about this process.
In this issue, we also take a peek at Five-Star Contractor Visalia Ceramic Tile and their recognition for offering an apprenticeship program using the NTCA resources. This program added the skills and knowledge basis in the construction trades in Tulare County and the city of Visalia.
NTCA's Director of Technical Services Stephanie Samulski had a presence at the triennial BAC/IMI national trowel trades competition that put the book and practical knowledge of 13 apprentices to the test. The apprentices won local and regional competitions in order to qualify for this stringent competition administered by the International Masonry Training and Education Foundation (IMTEF).
And those of you who attended Coverings in Atlanta earlier this year may have ogled the stunning Mercedes-Benz Stadium – home to the Atlanta Falcons – not far from the Convention Center. In our cover story, go inside the impressive structure and learn about the intricacies of installing 20,000 sq. ft. of porcelain tile in this LEED Platinum building.
Finally, it being November, it is customary to contemplate our blessings and abundance as we ramp up to Thanksgiving. I'm grateful to be involved in an industry packed with passion, craftsmanship, creativity, dedication and pride and to be working for an association that reflects the same. Our staff has expanded this year and I'm grateful for the fresh skills and perspectives our new hires bring – as well as the longstanding work of existing staffers and incredible support from our volunteer members through our board and our State Ambassadors.
What are you grateful for? Send me an email and celebrate your abundance!
God bless,
Lesley
[email protected]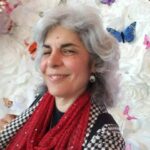 Editorial Director and Senior Writer for TileLetter and TileLetter ARTISAN
Lesley Goddin has been writing and journaling since her first diary at age 11. Her journey has taken her through a career in publishing and publicity, landing her the editor position of TileLetter and its special publications in 2006. Her goal is to educate, inspire, recognize and encourage those in the tile industry -- especially the tile and stone contractor. Other interests include the soft, purring marvels known as cats, labyrinth walking, drumming and percussion, and a range of spiritual, musical and artistic pursuits.