The Southern Arizona Construction Career Days (SACCD) were held on Nov. 2 and 3, 2022 in Tucson, Ariz. at the Kino Sports Complex. And Tucson-based Mourelatos Tile Pro – a longtime NTCA member – made a strong showing at the event to help raise awareness of tile setting in the construction trades among students considering their career path.
Career Days began in 2014 for students in middle school and up. As the SACCD website at saccd.org states, "This event is designed for educators to provide career exploration for their students within the construction industry, including trades, infrastructure, utilities, engineering, design, architecture and more. The industry understands the way to introduce the students to these careers is best done with interactive and hands-on activities."
Mourelatos Tile Pro Owner John Mourelatos – who is also an NTCA Ambassador – and Lead Installer Ed Siebern contributed a booth to the building construction section of the event. This booth was set up with a cutting board to show students how to score and snap tiles, and then install them onto Schluter KERDI boards to create a mosaic of the SACCD logo.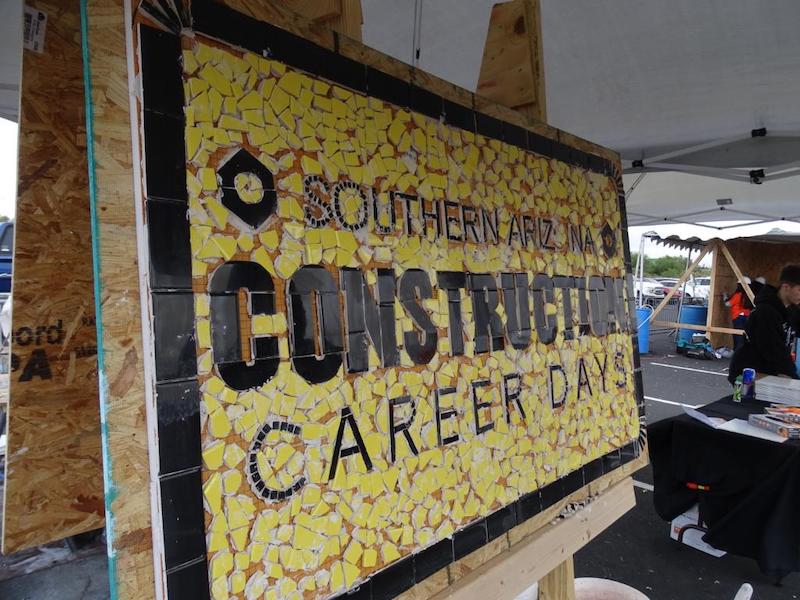 It took Mourelatos a lot of brainstorming to figure out a way to provide hands-on learning for students that was convenient. Since tile is heavy and expensive, the materials had to be minimized; he came up with the mosaic idea as an easy way for students to still experience setting tile with mastic.
Mourelatos wanted to bring light to the creative and artistic feel of tile within the construction trade.
"It can be very artistic, and that's why I thought the kids would enjoy it," he said. "And, in fact, it seems like the young female students are the ones that want to come back and set tile over and over again."
Since there isn't a lot of awareness of the tile industry among the youth, not a lot of them are involved in it – yet.
"In our trade especially, there's a lot of older people," Mourelatos said. "I don't see a lot of younger people come into the trade, and that's why it was important for me to bring tile to [SACCD] – so we can participate and have younger people enter our trade," he said.
Introducing young people to tile early on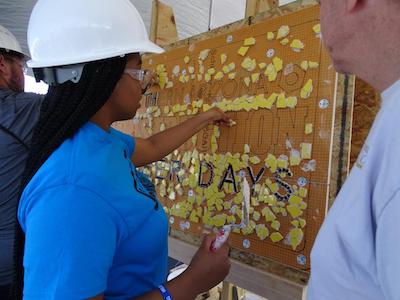 Tile setting takes a lot of practice, so it's good for young adults to be exposed to it early on.
"Tile is something that takes years to learn and master. For example, you can get hired on as a tile helper and it may take three or four years before you're setting tile, before you get to that level," Mourelatos said.
Ramon Gaanderse birthed the idea of the Southern Arizona Construction Career Days back in 2013. When Mourelatos came to him with the idea of incorporating tile, he liked the idea of providing kids an opportunity to learn about it.
"Kids love doing it and it gets them all involved," Gaanderse said.
One bonus is that the other businesses like to keep the mosaics and hang them in their shops.
"It's a combination of kids getting to participate in setting tile and some sponsors getting to keep the projects," Gaanderse added.
Gaanderse acknowledges that most people think of the big machinery when thinking of construction, trades – like tile – are often overlooked.
"It's another wonderful trade that is not talked about a lot. Most people think of all these huge things and big equipment instead of tile," Gaanderse said.
Student takeaways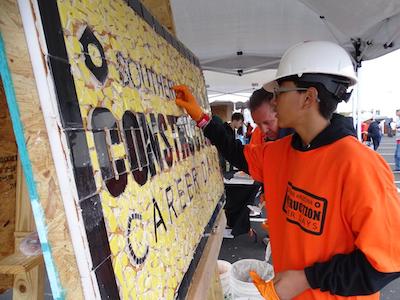 Madison Bullock was a student that participated in the tent for Mourelatos Tile Pro. She is appreciative of the creativity of the trade.
"It was fun and colorful," she said.
Another student, Joseph Shaffer, respects the hard work that goes into trades such as the tile business.
"I have a family that's very hard working, and that's what influenced me and made me interested in tile," he said.
Mourelatos Tile Pro's involvement in the Southern Arizona Construction Career Days would have been very difficult if it weren't for the Southern Arizona Home Builders Association (SAHBA), and the involvement of Daltile and Schluter. Mourelatos approached these two businesses to provide setting materials, tile, and KERDI board for the students to use – and they were happy to help.
"With the help of all those donations, we were able to make it happen," Mourelatos said.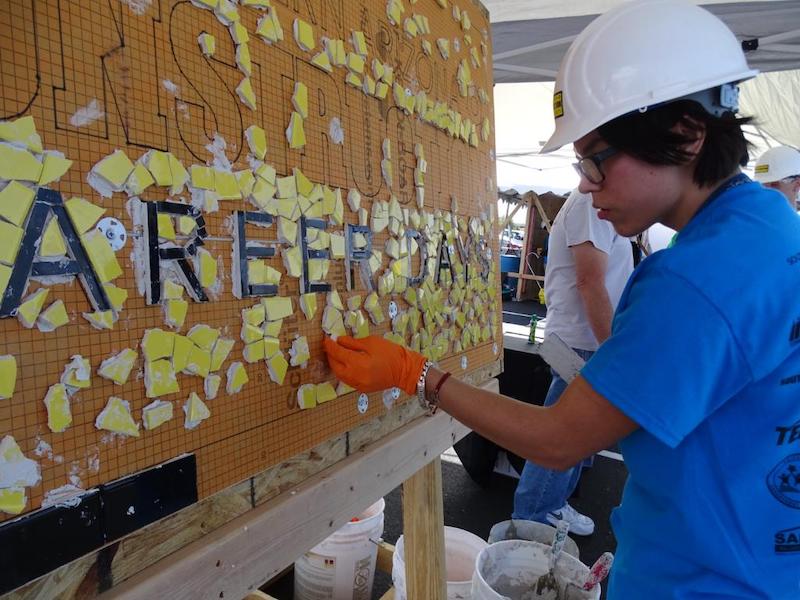 Amanda Mourelatos, daughter of John Mourelatos, Owner of Mourelatos Tile Pro, is a 19-year-old student in her second year at the University of Arizona in Tucson, Ariz., where she is majoring in journalism with a communications minor.