The National Tile Contractors Association (NTCA) recently announced its 2021 Tile Setter Craftsperson of the Year Award in both the residential and commercial categories.
The commercial winner is Gary Fox, of Fox Ceramic Tile in St. Marys, Kans., while the recipient in the residential category is Jay Cerda of Cox Tile in San Antonio, Texas.
Both winners were recognized during the NTCA Annual Meeting at Total Solutions Plus, in Jacksonville, Fla., in late October.
Judges who scored nominees in the competition included residential judges Matt Blood, Paragon Tile and Shannon Huffstickler, Schluter Systems, and commercial judges Adam Abell, Bostik, and Kent Klaser, Klaser Consulting.
Judging criteria for the awards included the following factors:
15 years or more setting tile, and continuing to set tile as part of job today
Technical correctness of tile installations 
Craftsmanship/artistry 
Ability to resolve tile installation problems 
Self-improvement/continuing education 
Mentoring/leading others 
Fox was nominated for the award by Kevin Fox, Owner and President, Fox Ceramic Tile, while Cerda was nominated by John Cox, Owner, Cox Tile. Both winners hailed from NTCA Five-Star Contractor member companies.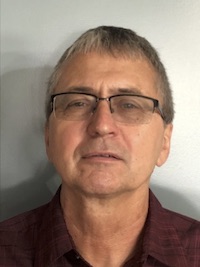 Gary Fox, Fox Ceramic Tile
Gary Fox is more than an outstanding craftsman, industry veteran, and friend to Kevin Fox – he is also his uncle, who entered the trade at 14, launched his career after graduation and was already running his own commercial projects in his early 20s. Gary works on Kevin's team today, and Kevin calls Gary his mentor "and a true leader within our company and industry."
Kevin credits all of the most profitable and major company accounts to Gary's efforts over the years. He lauds his contribution to the company culture of demanding outstanding installations from everyone in the company, and the way he has led by example over 45 years. Kevin says Gary excels also when dealing with challenging personalities.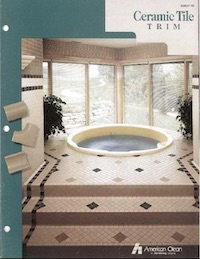 A senior foreman since 1992, he acted as foreman for the company's 2013 NTCA Five-Star Project of the Year Special Recognition Award and the TEC Imagine Achieve Contractor Contest, Grand Prize. His work was featured on the cover of the American Olean Ceramic Tile Trim catalog in the early 1990s.
He earned his CTI (#649) in 2011, prompting everyone else in the company to follow his lead. "He sets the example for all by the way he conducts himself, both personally and professionally," said Kevin. The number of his enduring projects as an elite craftsman is matched only by his "ability to teach, nurture and grow other exceptional craftsmen to make our industry better and better, year after year," Kevin said.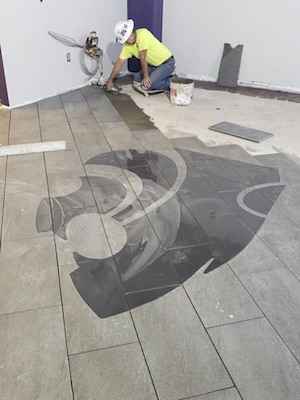 One of Fox's project submissions was KSU Wefald Hall and Dining, completed in Manhattan, Kans., in 2016. The project encompassed 114,000 sq. ft. total, with a 20,000 sq. ft. commercial kitchen and 40,000 sq. ft. for a dining hall with an eight-story dormitory. This fast-paced project was complicated by floors that had extreme elevation differences.
Kevin reported that the university hired a consultant to test all the floors in all facilities for "hollow sounding units" using the Albion Engineering's Rotary Percussion Delamination Detection Tool. When Gary's installation passed without finding any areas of concern, the university thought the testing must have been flawed. The installation was demoed in three areas and the tile came up in tiny pieces, reassuring them that the original test was valid and wowing them with the quality of Gary's work. "Gary's work is not only visually impressive, but it was installed per the standards to withstand the test of time," Kevin said.
Jay Cerda, Cox Tile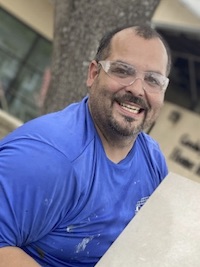 Cerda got his start in the tile industry right out of high school with Cox Tile, transitioning from helper to apprentice to setter to his current title of Master Tile Setter. He is also distinguished as Certified Tile Installer (CTI) #719.
As lead tile setter, Cerda has been instrumental in training many Cox Tile setters, supporting and facilitating their education as they worked with him as helpers. Many have gone on attain their CTI credentials as well. "All our employees look to Jay not only for his positive leadership but for his expertise when it comes to challenging and unique issues," John Cox commented.
Cerda's passion for perfection makes him an essential lead in the company's most complex jobs, and he excels in mudwork for both walls and floors. He has helped the company achieve recognition for the following awards:
2008 and 2010 TileLetter Grand Prize for Residential installation (Apprentice)
2013 Coverings Best Stone Installation for Residential (Apprentice and Tilesetter)
2016 NTCA Five-Star Residential Project of the Year (Head Tilesetter)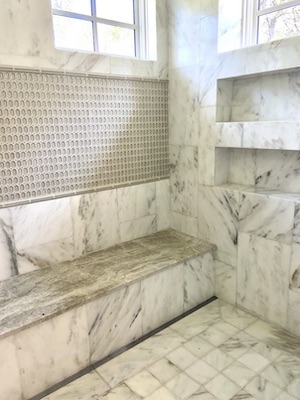 In addition, he worked on the Installation Showcase at Coverings in 2010, which had a tight time frame and limited resources. This experience helped him hone an appreciation for tile's global impact, prompting him to further expand his knowledge and expertise.
He's known for his pursuit of education, attending local seminars and events by suppliers to learn about new products and installation techniques. Not only does he attend every NTCA Workshop and training in San Antonio, he also helps NTCA staff with setup and tear down.
One of Cox Tile's project submissions for Cerda was the 76-ft. long mosaic woodland path at the Children's Bereavement Center of San Antonio, where he addressed the challenges of building the glass mosaic patterns off site and developing a stable way to set, transport, scribe and install those patterns plus the inserts to fit with the meticulously-pieced field tile that made up the path. He also paid close attention to the large undulations already present in the substrate to create a level floor. For details on that project, see the fall issue of TileLetter ARTISAN.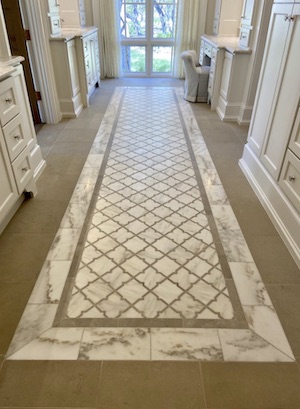 Pictured here is one of the company's largest and very high-profile residential projects, for the CEO of a well-known petroleum company. Cerda worked on many areas of the project but the master bath was his primary focus. The project included radiant floor heating underneath the main floor and shower floor, and a mat installed on the bench. The pattern of a 12"x24" marble required a 50% offset with the long side of the tile being perpendicular to the floor. Each piece had to be set vertically all the way to the ceiling before starting the next row. The pieces were carefully catalogued to turn with each wall change of plane. Two shower niches and two windows were all mitered on each adjoining edge.
The back feature was carefully and dimensionally laid out to not disrupt the lines and keep a seamless appearance. The main floor accent – the focal point of the vanity room – required laying out  the entire floor before installing as the homeowner picked and chose grain pattern and veining to her desire. Cerda and his team spent a great deal of time in the design, layout, and installation, resulting in a flat, seamless floor.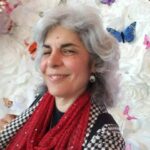 Editorial Director and Senior Writer for TileLetter and TileLetter ARTISAN
Lesley Goddin has been writing and journaling since her first diary at age 11. Her journey has taken her through a career in publishing and publicity, landing her the editor position of TileLetter and its special publications in 2006. Her goal is to educate, inspire, recognize and encourage those in the tile industry -- especially the tile and stone contractor. Other interests include the soft, purring marvels known as cats, labyrinth walking, drumming and percussion, and a range of spiritual, musical and artistic pursuits.