Blue Ridge Tile and Stone carves a niche with excellence and education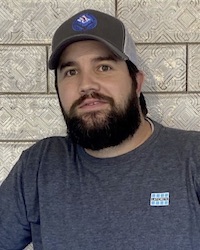 It is said that necessity is the mother of invention. And so it was for Matt Welner, who had worked in the tile industry since he was 15 years old. After marrying, he worked nuclear construction for a South Carolina power plant. But when the job ended abruptly, Welner – and his pregnant wife – were plunged into crisis, losing both income and health insurance.
It was then, Welner fell back on his knowledge of setting tile to carve out a niche in the industry to support himself and his growing family, giving birth to Blue Ridge Tile and Stone in Hickory, N.C. (blueridgetileandstone.com). The company's focus today is on residential renovations and updates, with the lion's share of work comprised by custom showers and bathroom remodels, and periodic new construction.
Blue Ridge Tile and Stone's philosophy is this: "We have always set ourselves apart with the desire to always do better and to be better, never being satisfied with the status quo," Welner said. "We knew we wanted to be a company that people could trust and would recommend to their friends and families. We exhibit that philosophy in how we converse with our clients from our first hello to our final clean up. One of our mottos is 'We treat your home like our own' and we stay true to that."
NTCA: helping Welner be the best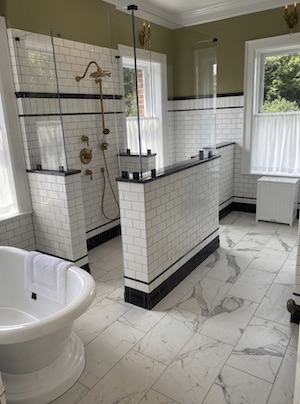 Welner joined NTCA six years ago to set the company up to "be the best at what we do" and distinguish itself from the "average tile guy." Welner noted that, "We value educating tile setters and business owners to benefit all of us in the tile industry. We feel that the NTCA does a great job at promoting the betterment of the industry as a whole and we are proud to be a part of that."
Welner's involvement with NTCA has affected his company's business in many ways – from the contacts he's met that have become friends and mentors, to the encouragement to stay educated on industry standards and new techniques and materials that NTCA fosters.
"It has taught us to care more about the education of all installers/business owners, even our local competition," he said. "If we all raise our standards, then the industry as a whole is elevated. I have really enjoyed partnering with the NTCA from starting out as a member moving to an ambassador and now as the District 3 Regional Director."
And starting next year, Welner is subcontracting with NTCA to be a full-time Regional Trainer to help educate the industry and spread the message about standards and qualified labor. "I am looking forward to working with the NTCA Training Team," he said. "I am excited to share my knowledge and experiences to serve, educate and further the skills of other tile installers. I view this career change as a huge opportunity for me as I continue to grow in my role within the tile industry. I am excited to have the chance to meet many of you at an NTCA event this year." Welner will put his installation business on pause temporarily to concentrate on his new role.
Welner has added to his skills and credentials by becoming a Certified Tile Installer (CTI) #1276. His company – he and one additional installer – "has encouraged and helped many individuals attain their CTI certificates," but unfortunately once they earn their credentials, most go off on their own to do business for themselves, he said.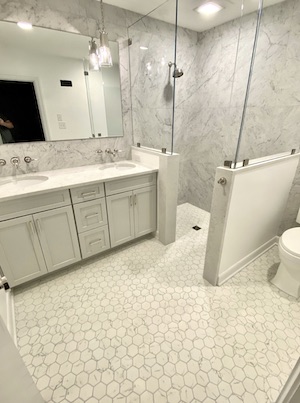 The CTI credential "adds a layer of trust and confidence for our clients knowing that I took the time to learn the correct way of doing things and that we hold ourselves to a higher standard," Welner said. "I have been privileged to be a CTI evaluator for the past few years, and not only have I been able to encourage many to take the CTI test but I have also been able to pass on what I have learned from the experience."
Though the height of the pandemic has made times scary and unpredictable, aside from postponing and rescheduling a few jobs, Blue Ridge Tile and Stone has not suffered much loss. In fact, 2021 is turning out to be a banner year as people, faced with lots of time at home, now are motivated to upgrade their homes. The contractor has instituted precautions like taking employee temperatures, adding sanitation, encouraging employees to stay home if they are sick, and wearing masks on the job if it makes the homeowner more comfortable. "We have not had anyone come down with COVID as a direct result of our job sites or practices," he said. "We have been blessed that our phone has kept ringing and we have a full calendar for the year. Honestly, it has been a bit overwhelming with the amount of calls we have been receiving during this time."
It is a blessing indeed for Welner and his crew to be able to continue their greatest joy in tile setting: "being able to take a client's vision for their home and bring it to life in front of them," Welner said. "There is a lot of satisfaction in a job well done. We love working with our clients' ideas and helping them find the right materials and design to accomplish their wishes. We also enjoy educating clients on the importance of every step we take during their installation and the quality of product we use and the reason behind it."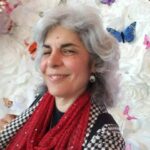 Editorial Director and Senior Writer for TileLetter and TileLetter ARTISAN
Lesley Goddin has been writing and journaling since her first diary at age 11. Her journey has taken her through a career in publishing and publicity, landing her the editor position of TileLetter and its special publications in 2006. Her goal is to educate, inspire, recognize and encourage those in the tile industry -- especially the tile and stone contractor. Other interests include the soft, purring marvels known as cats, labyrinth walking, drumming and percussion, and a range of spiritual, musical and artistic pursuits.