After a long pandemic-related hiatus, NTCA has a robust schedule of free workshops being presented by a training team that is roaming the country to bring free training to your neck of the woods.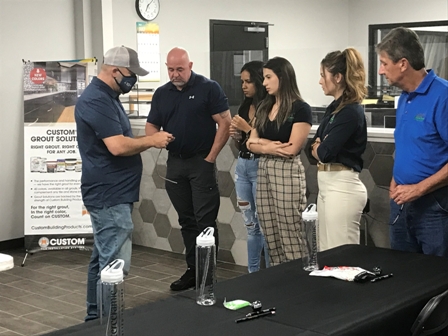 In March, the NTCA Training Team is bringing 13 workshops to various locations, including Indianapolis, Ft. Wayne, Cincinnati, El Cajon, Bakersfield, Fresno, Modesto, Greensboro, Amarillo, Charlotte, Albuquerque, Matthews, and Austin. These workshops are afternoon or free evening events, open to tile installers and contractors, as well as sales personnel and the A&D community – anyone who wants to learn more about standards-based installation practices. They feature networking time, a catered meal, a chance to win useful and valuable prizes, and of course, priceless training from industry pros.
Each NTCA workshop is presented by NTCA Technical Trainers who have been installing tile themselves for many years, and features one of the following topics:
Ins and Outs of Layout for Contractors
Tile Matters – Best Practices for the Pros
Failures – Could it be Me?
Upcoming workshops are planned for:
March 1 – Floor & Décor – Indianapolis,IN
March 2 – The Tile Shop – Fort Wayne, IN
March  3 – The Tile Shop – Cincinnatti, OH
March 7 – Daltile – El Cajon, CA
March 8 – Floor & Décor – Bakersfield, CA
March 9 – Floor & Décor – Fresno, CA
March 15 – Floor & Décor – Greensboro, NC
March 16 – Daltile – Amarillo, TX
March 16 – Florida Tile – Charlotte, NC
March 17 – Floor & Décor – Albuquerque, NM
March 17 – The Tile Shop – Matthews, NC
March 24 – Daltile – Austin, TX
There's no reason to miss out on important training that will help you streamline your business, up your game, and learn best practices that make you a fierce competitor. For full information on each event, click here to visit the Events Calendar under Education & Certification on the NTCA website, where you can register.