"Bourne concentrated on rest and mobility. From somewhere in his forgotten past he understood that recovery depended upon both and he applied rigid discipline to both."
– The Bourne Identity by Robert Ludlum
---
Though 2019 got started last month, the impact of some programs and events aren't really being felt until now. Hopefully by the time you receive this magazine, you will be either at TISE or have recently returned, armed with new industry contacts, and inspired by new product ideas and information gleaned from conference sessions to power you through 'til Coverings!
NTCA has a new configuration of training opportunities for 2019. Over 100 free NTCA Workshops will still be coming to a location near you for three evening hours of camaraderie, good eats, industry information on standards and avoiding failures while offering hands-on demonstrations of new materials and methods. But in 2019, NTCA will visit select cities for a week-long "NTCA Training Experience" that combines a traditional NTCA Workshop open and free to all interested industry professionals, a free regional training event available to NTCA members and their employees, and a free open round table discussion for NTCA members to allow sharing of ideas, challenges, business tips, problem solving tips and more. For details, see Bart Bettiga's story in our Training & Education section. Short of bringing education to your living room (which actually is what the online NTCA University enables us to do!), NTCA is pushing even harder to be sure there is accessible, free training to more areas of the country than ever before. Take advantage of it!
And if you have an opinion, or would like to read those of others, visit our new NTCA Forum, a blog that we just rolled out in January. We'll post articles and information and invite you to share your thoughts.
February hosts National Tile Day on the 23rd. In honor of that, Avia Haynes has penned a story about how the Why Tile initiative is such an important one and how you can tie into it in your business. Be sure to visit TileLetter on Facebook on February 23, to witness the beauty and installation excellence that National Tile Day is designed to celebrate.
If you've been a tile setter for any length of time (or even if you just sit at your desk all day like me), you may be prone to health issues affecting your back. A discussion on the Tile Geeks Facebook group took place about this very topic at the end of December, and members of that group have graciously agreed to share their experiences, tips and comments with the larger TileLetter audience in case their experiences might help a fellow tile setter.
Our Tech Talk article features essential wisdom about installing tile in wood frame structures. This is a story you don't want to miss, especially if you are located on the East Coast where wood-frame homes are common.
Finally, take a gander at our Coverings preview that will give you a taste of what is to come April 9-12 at the Orange County Convention Center in Orlando. There are some changes to this year's offerings that will set the stage for exciting opportunities to learn, connect and be inspired! Hope to see you there!
God bless,
Lesley
[email protected]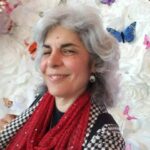 Editorial Director and Senior Writer for TileLetter and TileLetter ARTISAN
Lesley Goddin has been writing and journaling since her first diary at age 11. Her journey has taken her through a career in publishing and publicity, landing her the editor position of TileLetter and its special publications in 2006. Her goal is to educate, inspire, recognize and encourage those in the tile industry -- especially the tile and stone contractor. Other interests include the soft, purring marvels known as cats, labyrinth walking, drumming and percussion, and a range of spiritual, musical and artistic pursuits.