Perfection personified in Rhode Island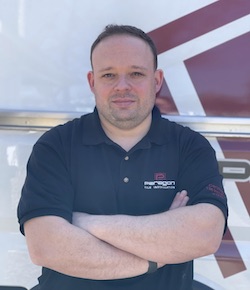 Matt Blood, owner of Paragon Tile Installation in Cumberland, R.I. (paragonri.com), may not have initially intended to pursue a career in the tile trades, but his company – truly a model of excellence that the word "paragon" denotes – now specializes in high-profile residential projects and is working towards doing only this type of work every day. "Any type of installation that is outside the norm, or requires special thought or is highly technical, is the type of work I truly enjoy," he said.
Blood unknowingly started his tile journey around 2001 when he helped out a friend with his tile and flooring installation company. "That got me started in the trades, with small residential remodel projects," he said.
After working on remodels and honing his tile and woodworking skills, the opportunity arose to dive strictly into tile when his friend closed his business and went to work for Schluter. "I spent some time installing, all the while attending every educational event I could find," he explained. "I met a lot of great professionals while doing this, some of who I am still friends with today. This is how I found the NTCA in 2016."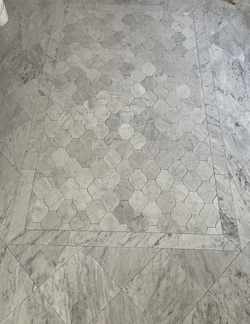 He worked for a while as a sole proprietor before hanging up his trowels and taking a national position as a representative for ARC, Inc., a curbless shower system manufacturer, in May of 2017. After giving that position his all, in early 2019 he realized he worked best for himself, and he set out to establish a company and a "brand that would become known, and that I could market and build," he said. "My beautiful wife, Courtney, named the company, based on the definition of paragon – 'a person or thing regarded as a perfect example of a particular quality' – knowing my drive and desire to pursue the ever-elusive perfection."
Tenuous timing: COVID rears its head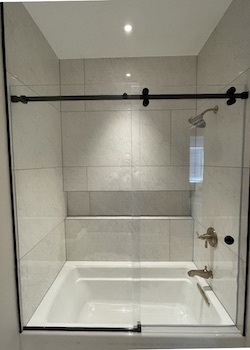 Timing was a little tenuous however. "Barely a month after quitting my job and taking a leap of faith, the [pandemic] shutdowns began," he said. A very large, new construction residential project consisting of four showers, backsplashes, and hundreds of feet of floor tile kept him going through the early stages of the pandemic, followed by two additional large, new construction projects and other single bathroom/shower projects. He devoutly observed safety protocols for his company and clients. "I am very thankful I was able to keep moving forward to provide for my family," he said.
The upshot is that 2021 is turning out to be at least as good as 2020. "I've got some new projects committed for this year that I'm excited to venture into including some high-profile mosaic installations, my first ever pool tile installation, and some great, out-of-the-box art type projects for exciting clients," he said. "I am committed to work into the third quarter of 2021, which is now allowing me to comfortably select projects I'd like to get involved in for the remainder of the year."
Blood has developed a system that facilitates installation and ensures longevity for the client. "In all of my work I utilize foam wall panels for ease of installation and performance, uncoupling membranes with electric radiant heat most often, high-performance prep materials, and the highest-quality setting materials and grouts," he said. "Larger porcelain tiles are becoming commonplace (2'x4′), as are smaller, more intricate mosaics."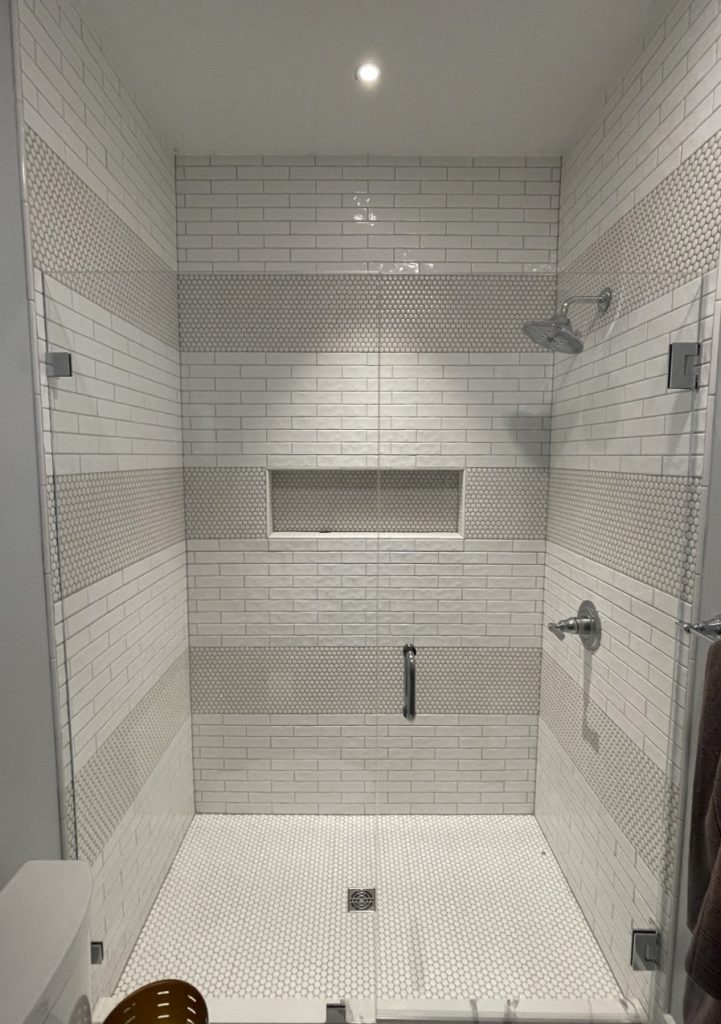 The value of NTCA
Blood has been a staunch NTCA member since 2016 – with the exception of the year when he worked as a manufacturer's rep – and he has been an NTCA Ambassador since 2017. After meeting and listening to NTCA Training Director Mark Heinlein at a local event, "It seemed foolish not to join based on the resources available," he said. "The voucher program seemed like a perfect safety blanket, if I got nothing else out of the membership." Today he values the vouchers but even more the "access to amazing industry professionals and industry literature," he said. "By accessing even the smallest bit of these benefits, I'm building my knowledge, and becoming a go-to for local stores and installers to answer questions and bid better quality projects."
As a Certified Tile Installer (CTI #1279), Blood said, "I cannot wait for the day I have another certified installer on staff! Currently I am the only installer, and have recently brought on two apprentices that seem to have great interest in developing knowledge and progressing within the company. Personally, I will pursue the ACTs when they become available. I am committed to learning all I can and becoming the best professional possible."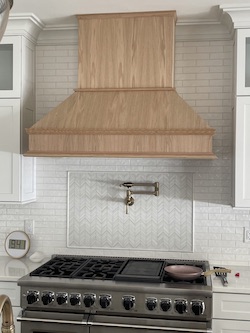 As committed as Blood is to his work, he also is dedicated to his community. He invests 48 hours a week as a full-time, union firefighter with Local 2722 in his town of Cumberland, R.I. "These 48 hours are done in two days on an 8-day rotation, allowing me five days a week (including weekends) to commit to my business and my family."
His dedication to his work is inspiring. "It is so satisfying to me to complete an install to the best of my abilities, and generally exceed clients' expectations," he said. "I enjoy upselling scribe work or miter work, not for the additional income, but to give the client something they didn't realize was a possibility with tile."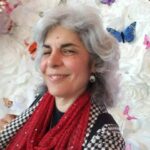 Editorial Director and Senior Writer for TileLetter and TileLetter ARTISAN
Lesley Goddin has been writing and journaling since her first diary at age 11. Her journey has taken her through a career in publishing and publicity, landing her the editor position of TileLetter and its special publications in 2006. Her goal is to educate, inspire, recognize and encourage those in the tile industry -- especially the tile and stone contractor. Other interests include the soft, purring marvels known as cats, labyrinth walking, drumming and percussion, and a range of spiritual, musical and artistic pursuits.