Artisan Floorworks LLC has made a recent foray into artisan tile installation
Patrick Casey, owner of Artisan Floorworks LLC in Green Bay Wis., and CFI #11033, graduated college with an associate degree in Electronics Technology. He lamented that he never really used it – or has he?
He says college taught him how to learn, which has benefited him throughout his more than 20 years as an installer of carpet, laminate, LVT and LVP, and as he became more skilled in tile. A lot of his learning has come from many online resources: YouTube, Google, Facebook groups.
Back to that Electronics degree: at the beginning of his career, Casey had the opportunity to create a compelling design for a sheet vinyl project, where the goal was to form a big S-curve where two sheets of vinyl came together. His employer was on edge about it, but Casey – fresh out of college – knew he had this, since he'd learned to draw sine waves in his electronics studies. He created an Excel spreadsheet and calculated the design, then drew it on the vinyl for his employer to cut.
Over the years, his installations have been more routine – until the spiral design shower he created last December (Read about it at https://bit.ly/3SJ81ZS) where he got to express his creativity. And stepping out into an artisan installation led the customers to request ANOTHER creative shower, this time for their pool.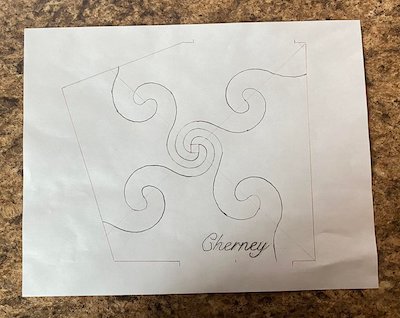 Casey returned to the December project in February to take photos. That same week he started a master shower for another customer and showed her the photos. She urged Casey to be creative in her shower, but the materials had already been ordered. Months later, she texted Casey to install their pool shower. Casey took this opportunity to be creative and sent a sketch that the customer loved!
The sketch featured a spiral design. Casey researched different kinds of spirals and realized if he put two spirals back to back, they would form a wave. This became the basis of the pool shower design.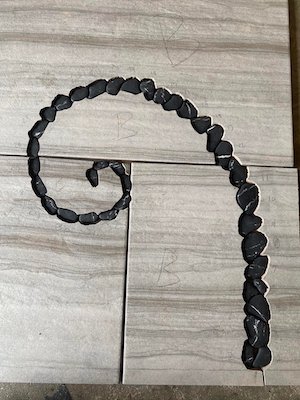 Challenges onsite included mudding the floor, wrangling with the drain placement to try to get it more centralized, and working with pebbles that were scribed into Interceramic Burano 12″ x 24″ field tile for the wall, since they were different thicknesses. But he recalled the Spring 2022 TileLetter ARTISAN article summarizing the pre-mounting methods for hand-shaped mosaics that will appear in the 2022 NTCA Reference Manual and how these methods can help manage tiles of different thicknesses.
Casey reached out to fellow Wisconsin artisan tile setter Lee Callewaert of Dragonfly Tile and Stone Works, who "gave me the tips of what to do with the pebbles," he said. "Lee suggested using mosaic tape but I didn't have access to that." Instead he bought clear packaging tape and taped the pebbles flush with the surface of the field tile and then flipped the piece over, sandwiching the scribed design between two tiles. He used little pieces of cardboard to hold pebbles flush, taped them with clear tape, put another tile on top, flipped it upside down and removed the top tile.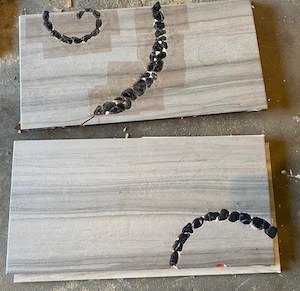 Where there was a difference of thickness, Casey "filled it in with thinset and used sheet membrane," he said. Callewaert advised Casey to clean out the thinset that oozed through the pebbles with a knife. Casey did that with ease, since the thinset wasn't yet super hard the next day. He installed the scribed wall tile with MAPEI Keraflex Plus.
For the floor portion of the design, Casey drew the pattern on a skimcoat of thinset on the floor. He installed the middle spiral first with Schluter ALL-SET, connecting the black pebbles of the spiral with the scribed tendrils on the wall. The center section has 1.5″ wide alternating bands of grey, white and black pebbles, so he had to be meticulous. He intentionally chose specific Cascabella porcelain pebbles that had lots of small pebbles in the mix, because the small size made it easier to create the more defined areas of the pattern. To manage the thinset that oozed between the pebbles, he swept back and forth with a stiff brush, then wiped the pebbles down with a microfiber towel.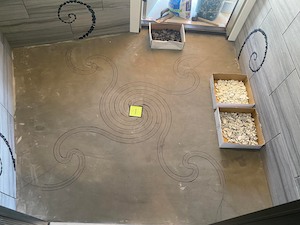 After creating the spiral, he installed the large gray and white sections in sheets, leaving a little space between sheets so he could individually set the pebbles and eliminate the sheet lines. He finished off the project with MAPEI Ultracolor Plus FA grout. Other materials included the Flo Fx Bonding Flange with Modern Retro Brushed Nickel Grate, PermaBASE foam tile backer from National Gypsum for walls, waterproofing with Schluter KERDI membrane set with Schluter ALL-SET. All banding and corners were bonded with Mapelastic Turbo cementitious waterproof product.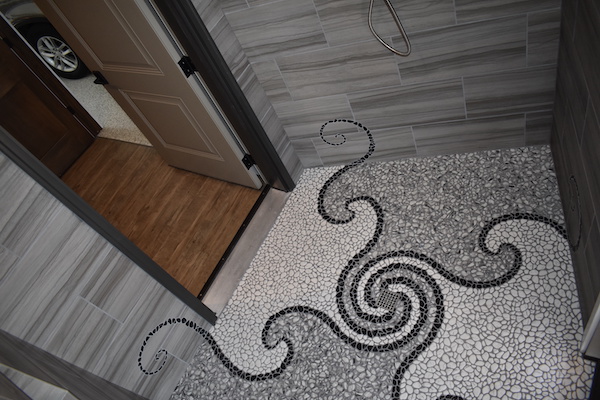 It took Casey about two weeks to complete the project. He said he was "sick of pebbles after the third day of laying them, but when I finally laid the last pebble and looked at the project, I was like 'I can't believe I did this!' The homeowner was calling me 'Pebble Guy' by the end of the project. I like coming up with the idea and making a sketch and seeing it come to life."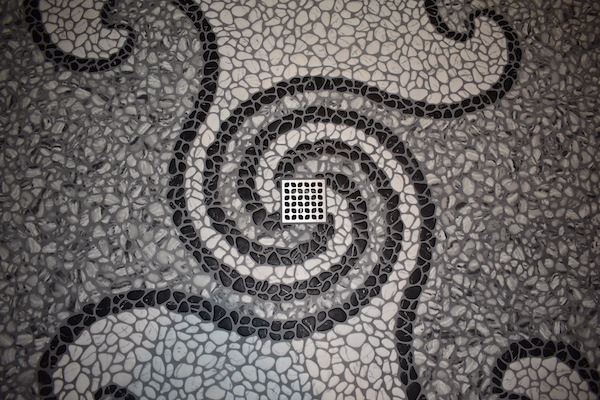 Doing this kind of artisan tile installation – and seeing the creativity other tile installers are exhibiting in their projects on Facebook – has changed his view on his business. He no longer thinks of it as just "installing floor coverings for people" he said. "I've gotten a huge reaction on social media, and it has changed my relationship with people in my circle. I have other ideas: what can I do next? I can't wait to see what happens in the future."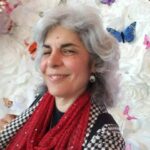 Editorial Director and Senior Writer for TileLetter and TileLetter ARTISAN
Lesley Goddin has been writing and journaling since her first diary at age 11. Her journey has taken her through a career in publishing and publicity, landing her the editor position of TileLetter and its special publications in 2006. Her goal is to educate, inspire, recognize and encourage those in the tile industry -- especially the tile and stone contractor. Other interests include the soft, purring marvels known as cats, labyrinth walking, drumming and percussion, and a range of spiritual, musical and artistic pursuits.