ORLANDO, Fla. — At the Tile Council of North America's (TCNA) Coverings press conference, held here last week, TCNA executive director Eric Astrachan shared information about current research into flooring made from plastic-based material (PBM). This included luxury vinyl tile (LVT), wood polymer composition (WMPC) flooring, stone polymer composite (SPC) flooring, clay polymer composite (CPC) flooring, and rigid core board (RCB) – the common denominator being plastic composition.
The study compared some of the popular beliefs about PBM flooring with the reality, as revealed in lab testing done in Clemson, S.C. The top beliefs of consumers about PBM flooring, derived from preliminary results from independent market research, include:
Belief of scratch resistance
Belief of wet area usage
Belief of durability, in general
Assumption of competitive pricing
Assumption of health and safety
Assumption of comparability to ceramic tile
As testing revealed, the perception and reality differ. Though many PBM floors claim to be "worry-proof," "scratch-proof", "life-proof" and "pet-proof" among other claims, virtually all warranties exclude scratching, indentation and pet damages, including, in some warranties, "loss of gloss/scratching," "…damage caused by vacuum cleaner beater bar, indentation or damaged caused by spiked heeled shoes, improper rolling loads, caster wheels, chairs or other furniture without proper floor protectors and cuts from sharp objects," and "scratches, indentation or reduction in gloss level is not considered wear." In addition, manufacturers recommend the use of furniture pads, which are not depicted in advertising.
A predominant belief about PBM floors is that they are waterproof, and in fact are often advertised as such and encouraged for use in bathrooms, wet areas, and to combat spills and leaks. The study found, however, that warranties routinely exclude all water damage resulting from water passing through and around floor covering to the subfloor and other structural elements of the building.  The testing showed that, according to two international standardized tests for waterproofing, all the samples tested leaked through the seams to the subfloor below. What is ACTUALLY being warranted is that the plastic floor itself is unaffected by water. It does not take into consideration leaking through seams and damage to subfloors.
In addition, the study found that  90% of PBM floors tested supported the growth of mold, due to water leakage through seams into the subfloor, and the organic materials in the plastic provided nourishment for mold spores to grow. Mold spores in the seams can also be pushed into the breathable space which can contribute to respiratory and allergic effects.
PBM flooring is also believed to be slip resistant, though there is no standard for slip resistance testing in LVT flooring used by the resilient industry on wet surfaces. Using the ANSI standard A326.3 with a reference value of .42 DCOF, 16 samples – 82% — measured below .42 DCOF in all or some directions. Finally, the study tested hardness of plastic flooring relative to ceramic tile and other substances. PBM flooring rated #3 on the Mohs scale, just above talc and gypsum and equivalent to calcite, which is scrapeable with a copper coin. Ceramic tile, on the other hand, rates #7-#8, equivalent to quartz – which scratches window glass – and topaz, which scratches quartz.
Testing results shine a light on the differences between actual performance, advertised claims, and warranty exclusions by the PBM flooring industry.  For more information, contact TCNA at 864-646-8453.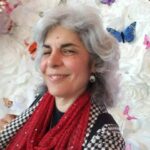 Editorial Director and Senior Writer for TileLetter and TileLetter ARTISAN
Lesley Goddin has been writing and journaling since her first diary at age 11. Her journey has taken her through a career in publishing and publicity, landing her the editor position of TileLetter and its special publications in 2006. Her goal is to educate, inspire, recognize and encourage those in the tile industry -- especially the tile and stone contractor. Other interests include the soft, purring marvels known as cats, labyrinth walking, drumming and percussion, and a range of spiritual, musical and artistic pursuits.