While at Coverings 2023 (in Orlando, Florida, April 18-21st) schedule a visit to Expo exhibit # 2605. Learn how Portobello America's products will now be produced stateside in Tennessee at the company's brand new, amazingly state-of-the-art, 900,000 square foot factory. This represents a major investment in the company's growth strategy.
"The new facility allows us to deliver every solution for all customers' tile needs… and positions us for continued growth in years ahead," stated Mike Ward, Portobello America's Vice President of Sales. "Our focus is to cater to the discerning tastes of North American clients. We intend to deliver them the best possible, highest-quality styles of porcelain floor and wall tile. And consistently do so with shortened lead times and greatly reduced shipping costs."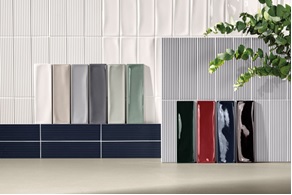 Slated to open and be fully operational next month, Portobello America's new Baxter, Tennessee factory will offer the most advanced of anything and everything found in a facility of its kind. "Our main goal is to be 100% client-focused," added Ward. "This will include being a leader in product design, total client experience, sustainability, and offering a best-in-class onsite showroom."
"We invite Coverings 2023 attendees to visit our at-show exhibit… to experience the NEW Portobello America," stated Holly Badertscher, Portobello America's Vice President of Marketing. "We've listened to the marketplace, and we're stepping up our game. The results planned are frankly… a spectacular Coverings launch. Our high-design booth will feature coordinating floor and wall tile collections designed specifically for the American market. Not to mention updated merchandising and new collection inventory in stock and ready to ship materials, as well!"
---
About Portobello America
Portobello America, a Portobello Group company, designs, produces, and provides complete and competitively priced hard surface solutions focused on the U.S. market. Our belief is that design can transform the way people feel by shaping the environments in which we live. This idea is the essence of Portobello America. Our business model is an integrated one. With expertise in retail and logistics, as well as being founded on design and innovation, our company is uniquely positioned to provide comprehensive support to our partners. To learn more, visit www.portobelloamerica.com
Portobello Group or PBG S.A. is a publicly traded company, part of the Novo Mercado Bovespa since 2008, and was incorporated on December 22,1977. It started its production activities in 1979 and has since been a company that has always been oriented towards "new ideas." This concept was born with the goal of transforming the life of the city and region of Tijucas and bringing creative design to the greatest number of people.
Today, Portobello is one of the largest ceramic tile manufacturers in the world, and the company believes that their vision of an agile, integrated and market-driven business model is the right strategy to follow to continue its success. The company possesses unparalleled design competence, and their innovative products transform people's lives by creating unique environments in the home, commercial and industrial settings. The Company operates globally but is always aware that the design must reflect the context of the location where its units are purchased. Their culture, strategy, and management focus on enabling the creation and distribution of that design. They generate value for all buyers, through an integrated business model while maintaining operational efficiencies that drive substantial profit margins.For additional information, please contact: Holly Badertscher, Vice President, Marketing, Portobello America: [email protected]