A New Collection Blending Iridescent Glass and Marble Tiles to Create a Variety of Patterns

Harbor City, CA – Lunada Bay Tile introduces Vesuvio, a radiant new mixed media mosaic collection that combines glimmering glass tiles with natural marble. The ethereal stone and glass form simple geometric patterns that will become the timeless foundation for many interior styles. The collection will debut at Coverings, April 18-20 in Orlando, Florida, Booth #3600.
Graceful and versatile, Vesuvio flawlessly marries smooth, white marble with iridescent glass. The marble is elegant and delicate and creates an otherworldly beauty that can only be achieved after millions of years of nature working her magic. The glass is evocative of the semi-precious stone found in volcanic formations, with beautiful streams of color flowing within the glass.
The collection offers a profusion of possibilities for contemporary, transitional, and traditional spaces. Mixed finishes, colors and surface treatments are going to be the norm, predicts Lunada Bay Tile's Design & Marketing Manager Feras Irikat. "People love the surprising mix of two materials in one application, and the natural and organic textures that add interest and design value. The more you mix, the more unique and personalized the space is."
This glass and marble mixed-material mosaic creates an exquisite array of glistening surfaces and smooth textures throughout its design. Lunada Bay Tile's glass is handcrafted by artisans who pour, shape, and blend molten glass to create sensual colors and finishes in a myriad of shapes. These mixed material mosaics, comprised of varying materials and finishes, are perfect for any design palette.
"We are excited to continue to push the boundaries with what tile can accomplish, aesthetically and functionally. This collection is the perfect complement to our extensive collections in glass, ceramic, and concrete," adds Irikat. "It's a well-rounded collection—with a balanced look and feel—and highlights everything that Lunada Bay Tile does best."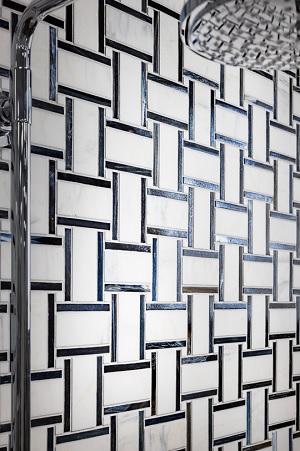 The collection of mesh-mounted stone mosaics are available in six colors that work in solitude or in partnership with other glass, ceramic, concrete collections from Lunada Bay Tile. Four patterns, some random, some systematic, come in different scales—small, medium, and large – so a designer can be versatile in their designs. The collection includes:
Kindred combines hexagons to create a pattern that can go modern or traditional, with a random mix of stone and glass.
Panama Weave displays a traditional basketweave pattern.
Quilt interprets a traditional diamond quilt pattern.
Seesaw features a dynamic chevron pattern.
The use of tiles by designers has expanded dramatically into every room of the home. Tiles are not only defining kitchen backsplashes and adorning powder rooms, but also are used as dramatic fireplace surrounds, as accent walls in foyers and living rooms and on dining room ceilings – any place wallpaper or paint is used. "Tile surpasses two-dimensional confines and introduces texture and color into a room," says Irikat.
Lunada Bay Tile designs and produces handcrafted glass, ceramic, and concrete and stone tiles with an emphasis on simplicity, texture, and color. Visit www.LunadaBayTile.com for complete product offerings, applications, and installation instructions.