Miami, FL March 2023 – Tile of Spain manufacturers returned to Valencia, Spain last month for the highly anticipated return of CEVISAMA, the International Fair for Ceramic Tiles and Bathroom Furnishings. This year's annual event, the first to take place since 2020, was held from February 27 – March 3, 2023 at Feria Valencia, located in Valencia's center city.
STATE OF THE INDUSTRY
During the Tile of Spain Press Conference, held on the first day of the fair, Vicente Nomdedeu, President of The Spanish Ceramic Tile Manufacturer's Association (ASCER), echoed the strength of Spain's ceramic sector, reporting on 2022 production, sales and exports figures.
The Spanish tile industry surpassed expectations with overall sales increasing by 16.2% since last year. With approximately 50% of all sales made abroad, Spain currently exports to 187 countries worldwide with a total export growth of 16.6% since 2021. 
FEATURED TRENDS FOR 2023
The excitement for the 2023 edition of CEVISAMA was palpable as more than 90,000 industry professionals from around the world traversed the exhibition floor to indulge in cutting-edge novelties from over 800 exhibitors. During the four-day show, Spanish tile makers pulled out all the stops, with new production methods and technologies making way for a ground-breaking class of ceramic sensations. The following provides a glimpse of the innovations and trends showcased by some of companies featured on Tile of Spain USA's "Passport to Creativity" program:
ON FUEGO
The diversity of ceramic design is ever prevalent as Spanish companies continue to test new production techniques. Manufacturers are building complex glazed surfaces by putting a single piece of tile through the kiln three to four times. While this approach requires a deep understanding of materials and a touch of patience, the repetitious firing process conceives a multi-surfaced finish that is simply breathtaking.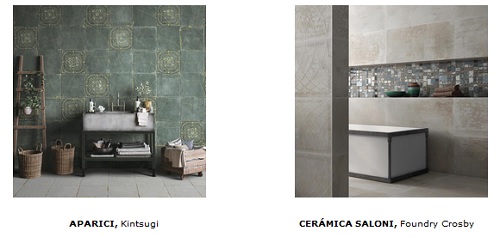 TIMELESS TERRACOTTA
Spanish tile makers are returning to their natural roots to celebrate the beauty of terracotta. New iterations of this timeless look are receiving a dose of modern edge, with anti-slip properties, profound textures and arresting decorative adornments. This new aesthetic reflects the raw side of ceramics and their pure composition while upping the ante of its craftsmanship.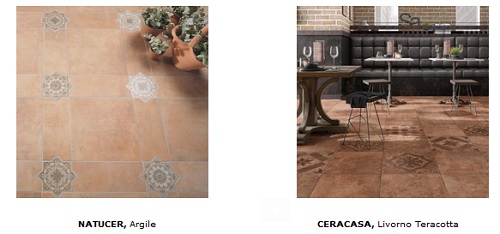 ALL THAT GLITTERS
Interior surfaces receive the full glamour treatment with ceramic applications dripping in opulence. Straddling the line between classic and contemporary, collections enhanced by metallic gold and nickel overlays set a near-ethereal scene.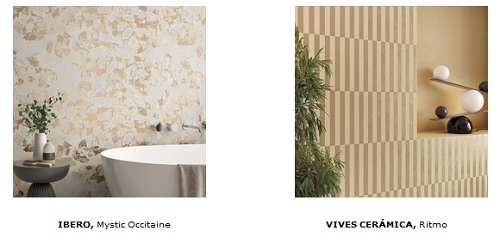 RICH AND ROUGHED
With vivid hues prevailing over neutrals for the first time in years, Spanish manufacturers are itching to make a statement by employing a chromatic range stoked by this year's "it" color, red. Passion and power converge in ceramic pieces large and small, with pops of fiery scarlets and blush undertones, feeding the desire to curate fearless spaces.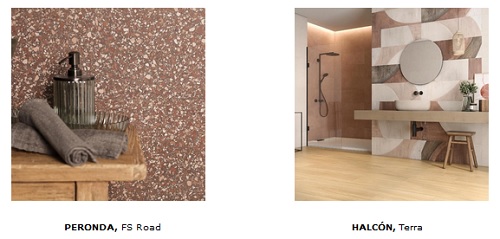 SHAPE SHIFTERS
Pushing the boundaries, ceramic artisans are experimenting with geometric formats like never before. Tantalizing sequences in alternating shapes forge a playground where creativity thrives, while modular formats allow avant-garde silhouettes to become more than just a decorative statement, transforming large-scale surfaces into conversation pieces.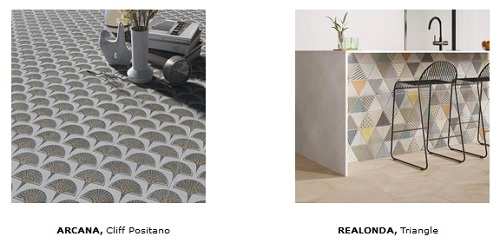 ADVANCED FACADES AND EXTERIOR SOLUTIONS
Ceramic facades and external trimmings set the bar for safety and sustainable standards extraordinarily high. When installed correctly, they provide protection from extreme weather conditions, offer ample insulation and eliminate the need for excessive heat and air conditioning use. Moreover, state-of-the-art facades create small pockets along the exterior of a building or home, establishing a high-performing ventilation system with continuous airflow, offering energy savings and a reduction in the carbon footprint of public and private habitats.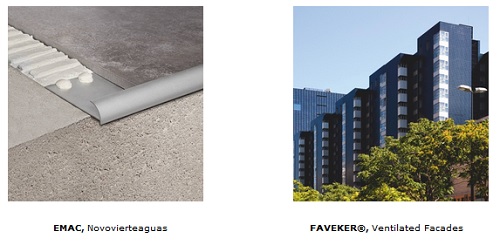 ---
About Tile of Spain
In Spain, tile makers labor as they have for centuries – pushing their passion for design and innovation to new levels of artisanship. With one of the purest and strongest domestic clays available, Spanish manufacturers have an unparalleled ability to make the end product more diverse. From rustic handmade forms; to technical facades thatcool buildings and clean the air; to the impossibly slim, sustainable recycled and ink jet masterpieces that fire the imagination.
The Spanish Ceramic Tile Manufacturers' Association (ASCER), together with España Exportacióne Inversiones (ICEX) are the organizations whose objective is to support Spain's ceramic tile manufacturers and the industry as a whole by stewarding and promoting the Tile of Spain brand worldwide. A strong global leader, the Spanish ceramic tile sector is comprised of more than 100 manufacturers concentrated primarily in the province of Castellón.
For more about tile produced in Spain, contact Tile of Spain Center at the Trade Commission of Spain, 2655 Le Jeune Road, Suite 1114, Coral Gables, FL 33134. Call 305- 446-4387 or visit http://www.tileofspainusa.com.