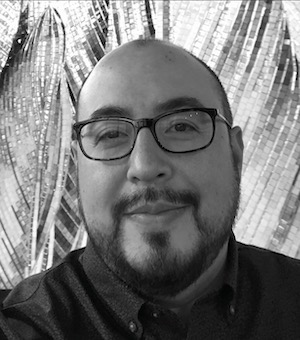 If you've ever been to Coverings and walked through SICIS' booth, you've gotten a glimpse of the unparalleled beauty, intricacy and wow factor the Ravenna, Italy-based mosaic and glass maker is capable of.
Innovation in glass technology and coatings, from micro-mosaic jewelry to furniture and design, gem-like mosaic – some with backlit capabilities – and laminated art glass panels, to making uber-useful photovoltaic technology embedded in glass panels a thing of beauty, SICIS is taking the world by storm.
SICIS appeared on the scene in 1987, growing from the history of Italian Byzantine handcrafted mosaics, modernized by patented processes of production, as well as innovative mosaic mounting techniques that make mosaic murals easy to transport and install.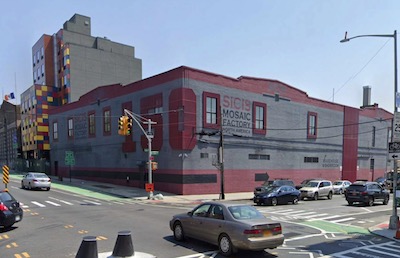 "Using these new production and modern mounting methods, it became possible to export made-in-Italy pre-mounted mosaic murals and sheets to any project, anywhere in the world," said Julio Velez, Director of Sales, located at SICIS's U.S. headquarters in the Bronx, N.Y., aka "The Art Mosaic Factory." Velez added, "Our motto is 'Never stop.' We always try to improve, leading us to patent new production processes and create new materials."
Velez said the company positions itself as the "Creative Innovation Brand," facilitating creative expression through its materials and processes to deliver a truly unique final outcome. It also offers unmatched depth and breadth of colors and customization for designers, and allows the independent dealer to distinguish its offering from what is seen at big box stores. The company also offers a treasure trove of support at its www.sicis.com website, as well as a connection with Material Bank as an additional resource.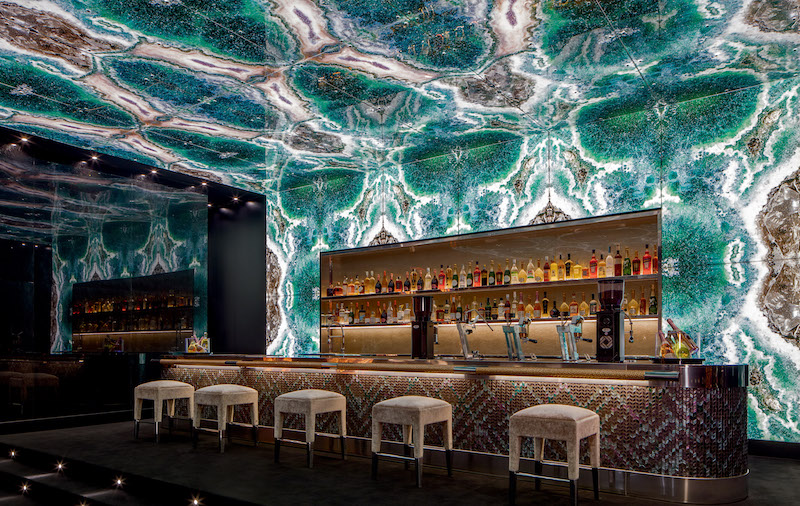 Glistening glass and scintillating stone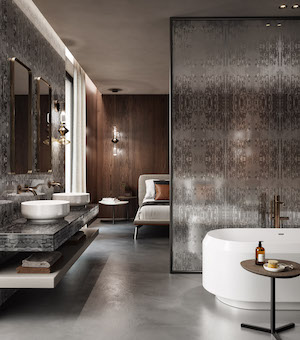 While we could dedicate this entire issue to the wide breadth of all the industries SICIS touches and its broad reach with headquarters, and studios in the U.S., Europe, Asia and South Africa, for our readers, we will focus on the tile and art glass panel aspects of the company.
SICIS produces these tile-industry-related materials:
Mosaics, 5.5 million sq. ft. manufactured a year

Solid Colors – industrially-produced mosaic sheets in glass, stone and stainless steel in a range of sizes, shapes and finishes.
Pixel – industrially-produced patterns in glass or stone, fully customizable.
Artistic Mosaics – hand-clipped mosaic artistry fully customizable in stone and glass.
Sicistone – waterjet stone and glass.
Vetrite, 2 million sq. ft. manufactured a year:

Vetrite Large-Format Glass – primarily thin laminated glass for walls, with a full menu of architectural glass products for many uses such as flooring, exteriors, pools, and specialty glass like tempered and heat/UV-resistant in custom thicknesses.
Vetrite Tile – popular tile formats: 8″x24″, 12″x24″, 24″x24″, 12″x35″, 24″x48″
Vetrite Slabs – 47-1/4″x110-1/4″ is the most common size but larger sizes up to 53-1/8″x114-1/8″, with custom sizes available.
Growing art glass panel reach by installation training
SICIS' newest product category, Vetrite, is also the company's fastest growing line, Velez said. Vetrite is a specialized product that combines two layers of glass laminated with a polymer interlayer that contains an artistic element. The interlayer can be textured as well as colored, with effects that mimic gemstones, fabric, or custom patterns and aesthetics. These modern methods also meld well with vintage settings – Velez mentioned an 1800s stone colonial project in Pennsylvania that incorporates a speakeasy lounge in the garden level with backlit panels Vetrite slabs on the fireplace and feature walls.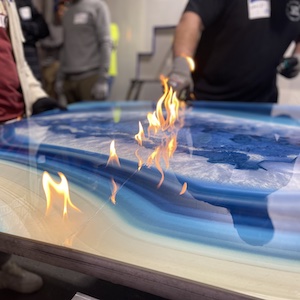 The installation of Vetrite slabs is something SICIS has been keen to expand in the U.S. Velez said that tile installers who are skilled in installing gauged porcelain tile panels have 95% of the know-how needed to expertly install Vetrite. So, through a conversation between Velez and Curt Rapp of The Tile Doctor, who explained what the National Tile Contractors Association (NTCA) is doing with porcelain panel trainings in its regional events, Velez connected with NTCA Executive Director Bart Bettiga and Training Director Mark Heinlein – and a plan was formed. "It was the perfect timing for us to offer art glass panel training to the tile industry."
This year, NTCA is offering 12 two-day Art Glass Panel/SICIS Vetrite Installation Certification trainings in conjunction with SICIS around the country. At this writing, two trainings have already been held at the Bronx location, that "were incredible," Velez said. Applauding the skills of NTCA organizers and trainers, he added, "We were very pleased with the results. This will be a big benefit to the industry. We haven't had anyone to recommend."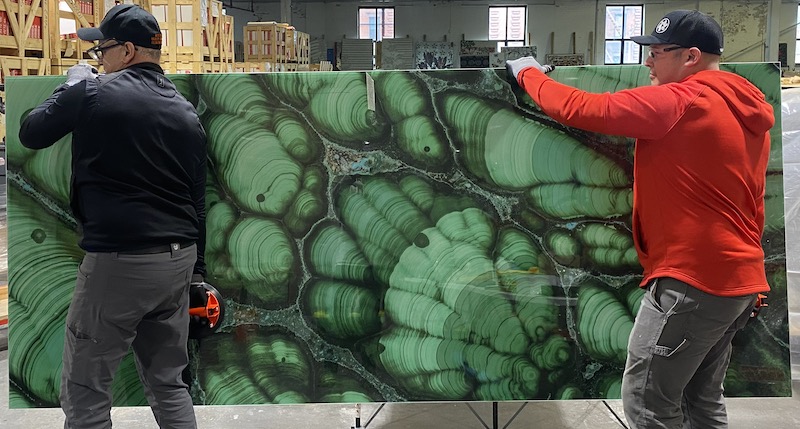 Classes max out at 12 installers to achieve tailored training. Velez said attendees learn to overcome "the natural trepidation of working with glass as a material – which is initially perceived as very fragile – and then learn they already possess 95% of the skills necessary. They learn how tools they are already familiar with can be adapted to glass, how to drill a hole in glass, cut glass, polish it and control temperature and dust."
Trainers and attendees are all very enthusiastic, Velez said, and though skill levels are varied, he said most complete all tasks satisfactorily. "The agenda is being fine-tuned to cover all the lessons and still have one-on-one time to help attendees achieve the best results to improve confidence, which is key to mastering any material," he said.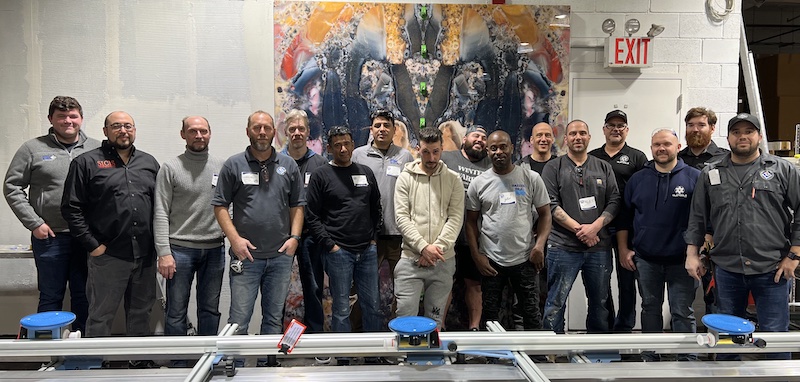 Watch for trainings this year in Scottsdale, San Diego, Los Angeles, San Francisco, Denver, Miami, Tampa, Atlanta, Houston and Seattle by checking the Event Calendar at www.tile-assn.com. Velez also noted a desire to develop future mosaic installation trainings as well in conjunction with NTCA.
Heading to Coverings? Stop by SICIS booth 2106 and see these offerings in person. You are guaranteed to be amazed.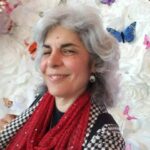 Editorial Director and Senior Writer for TileLetter and TileLetter ARTISAN
Lesley Goddin has been writing and journaling since her first diary at age 11. Her journey has taken her through a career in publishing and publicity, landing her the editor position of TileLetter and its special publications in 2006. Her goal is to educate, inspire, recognize and encourage those in the tile industry -- especially the tile and stone contractor. Other interests include the soft, purring marvels known as cats, labyrinth walking, drumming and percussion, and a range of spiritual, musical and artistic pursuits.