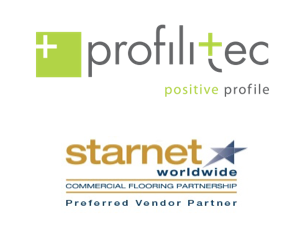 PROFILITEC, Italian producer of state-of-the-art floor profiles and related installation solutions, as part of a focused strategy positioning themselves as the "Choice of the Professional", has announced its new partnership with Starnet Worldwide Commercial Flooring Partnership.
"We are looking forward to our new partnership with Profilitec," stated Jeanne Matson, President & CEO at Starnet.  "The company has over 50 years experience in this industry, and its commitment to provide the most advanced systems is right in line with what our members are looking for​…​ and​,​ demanding. ​Profilitec's broad product offering addresses the problems our members are encountering as they continue to take market share in the ceramic and hard tile commercial flooring business segment.  Our board was especially impressed with the company's selective distribution network model."
"There are so many benefits associated with this partnership," added Greg Gelston, President of Profilitec. "Our products are meticulously designed to maximize intended function so contractors​ know they are getting the best possible solution for their flooring challenge. Profilitec ​offers products that Starnet members have not had access to in the flooring trade until now.​ Real ​solutions​.​
"Starnet wants to be assured that their vendor partners are established, reliable, ethical and embrace principles that are in line with theirs,​" ​continued Gelston.  "As a new player in the North American market, it was necessary that the board members get an understanding of our company and how we can work together. Profilitec's positioning strategy is to be the 'choice of the professional' and to be dedicated to the more discerning flooring contractor, which, considering the quality of the Starnet members, is perfectly aligned with our strategy.