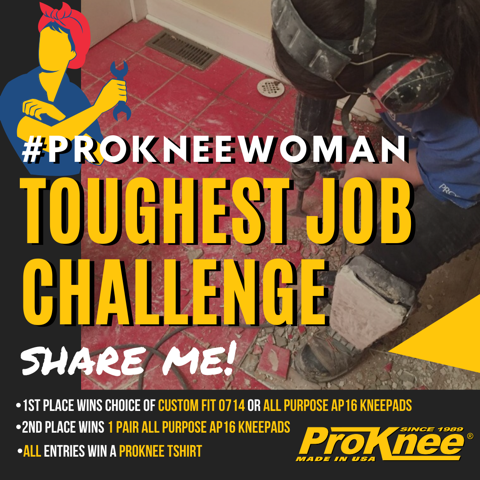 In celebration of International Women's Day, ProKnee is serving up the #ᴘʀᴏᴋɴᴇᴇᴡᴏᴍᴀɴ ᴛᴏᴜɢʜᴇꜱᴛ ᴊᴏʙ ᴄʜᴀʟʟᴇɴɢᴇ to honor hardworking trade women.
The Challenge: Post a photo or video of yourself in your ProKnee kneepads on your toughest job (can be current job). To qualify, you must list the following items:⁠⠀
•Number of sq. ft.⁠⠀
•What material was used⁠⠀
•How long it took⁠⠀
•If it was a commercial or residential job⁠⠀
•Floor prep involved⁠⠀
•How long you've been wearing ProKnee (and if you don't own a pair, tell us what makes you want a pair)⁠⠀

To enter:⁠⠀
1. Females only (all gender contests coming soon!)
2. Follow @ProKnee⁠⠀
3. Tag a female installer friend in this post to spread the word⁠⠀
4. Post photo/video following "The Challenge" guidelines stated above using the #ProKneeWoman (be sure to tag ProKnee in the post too.)⁠⠀

As a thanks for doing what you do, ALL entries will receive a ProKnee brand T-Shirt.⁠⠀
First place prize takes home their choice of: One set of ProKnee full-size custom fit 0714 kneepads OR one set of ProKnee All Purpose AP16 kneepads⁠. ⠀
Second place prize takes home one set of ProKneeAll Purpose AP16's⁠⠀

️Winner will be announced Wednesday, April 8th, 2020 so stay tuned!
⁠