"A thing of beauty is a joy forever: its loveliness increases; it will never pass into nothingness." – John Keats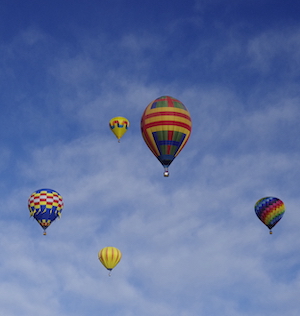 For nine days in October, the early Albuquerque morning skies – weather willing – are filled with hundreds of colorful, whimsical, hot air balloons in the world's most photographed event – the annual Albuquerque International Balloon Fiesta. An estimated 25 million photographs are taken during this event, which once was sponsored by Kodak, back in the days of film.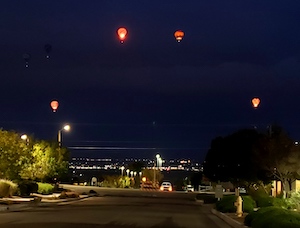 Arising in the pre-dawn hours and making your way in the chilly darkness to the field, you are treated to a fleet of inflated balloons hovering at low altitude, illuminating the inky sky like multicolored fireflies in what is known as Dawn Patrol. Slowly the Balloon Fiesta Park comes to life as balloon envelopes spread on the ground are inflated with hot air, take shape and launch. As the sun rises over the Sandia mountains, one by one traditionally-shaped colorful balloons and "special shapes" take flight to surround you 360 degrees on the ground and in the air with wonder. When else do you get to see cows, pigs, dogs, vampires, a family of honeybees, Darth Vader and Yoda, a pizza slice, witches, a clock, Humpty Dumpty, a chile ristra, frogs, spaceships, astronauts, and countless other shapes floating in the air? The experience is jubilant, magical and one of pure delight.
What does the Albuquerque International Balloon Fiesta have to do with artisan tile and tile setting? Joy. Wonder. Awe. Just as you can't stand in Balloon Fiesta Park without a huge smile spreading across your face, you cannot look at an artisan tile installation and not be in awe and wonder at the skill that created the art that is filling you with joy. It's impossible. Artisan tile setters, tile artists, tile makers are all joy makers, plain and simple. You create wonder and breathtaking beauty. And the world needs more of that, every day – in a shower, in a kitchen, in a casino, in a public mural – or in the air.
With this issue of TileLetter ARTISAN, it is our pleasure to bring to you more of this incredible work to inspire, educate and delight you. In our cover story, learn about the rustic elegance of ARTO tile, based in Los Angeles. Read about the luminous offerings of glass tile maker Oceanside Glass & Tile. Our Technical story expands on new initiatives in glass tile, starting with a panel discussion scheduled for Total Solutions Plus, and extending into training opportunities for installers in 2023.
We've switched out our Business section for a Travels with Tile story this issue, in which artisan tile setter Chris Resti relates his experience of a stunning mosaic at Knock Shrine in Ireland. We learn about the tiger mascot mosaic at Lemoore High School in California, installed by incoming NTCA President Sam Bruce and his company Visalia Ceramic Tile. Andru Eron and New York Tilemakers recently completed a monumental project at Delta C terminal baggage claim at LaGuardia airport in Queens that celebrates the diversity of languages in New York's five boroughs and in the tri-state area and we get to see that mural take shape in our Artisan story.
NTCA member Erin Epperson of Whistling Bee Artisan Tile in Ft. Collins, Colo., gives us her perspective on what it means to be a craftsperson, and how to push towards that goal. And in our Artisan Gallery, see the stunning work of Brandon Foster, Danilo Bonazza, Joshua Nordstrom, and John Vitacco. Here's a reminder – it's never too late to start planning the Artisan Gallery for TileLetter ARTISAN Spring 2023, so if you have some stellar projects you want to share, hit me up with some high-resolution images and a short description of your project at [email protected].
The Tile Heritage Foundation (THF) has provided another historical installment in our Tile Throwback section, exploring the contributions of Fred Wilde, Walter de Steiguer, Charles Nordhoff, and Rufus Keeler, and their influence on tile making in early 20th-century California. Speaking of THF, Co-Founder Sheila Menzies was a featured presenter at the NTCA Roundtable Live! Artisan Edition held in August, which is now available on YouTube. Also presenting was Katia McGuirk, Executive Director of the Moravian Pottery and Tile Works/TileWorks of Bucks County in Doylestown, Pa. View this "Handmade Tile History" roundtable on NTCA's YouTube channel, or find it here: https://bit.ly/3rHL6Si.
And coming up on Tuesday, December 6, the legendary Jimmy Reed will be the featured speaker at the next NTCA Roundtable Live! Artisan Edition. Visit tile-assn.com and click on the Training & Education tab to find NTCA Roundtables Live! for details of this upcoming, must-see program!
Enjoy this issue. I look forward to seeing some of you at Total Solutions Plus later this fall!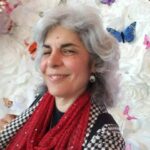 Editorial Director and Senior Writer for TileLetter and TileLetter ARTISAN
Lesley Goddin has been writing and journaling since her first diary at age 11. Her journey has taken her through a career in publishing and publicity, landing her the editor position of TileLetter and its special publications in 2006. Her goal is to educate, inspire, recognize and encourage those in the tile industry -- especially the tile and stone contractor. Other interests include the soft, purring marvels known as cats, labyrinth walking, drumming and percussion, and a range of spiritual, musical and artistic pursuits.