Miami, FL – July 2018
– 
Tile of Spain
, the international brand representing over 120 ceramic tile manufacturers belonging to the Spanish Ceramic Tile Manufacturer's Association (ASCER), announces new additions to the Tile of Spain Quick Ship Collection. The updated catalog of Spanish tile now includes 61 ceramic tile companies and over 230 products that are available in the U.S.
The Quick Ship Collection reference guide includes a select group of tile products from Spanish manufacturers that are available for immediate purchase in the U.S. and available for delivery within 4-8 weeks. Established in 2013, the collection is updated annually to ensure the most up to date information is available to purchasers.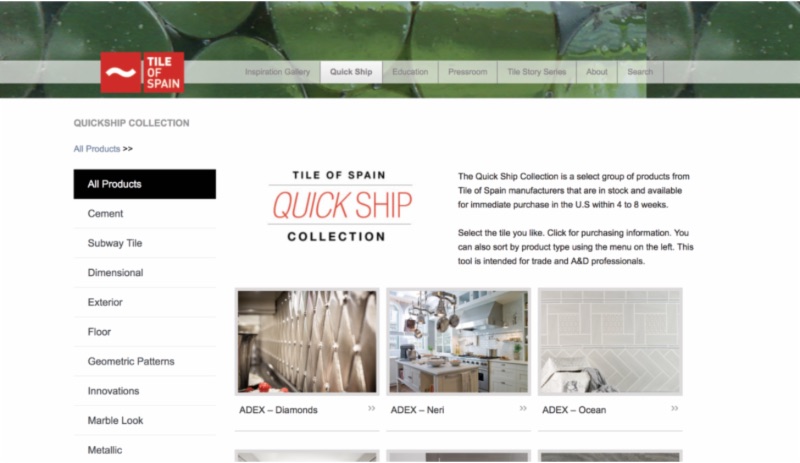 "Tile of Spain USA is excited to expand the Quick Ship Collection offerings for the sixth year in a row," states Rocamador Rubio, Director for Tile of Spain. "The last few years have been an integral turning point in ceramic tile technology, and we are overjoyed to be able to bring the latest Spanish tile innovations to the U.S. market."
New Tile of Spain companies added to the Quick Ship Collection for 2018 include Bellavista, Cevica, Dualgres, and Harmony. These new collections, along with updates from 57 additional ceramic tile companies, are available online at
www.tileofspainusa.com/quickship
. The Quick Ship Collection's interactive catalog makes it easy to search the Spanish Tile. Users can search by product category or by company name. Each entry includes the series name, color image, a detailed description of each design, available in sizes and U.S. contact information for purchasing.
Tile of Spain companies in the Quick Ship Collection include: 
| | | |
| --- | --- | --- |
| Adex | Elias | Onice Ceramics |
| Alcalagres | El Molino | Onix |
| Alea | Emac | Oset |
| Alttoglass | Emotion Ceramics | Pamesa |
| Aparici | Equipe | Peronda |
| Apavisa | Estilker | Porcelanicos HDC |
| Argenta | Gayafores | Porcelanite Dos |
| Azulejos Mijares | Gres de Aragón | Porcelanosa |
| Azulev | Grespania | Realonda |
| Azuliber | Halcon | Roca Tile |
| Bellavista | Harmony | Rosa Gres |
| Casainfinita | Ibero | Saloni |
| Cas Ceramica | Inalco | Sanchis by Azulev |
| Ceracasa | Keraben | STN Ceramica |
| Ceramica Mayor | Keros Ceramica | Tau |
| Cevica | Land | Todagres |
| Cicogres | La Platera | Undefasa |
| Colorker | Levantina | Vives |
| Dualgres | Metropol | Zirconio |
| Dune | Natucer | |
| El Barco | Neolith | |