CTI #1511 – combined with treating people right – makes Shawn King, Inc., a client's delight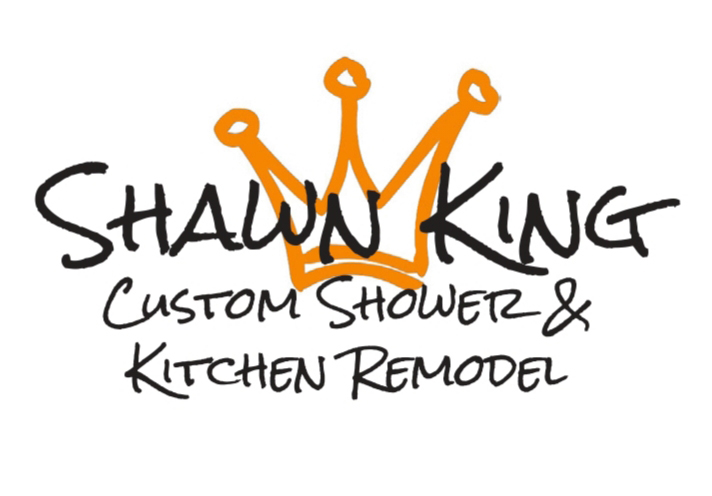 Shawn King, owner of Shawn King, Inc., New Port Richey, Fla., is a State Certified (CRC #1331429) residential Certified Tile Installer (CTI #1511), specializing in bathroom remodeling. He's been in and out of the construction industry for 30 years, initially going to work for a friend who has a tile business out of necessity. "I quickly found that it was a way for me to create!" he said. "Life just got too busy and I did not have enough time to do my artwork, so I've been able to transfer that creative nature into my tile work." Being a tile setter allowed him to channel his creativity into his tile installations.
He is all about continuing his education, and decided to open his own business about five years ago. To that end, he joined NTCA two years ago, as a way to connect with tile industry professionals, amp up his education and, "hopefully contribute in some way." He's helped with three CTI exams in Florida. He says his NTCA membership gives him an "immense amount of knowledge whether through the website, phone call or regional training."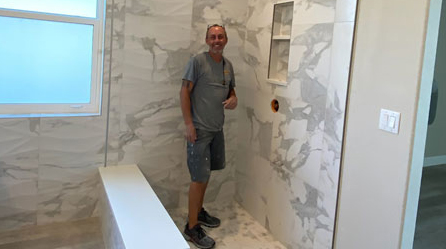 In addition to the skills and expertise he brings to his tile jobs, his business model is very relational, with respect for his client at the front and center of all he does. This makes him stand out from other installers and tile contractors in his area: "I return phone calls," he said. "I show up on time, respect and protect their homes and communicate with them during the process."
In fact, his greatest joy is in "creating a memorable experience for my clients," he said. He receives comments like "'We're going to miss you,'" and "thank you cards expressing gratitude for giving them more than they were expecting."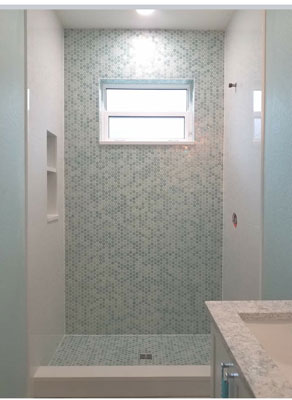 And his CTI credential helps him set that stage of professionalism and excellence for his clients. "Taking and passing the CTI has given me an additional tool in my tool box," he said. "I use it to show potential clients that I am one of almost 1,700 people in the country who are passionate enough about the craft of tile to test their skills against industry standards."
King brought in another CTI to help on a recent project – Melissa Swann, CTI #1670. The kitchen backsplash and shower job required King and Swann to demo two brand-new, never-used showers due to improper installation methods on the substrate and tile. The result was two beautiful showers and glowing praise from the client.
"The challenges we faced were pleasing a client who has a sour taste for tile guys and had done her research on the John Bridge forum because they had been burned and had not been able to use their showers for a year," he said. "We were able to restore her faith in tile people. I am confident that she will recommend using Certified Tile Installers to all of her friends and family. In the end, she wrote an amazing thank you letter to Melissa and myself." See excerpts below:
As you know, over the past year, we have hired a series of Florida general and sub-contractors that continually failed to deliver the quality and service we expected as we completed our whole home remodel. Time and time again, we reiterated we were interested in quality – not speed – because we were willing to pay for it to improve our 'forever home.'

Our experience with the company we hired to install Schluter shower systems and tile our bathrooms and backsplash was disastrous. When that tiler quit, we set out to find a Schluter expert that was also a Certified Tile Installer. Our Facebook virtual meeting was a great introduction and your trip to look at our job in person sealed the deal. We knew we had found the right person for the job and you were worth the wait.

Thank you. Thank you for planning and thinking ahead, for protecting our home as you worked, for your Schluter and tiling expertise, for your artistic attention to detail in setting our tile and for your consistently cheerful disposition. You (and Melissa – thanks for bringing her with you!) have been such a delight to have in our home.

You are at the top of our very short list of professionals that we would use again. Although we know that you have plenty of references that are delighted with your work, please add us to the list. We would hire you again in a heartbeat and would be happy to share our experience with prospective clients.

While we're sure you won't miss the two-hour round trip commute each day, we are going to miss having you around. We will stay in touch via Facebook.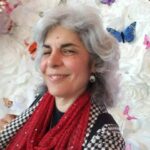 Editorial Director and Senior Writer for TileLetter and TileLetter ARTISAN
Lesley Goddin has been writing and journaling since her first diary at age 11. Her journey has taken her through a career in publishing and publicity, landing her the editor position of TileLetter and its special publications in 2006. Her goal is to educate, inspire, recognize and encourage those in the tile industry -- especially the tile and stone contractor. Other interests include the soft, purring marvels known as cats, labyrinth walking, drumming and percussion, and a range of spiritual, musical and artistic pursuits.