The Cyclone system is intuitive, quick to use and does not require any tools.
The Cyclone hood allows a more optimal levelling by improving the distribution of forces.
Rubí (Barcelona), May 26th, 2021. RUBI Group, specialist in offering solutions for cutting and laying ceramics, is expanding its leveling range with its latest product launch, the Cyclone. This system comes to the market to satisfy all types of tilers and floor layers, with the aim of optimizing and facilitating their daily work and obtaining optimum results in the tiling of floors and walls.
The Cyclone System assures a perfect leveling thanks to its larger bell diameter which improves force distribution. Because it is threaded, the bell, which is an exclusive RUBI design, is ergonomic and reusable, as it is easily removed by unscrewing. On the other hand, the spacer, cross head or T function, once the leveling task has been completed, is easily removed with a mallet or a kick.
In addition, the Cyclone, which is intended for professional use, does not require any tools for installation. It is an easy, fast and intuitive method that comes to the market to avoid the generation of lippage during the laying of ceramic tiles, both in floors and walls, and to offer a more comfortable option to the tiler. At the same time, the Cyclone is a very practical system as it does not require pliers or any other tools during use.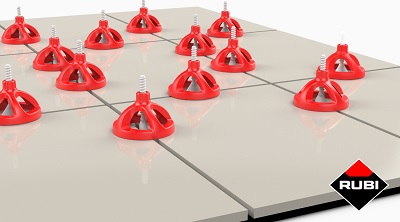 The RUBI levelling systems cover the needs of the professional tile installer, responding to the different thicknesses of material. The Cyclone system, which is the fourth in the RUBI levelling range, is specifically recommended for tiles from 3 to 18mm thick and is ideal for laying large format tiles.
The RUBI brand, present in more than 120 countries around the world, has more than 1,000 references in its product catalogue, 60% of them developed internally in the last 5 years. Keeping the ceramics professional at the centre of its strategy, RUBI constantly innovates to facilitate and optimise their day-to-day work, obtaining the best possible results with practical solutions adapted to the new trends in the sector.
---
About RUBI Group
RUBI was founded in 1951 in the city of Rubí, Barcelona, and is now a leading brand in tools for tile cutting and installation. It has 11 subsidiaries across the five continents and recurring sales in over 120 countries. It was created by the Boada brothers (Germans Boada, SA) with the aim of being the best partner for their customers by providing them with a comprehensive service and product solution. It has a focus on end users, offering them the widest range of tools to successfully tackle any tile installation project: tools for cutting, handling, transport and installation of tiles. The company constantly innovates new solutions and manufactures and markets differential products at the forefront of the sector. The aim is to make the tile fitter's work safer, easier and more efficient.