ASTM International Committee C21 on Ceramic Whitewares and Related Products recognized TCNA Standards Development and Research Manager, Ryan Marino, with an Award of Appreciation for his outstanding contributions to the revision of ASTM standard C373, a transformative contribution to water absorption testing and ceramic tile classification.
The Committee expressed their appreciation for Marino's research and technical vision at the recent TCNA board meeting in June. A previous method that had stood for decades as the standard for testing water absorption took approximately 30 hours for results. Marino has been working for the past five years to develop a vacuum method that produced results
in one hour
. This research involved Marino taking the method to labs across the country and applying the test to determine the precision of the method. Marino facilitated a consensus of the testing facilities, industry discussion, and the review of data with the ASTM committee to build consensus for the balloting process to consider adopting the new process.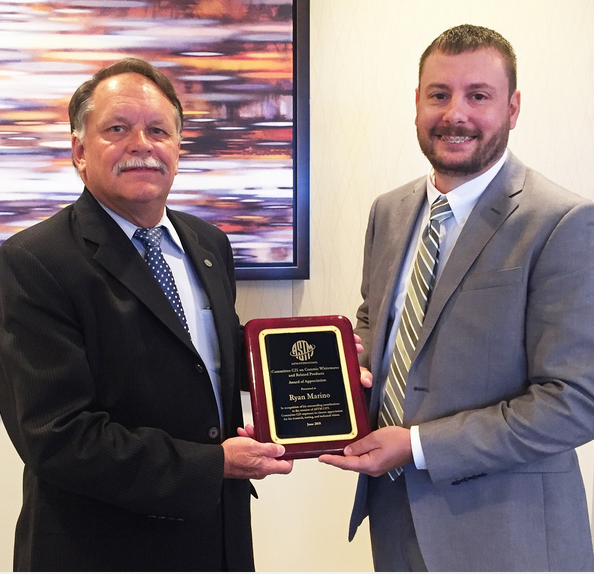 Tony Thornton, Director of Technical Information for Micromeritics and long-time Committee 21 member, presented Marino with the award. Mr. Thornton stated, "Thanks in large part to Ryan's efforts, this updated standard introduces greater transparency and rigor and can be accomplished in a fraction of the time of the prior method. We also know in great detail its precision thanks to an inter-laboratory study, led by Ryan, which required him to travel to labs around the country."
"I am proud to have had the opportunity to work on a testing method that can help move our industry forward and I am grateful for the collaboration of the testing facilities that participated in this research," said Marino.
Bill Griese, TCNA Director of Standards Development and Sustainability Initiatives, remarked, "Ryan's leadership in researching a vacuum method for determining the water absorption of ceramic tile significantly and positively impacts global trade in ceramic tiles.  Not only did his work inspire consensus on other international standards which had previously been debated for decades, the methodology at its core is being implemented by customs labs around the world and referenced in HS codes for ceramic tile."
About TCNA

TCNA is a trade association representing manufacturers of ceramic tile, tile installation materials, tile equipment, raw materials, and other tile-related products. Established in 1945 as the Tile Council of America (TCA), it became TCNA in 2003, reflecting its membership expansion to encompass all of North America.
Tile Council is recognized for its leadership role in facilitating the development of North American and international industry quality standards to benefit tile consumers. Additionally, TCNA regularly conducts independent research and product testing, works with regulatory, trade, and other government agencies, offers professional training, and publishes industry-consensus guidelines and standards, economic reports, and promotional literature.
About ASTM International

ASTM International is a not-for-profit organization that provides a forum for the development and publication of international voluntary consensus standards for materials, products, systems and services. Volunteer members represent producers, users, consumers, government, and academia from more than 140 countries who develop technical documents that are the basis of manufacturing, management, procurement, codes and regulations for dozens of industry sectors.
ASTM volunteer members belong to one or more standards-writing committees, each of which covers a subject area such as steel, petroleum, medical devices, consumer products, nanotechnology, additive manufacturing and many more. These committees develop the more than 12,000 ASTM standards found in the 80-volume Annual Book of ASTM Standards.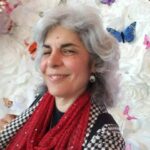 Editorial Director and Senior Writer for TileLetter and TileLetter ARTISAN
Lesley Goddin has been writing and journaling since her first diary at age 11. Her journey has taken her through a career in publishing and publicity, landing her the editor position of TileLetter and its special publications in 2006. Her goal is to educate, inspire, recognize and encourage those in the tile industry -- especially the tile and stone contractor. Other interests include the soft, purring marvels known as cats, labyrinth walking, drumming and percussion, and a range of spiritual, musical and artistic pursuits.