A joint partnership between the Society of American Mosaic Artists (SAMA) and The Stained Glass Association of America (SGAA) is a new creative solution that appears to be the answer to some of SAMA's recent struggles and financial challenges.
In recent months, SAMA has been at a crossroads as a result of a series of financial challenges.  Canceled events and low enrollment in SAMA programs lead to the difficult decision by the Board of Trustees to begin the difficult process of dissolution.  The mosaic art community's heartfelt support and desire to preserve SAMA's 20-year legacy spread like wildfire and soon sparked an idea with another arts organization with deep connections to mosaic art.  The idea to build a mutually strengthening partnership that could save one community, while inspiring and growing another.
SGAA and SAMA are beginning the first phase of partnership by collaborating on a joint conference, June 27-30 in Toledo, Ohio.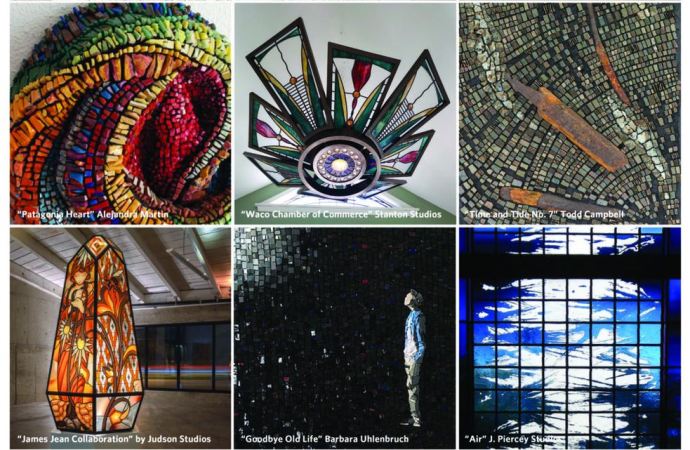 Moving forward, both organizations will work together to ensure the essential elements of membership are preserved while exploring innovative new ways to serve artists, suppliers, manufacturers, preservationists, and collectors.  The organizations are charting new waters and appreciate the generosity and enthusiasm each community will bring to this process.  Members' patience is appreciated while they work through details and make adjustments to ensure that engagement with both association's shared activities exceeds expectations.
Due to the generous donations and record-breaking sales of SAMA Store publications since mid-December, SAMA's Board of Trustees in a show of good faith has further extended the pending dissolution allowing time for this partnership to evolve.  The SAMA Board will remain in place and work to shepherd SAMA's mission to educate, inspire and promote excellence in mosaic arts while taking the same care and caution of fiscal responsibility in working with SGAA.  (Read previous statements from Board of Trustees)
SAMA will reactivate its Membership program, offering 1year memberships and renewals and extending the expiration date of all SAMA members who were active on October 19, 2021 by four months. 
This will give the opportunity for SAMA members to take advantage of member discounts and benefits in development through the association's working partnership with SGAA. 
Members who expired before October 19, 2021, or whose auto-renewal was not activated can log-into the Member Portal and renew now.
Current members and those who have expired since October 19, 2021, will automatically have their membership expiration date extended by 4 months in the Member Portal by February 19, 2022. 
There are no immediate plans to resume the Groutline publication, however details on new benefits as a result of SAMA's partnership with SGAA will be forthcoming.  Membership is not required to attend the joint conference, but discounts will be available to all SAMA and SGAA Members.  
Registration information will be available soon; current members will be the first to get access to all the details.
To learn more about the SGAA, visit the website at https://stainedglass.org/