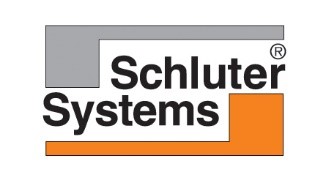 Planning a successful tile project can be time consuming and challenging. The new Schluter®-APP puts all the necessary Schluter resources in one place – on any iPhone or Android mobile device.  Information on all Schluter's systems and solutions can be found on the app.  It can be used for every facet of project planning, from measuring the space, all the way through to pricing and connecting with an authorized dealer.
Working from the app, a smartphone can be used to scan and measure a room during the
planning phase of the project.  The data collected can be used to configure and customize the layout and build a personalized project plan.  The results can then be shared electronically with a client or coworker. This layout information can improve client communications by providing a clear visual guide from the beginning to the end of any project.
Products can be configured right down to the size, color, format and quantity and can also be priced immediately.  Product selections will also prompt video recommendations so installers can get installation guidance wherever and whenever they need it.
For floor warming projects the built-in DITRA-HEAT Estimator will help with product selection, and then provide an estimate for the materials required.
The app also provides easy access to the network of Authorized Schluter Dealers across North America.  Users can search by location and generate a list of nearby dealers.  After selecting a dealer, the app will provide directions to the location making it even easier to get materials to the job site.
To download the new Schluter app go to:
App Store: https://itunes.apple.com/ca/app/id1455234805
Google Play: https://play.google.com/store/apps/details?id=com.schluter.snapp
About Schluter®-Systems
Schluter®-Systems products are specifically designed for the tile industry to ensure that installations maintain integrity and durability. The company's product line includes over 8,000 items, including tile trims, uncoupling membranes, waterproof building panels, shower systems, and most recently thin-set mortar.  Schluter-Systems is renowned for its state-of-the-art technology with attention to detail for highly functional and visually appealing results.  For more information, visit www.schluter.com.
Contact: Terry Baskin, Footprint Associates Inc. • Tel.: 647-965-3752 • email: [email protected]