Customers Test Drive Technologies Enhancing Project Excellence
Florence, AL and Boston, MA – August 24, 2022 – Schönox HPS North America, Inc. and Floorcloud™ announced their partnership to provide flooring professionals with introductory opportunities to use Graco pumps and Floorcloud™ technology on large-scale projects at no cost.  The collaboration allows installers and contractors the chance to experience Schönox's pump program and the Floorcloud™ technology platform on real-world projects, achieving outstanding performance and quality control objectives supported by these technologies.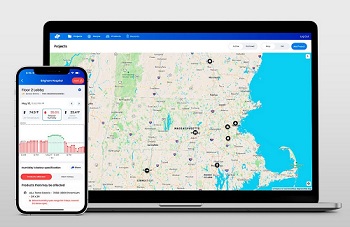 "Schönox's primary points of focus include Hands ÖN technology, training, and service, making the relationship with Floorcloud™ to provide the pump program and monitoring technology a strategic connection and opportunity for flooring professionals nationwide," explained Thomas Trissl, Principal, Schönox HPS North America. "Floorcloud™ equips busy flooring contractors with the ability to monitor and communicate the real-time environmental and site conditions they face with project stakeholders so everyone understands the criteria influencing project success."
The Schönox pump program gives installers and contractors access to a Graco pump and a Schönox technical expert for two days, pairing large-scale, self-leveling projects with training and expanded business opportunities. Flooring professionals experience the time-savings, skilled-labor optimization, and enhanced project outcomes first hand, using Schönox and Graco pumps.
"This partnership puts Schönox's high performance self-leveling compounds and the Floorcloud™ monitoring platform in the hands of flooring pros, giving them great opportunities to test drive these technologies", commented Scott Banda, Co-Founder and President, Floorcloud™. "Just as Schönox has seen outstanding adoption of its subfloor products and pump systems via this program, we believe participants will quickly see the Floorcloud™ benefits, combining Schönox and Floorcloud™ for greater project success."
The Floorcloud™ mobile, desktop, and sensor technologies allow contractors to monitor, communicate, and store essential jobsite, product, and environmental data, while also capturing project photos and notes across process steps. The highly intuitive platform utilizes 4G cellular-enabled climate sensors and a proprietary product specification database of leading flooring industry brands. "Floorcloud™ now connects manufacturers and contractors in a way they never experienced, enabling project stakeholders to take corrective actions quickly to help prevent failures from occurring in the first place," stated Patrick Mullins, Co-Founder and Executive Vice President, Floorcloud™.
"Floorcloud™ equips flooring contractors with the ability to see jobsite environmental conditions in real time comparing those conditions to manufacturers' technical data information using the mobile and desktop Floorcloud™ platforms," commented Ryan Bassett, Product Support Specialist, Schönox HPS North America.  "Subfloor projects, especially those of larger scale, need the advantages Floorcloud™ provides, reducing risks, enhancing project performance, and providing a central location to document all details; we are delighted to take this step forward with Floorcloud™ to further support flooring professionals."
---
About Schönox
Schönox HPS North America, Inc., a business unit of TMT America, Inc., is a customer-oriented, entrepreneurial, high-tech company specializing in subfloor solutions for new construction, as well as renovation and occupied spaces. Our innovative products include primers and moisture mitigation systems, subfloor repair products, floor-leveling compounds, adhesives, and waterproofing materials for installing floor coverings.  For more information about Schönox products, contact the Marketing Department by emailing [email protected], calling toll free 855.391.2649, or visiting hpsubfloors.com.
About Floorcloud™
Floorcloud™ was founded by a team of construction industry veterans to better connect installers and manufacturers using mobile technology to improve the success of projects. Our goal is to help the industry improve jobsite quality assurance so that installations can be completed successfully, on schedule and within budget. Floorcloud™ is the only SaaS solution built specifically for the flooring industry using climate sensor technology, cellular IoT networks and a proprietary database of manufacturers' product specifications.  For more information, please contact Scott Banda | 617.395.1668 | [email protected].