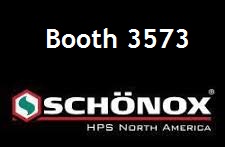 Las Vegas, NV – January 25, 2022 – Schönox will provide attendees at the upcoming Surfaces show with a first look at the company's new Hands ÖN training platform and a deep dive into its technologies.  Live demonstrations in the booth will present cementitious, synthetic, and hybrid series technologies, equipping attendees with a strong understanding of how to leverage each for outstanding project success in all subfloor situations.  Attendees to Schönox's booth 3573 can get Hands ÖN at the demonstration table or watch others on the TV tower at the booth.
"Our dedicated sales and technical team members are in the field daily with flooring professionals, assisting with their project plans and execution while seeing the challenges they face first hand with tight project timeframes, limited skilled labor, and quite varied subfloor conditions," explained Thomas Trissl, Principal, Schönox HPS North America. "Training and advanced technologies are the very best tools we can provide the flooring community, helping to pave the way to success project by project."
The new Schönox Hands ÖN training platform elevates the opportunities, content, and quantity of training in the field, virtually, and at the Schönox Support Center. More flooring professionals than ever will have the chance to learn, experiment, and incorporate Schönox solutions into their workflows. Training is a critical focus for Schönox, helping installers and contractors to maximize Schönox technologies in every circumstance. Flooring professionals are already seeing the impact of the training in their projects, financial success, and repeat customers.
"Schönox innovation and training equips flooring professionals with the tools to do more subfloor tasks with less subfloor products, providing solutions to the many real-world issues our customers see," commented Doug Young, Executive Vice President, Schönox HPS North America.  "We are excited about the upcoming Surfaces show and would not have missed it – come see us!"
---
About Schönox
Schönox HPS North America, Inc., a business unit of TMT America, Inc., is a customer-oriented, entrepreneurial, high-tech company specializing in subfloor solutions for new construction, as well as renovation and occupied spaces. Our innovative products include primers and moisture mitigation systems, subfloor repair products, floor-leveling compounds, adhesives, and waterproofing materials for installing floor coverings. For more information about Schönox products, contact the Marketing Department by emailing [email protected], calling toll free 855.391.2649, or visiting hpsubfloors.com.