JACKSONVILLE, Fla. – Sika, global pioneer of specialty industrial chemicals, presented its SikaTile® product line of tile setting materials at the 11th Total Solutions Plus Conference last week. The event provided the ideal backdrop to display Sika's high-performance product line at the Hyatt Regency Jacksonville October 24 to 26.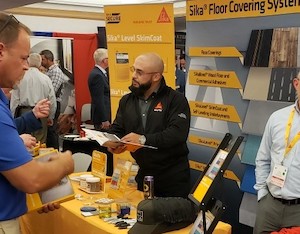 Ceramic Tile Distributors Association, the National Tile Contractors Association, the Tile Council of North America and Tile Contractors Association of America conceived the Total Solutions Plus to bring together tiling experts from around the nation. The three-day event saw hundreds of the industry's finest assemble to attend motivational seminars, stay up to date on industry trends through a variety of educational sessions, and network during copious meals and activities.  
Capping off the conference was the manufacturer booth showfloor, where Sika acquainted industry professionals with the SikaTile products. Sika's tile setting materials have been the steadfast choice for tiling experts throughout Europe, and Total Solutions Plus offered an appropriate venue to introduce the established product line to the U.S. market.
"Sika welcomes the return of the on-location Total Solutions Plus event, and the chance to engage with premiere distributors and tiling experts from around the nation," said Sika Senior Product Manager Tom Carroll. "There has been a wealth of interest in the SikaTile line of products, so we relish the chance to speak with customers and partners here, learn what needs they have and compose the right SikaTile solution for them."
Sika has been a global leader in developing specialty chemicals and key products for the construction industry for more than 100 years. According to Carroll, "We're here today to show the industry how seamlessly this quality and reliability translate to superior tile setting materials that provide for easier installations that stand the test of time."
For complete product information please visit www.sikatile.com.
---
About Sika: Sika AG, located in Baar, Switzerland, is a globally active specialty chemicals company. Sika supplies the building and construction industry as well as manufacturing industries (automotive, bus, truck, rail, solar and wind power plants, façades).  Sika's product lines feature high quality concrete admixtures, specialty mortars, sealants and adhesives, damping and reinforcing materials, structural strengthening systems, industrial flooring, as well as roofing and waterproofing systems. Worldwide local presence in over 100 countries and more than 24,000 employees link customers directly to Sika and guarantee the success of all partners. Sika generated annual sales of CHF 8.1 billion in 2019. For more information on Sika Corporation Interior Finishing Business, visit www.sikatile.com.