COLUMBUS OHIO (May 2023) – On May 20, 2023, Starnet Worldwide Commercial Flooring Partnership held a shareholder meeting for its voting stockholders of record.
During the meeting they announced the reelection of incumbent board member Skip Mancini, B.T. Mancini, Milpitas, California, for a second term. In addition, two new directors were elected for three-year terms.  David Triepke, Universal Metro, Santa Fe Springs, California, and Ellen Zucker, Diverzify, St. Louis, Missouri are the newly elected directors. David and Ellen take seats previously held by Dan Sliwinski, Sliwinski Floor Covering Services, Huntingdon Valley, Pennsylvania and Jim Vanhauer, Commercial Flooring Systems, Omaha, Nebraska. Dan and Jim reached their term limits. Chuck Bode, CB Flooring, Columbia, Maryland, resigned his position as chairman one year before his term limit eligibility expired. A board member will be appointed to replace his seat for one year in the upcoming weeks.  In addition, the directors elected officers after the shareholders meeting.
Starnet Board Officer Directors
Chairman: Steve Cloud, M. Frank Higgins & Co., Inc., Berlin, CT
Vice-Chairman: Michael Ansari, Axis Interior Systems, Inc., Hamilton, OH
Treasurer: Thomas Holland, Corporate Floors/Apex Group, Grapevine, TX
Secretary: Skip Mancini, B.T. Mancini, Milpitas, CA
Starnet Board Directors
James Lloyd, Cornerstone Commercial Flooring, Baton Rouge, LA
David Meberg, Consolidated Flooring, New York, NY
David Triepke, Universal Metro, Santa Fe Springs, CA
Ellen Zucker, Diverzify, St. Louis, MO
Open Seat, pending appointment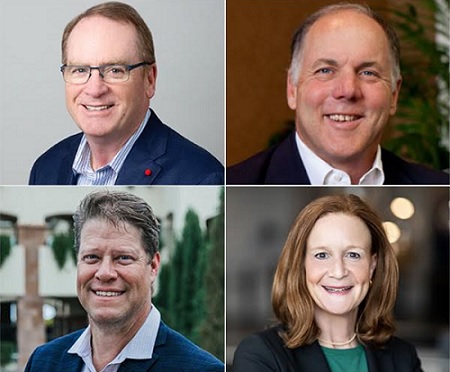 ---
About Starnet Worldwide Commercial Flooring
Since 1992, Starnet Worldwide Commercial Flooring Cooperative has served the industry as a trusted partnership of commercial flooring professionals and quality flooring manufacturers. More than 170+ independent contractors doing business in nearly 400 locations across North America have become more profitable while building the market share of Starnet's manufacturing partners. Through collective strength, integrity, shared best practices and advocacy of training, Starnet members and vendor partners ensure improved project outcomes, complete customer satisfaction and reduced costs related to doing business. The membership's strength in numbers creates a combined annual volume of over four billion dollars. For more information, visit www.starnetflooring.com.