We're all familiar with paranoia – thinking everyone is out to get us. Sometimes it's easy to slip into that line of thinking, especially these days.
But have you heard the word, pronoia? This is a neologism – a newly coined word or expression – which describes a state of mind completely opposite to paranoia – the belief that the world is conspiring for your good. And eunoia is "beautiful thinking," or goodwill – real or perceived – especially between a speaker and an audience. In short, pronoia is the world blessing you and eunoia is you blessing the world.
Terrific Lesley, what does this have to do with tile?
Well, I don't know about you, but I start each day with a certain mindset that can color my experiences and set the tone for either a happy, productive day when I am fulfilled in my work, my social circle, my life, my purpose, my place in the world – or the opposite. When I wake up in paranoia territory, I have a number of practices I use to reset my attitude, including Tapping, journaling, drumming, yoga, meditation, prayer, The Petting of the Cats, messaging with Facebook friends, and talking to my sweetie, John. Usually one or a combination of these things can shift me into a pronoiac place, which really is a more pleasant place to reside.
I also realize that eunoia is my frequent companion. I moderated a session at Coverings in April about Women in Construction with kick-ass panelists – Tilevita's (and NTCA Trainer) Melissa Swan, The House That She Built Author and Group Two Co-founder Mollie Elkman, NSI's Sarah Gregg and Brazen Architecture's Monica Gresser. It was the first time I moderated a session since 2003, so I was quaking in my boots. But the morning of the session, I realized I was really helping to bring useful, inspiring information to the audience, and giving the panelists a platform for sharing their experiences and lifting the audience up. Eunoia big time!!!!! And recently I realized I actually engage in eunoia with every issue of TileLetter and TileLetter ARTISAN, every digital story on TileLetter.com, every social media post. These are just other vehicles for spreading goodwill.
How do YOU spread goodwill? You interact with customers every day. Is your attitude one of paranoia, pronoia or eunoia? Just a few of examples of eunoia: Ken Ballin has installed several projects for folks who were struggling with personal situations or physical handicaps. Melissa Swan has a gallery on her Tilevita website of all the furry supervisors she encounters on her jobs. Jason McDaniel and his team turned the Sledgehammer Bathroom into a thing of beauty for the homeowner. Seth Ready often makes his customers a special gift after a job, crafted from leftover pieces of tile from the project. These are all stunning examples of goodwill, pure and simple, turning a tile job into a treasured relationship between tile installer and customer (and in Melissa's case, pets).
And maybe the practice of eunoia is a catalyst towards developing an attitude of pronoia. Kind of a chicken or egg question, but either way, it's a win-win.
Do you have other examples of pronoia or eunoia to share? The world needs to hear about more goodness, so feel free to email me or share on our TileLetter Facebook page!
In the meantime, enjoy all the information, wisdom and inspiration in this issue! Like a twist on an old-time Budweiser slogan some of us know very well – "This one's for you!"
God bless,
Lesley
[email protected]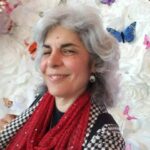 Editorial Director and Senior Writer for TileLetter and TileLetter ARTISAN
Lesley Goddin has been writing and journaling since her first diary at age 11. Her journey has taken her through a career in publishing and publicity, landing her the editor position of TileLetter and its special publications in 2006. Her goal is to educate, inspire, recognize and encourage those in the tile industry -- especially the tile and stone contractor. Other interests include the soft, purring marvels known as cats, labyrinth walking, drumming and percussion, and a range of spiritual, musical and artistic pursuits.