– sponsored content –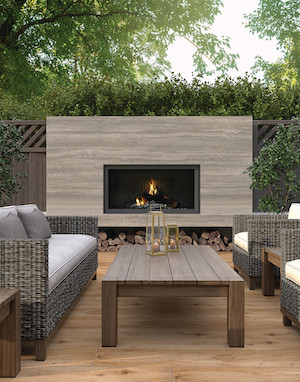 Daltile's Xteriors program is a collection of products designed for gracious outdoor living. These products for outdoor floors, walls, countertops, pools, patios, and kitchens create an outdoor experience that rivals the comforts and high design of the indoors.
Homeowners are spending more time eating, visiting, working, and relaxing outside when they are home. Consequently, more beautiful outdoor spaces are being created to serve as extensions of a home's interior living spaces. Tile is a suitable product for outdoor living spaces, because of its many innate qualities and because new technology has been driving substantial advances in the category. Tile is inherently tough, perfect for the indoors and the outdoors. It is waterproof, stainproof, scratchproof, waterproof, frost resistant, and fire resistant. Add to this the advances in size, design, color, texture, and slip-resistance and tile becomes a very attractive material for the indoors, outdoors, or flowing between the two.
Daltile's Xteriors program includes:
Porcelain Pavers
Floor Tile (Featuring StepWise™ Technology)
Quarry Outdoor Flooring
Vertical Wall Components
Pool, Spa and Fountain Tile
Exterior Cladding
Outdoor Countertops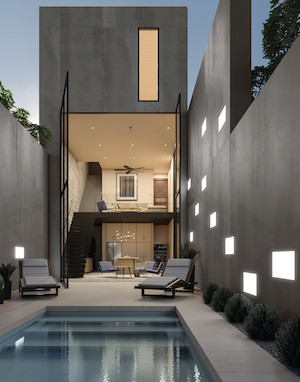 Roofing Tile
Fifteen years ago, designers were very limited in what material they could use for an outdoor fireplace, or an outdoor floor. It was very frustrating for them, because they were focused on trying to make the space pretty, but there were so many limitations on what they could do, given the negative impact of the outdoor elements on materials. Today, designing outdoor spaces is met with a resounding "yes, I can bring my ideal vision to life", because technology has allowed us to produce versatile, beautiful, fashion-driven porcelain products for use outside. Much of our inspiration for Daltile products that are geared especially for outdoor spaces comes from the traditional "high-end elements" that consumers like to use outside such as marble, hardwood, limestone, and travertine to name a few. The problem with using the natural materials outside is that they require lots of work to keep them looking nice.  Travertine and marble must be sealed. The patina of hardwood and limestone will weather over time. You don't have any of these problems with porcelain products. And end up fabulous, highly realistic visuals of these traditionally high-end aspirational materials, without the problems associated with the natural materials. Tile has taken inspiration from the materials traditionally desired and used outdoors and made it easy to feature these looks while enjoying all the durability, performance, and low-maintenance attributes of porcelain. 
https://www.daltile.com/xteriors