WASHINGTON, Feb. 4—As the nation struggles with the economic effects from the COVID-19 pandemic, construction employment continues to perform better than many other occupational groups, according to a state-by-state analysis of U.S. Bureau of Labor Statistics data released today by Associated Builders and Contractors. In December 2020, on a year-over-year basis, not seasonally adjusted construction unemployment rates rose nationally and in 48 states, and national NSA construction employment was down 125,000 from December 2019. However, national construction employment was only 3% below its pre-pandemic peak in February 2020 on a seasonally adjusted basis.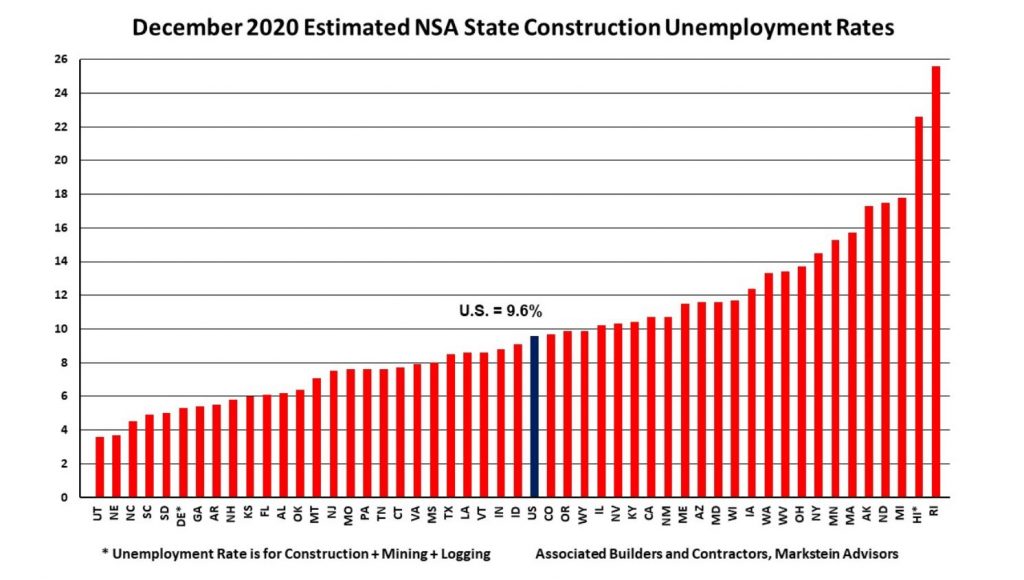 By comparison, overall nonfarm payroll employment was down 6.5% from its peak in February 2020. The combination of the pandemic and winter weather resulted in an increase in not seasonally adjusted construction unemployment rates for the nation and most states.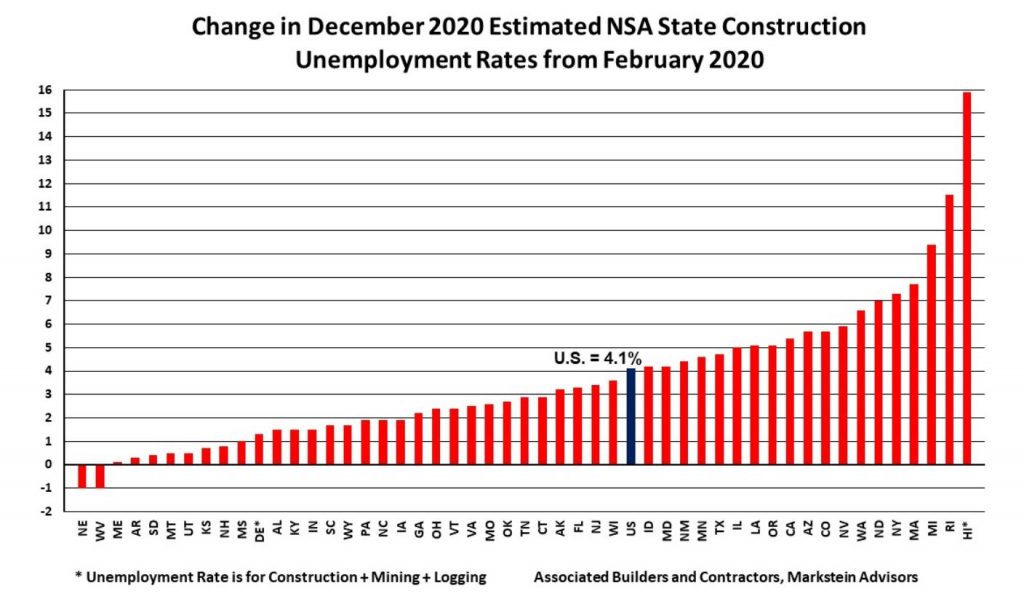 The national NSA construction unemployment rate went from 5.5% in February 2020 to 9.6% in December 2020, up 4.1%. Among the states, only Nebraska and West Virginia had lower estimated NSA construction unemployment rates over that same period.
From December 2019 to December 2020, the rate rose 4.6%, from 5% to 9.6%. Over that same period, only two states—Nebraska and South Dakota—had lower rates.
"With the distribution of vaccines, there is now a path to defeating COVID-19 and returning the economy and the construction industry to its pre-pandemic levels. The speed with which we enter a new normal depends on how fast these vaccines are delivered and how much of the population is vaccinated," said Bernard M. Markstein, Ph.D., president and chief economist of Markstein Advisors, who conducted the analysis for ABC. "Federal spending to support the economy is also key. Spending on much-needed repairs to improve the nation's infrastructure will benefit both the construction industry and the economy's long-term growth prospects."
Recent Month-to-Month Fluctuations
Because these industry-specific rates are not seasonally adjusted, national and state-level unemployment rates are best evaluated on a year-over-year basis. However, due to the uncertainty caused by the pandemic, month-to-month comparisons are useful.
The national NSA construction unemployment rate was up 2.3% from November 2020 to December 2020. Since the data series began in 2000, the historical pattern of change in rates from November has been an increase every year. Among the states, 45 had higher estimated construction unemployment rates than in November, four had lower rates, and one was unchanged (Montana).
The Top Five States
The states with the lowest December 2020 estimated NSA construction unemployment rates in order from lowest to highest were:
Utah, 3.6%
Nebraska, 3.7%
North Carolina, 4.5%
South Carolina, 4.9%
South Dakota, 5%
All of these states except for South Dakota were in the top five in November 2020. Utah had the lowest rate in December and November.
The Bottom Five States
The states with the highest December 2020 estimated NSA construction unemployment rates in order from lowest to highest were:
Alaska, 17.3%
North Dakota, 17.5%
Michigan, 17.8%
Hawaii, 22.6%
Rhode Island, 25.6%
All of these states were in the bottom five in November. Rhode Island had the highest estimated construction unemployment rate in December compared to second highest in November. This was the state's second highest December rate on record, behind the 26.5% rate in December 2009.
Click here to view graphs of overall unemployment rates (Tab 1) and construction unemployment rates (Tab 2) showing the impact of the pandemic, including a new graphing tool that creates a chart for multiple states; alphabetical lists and rankings; and monthly and annual state unemployment rates.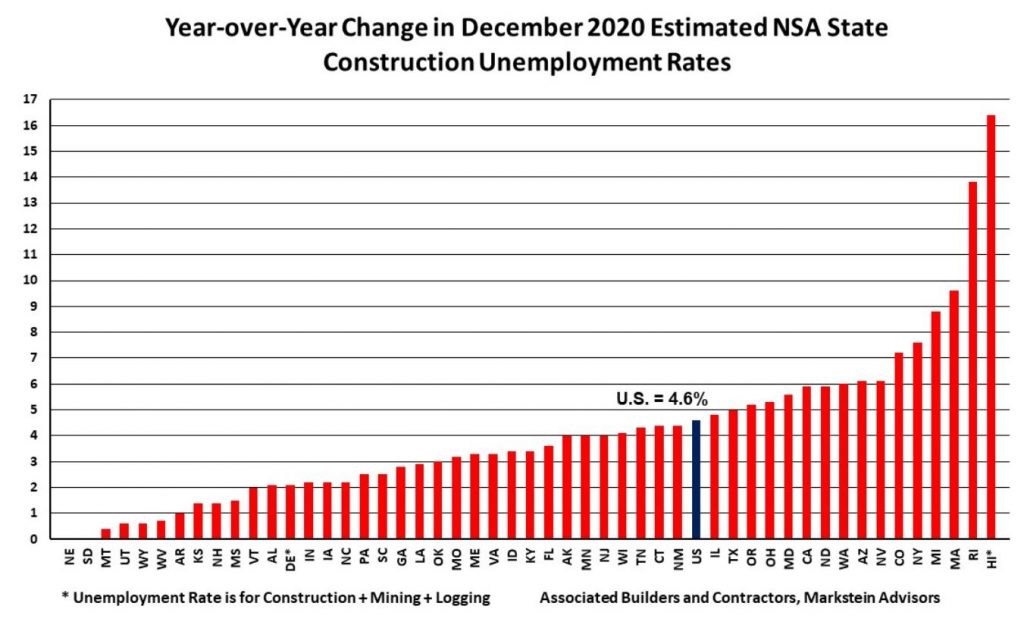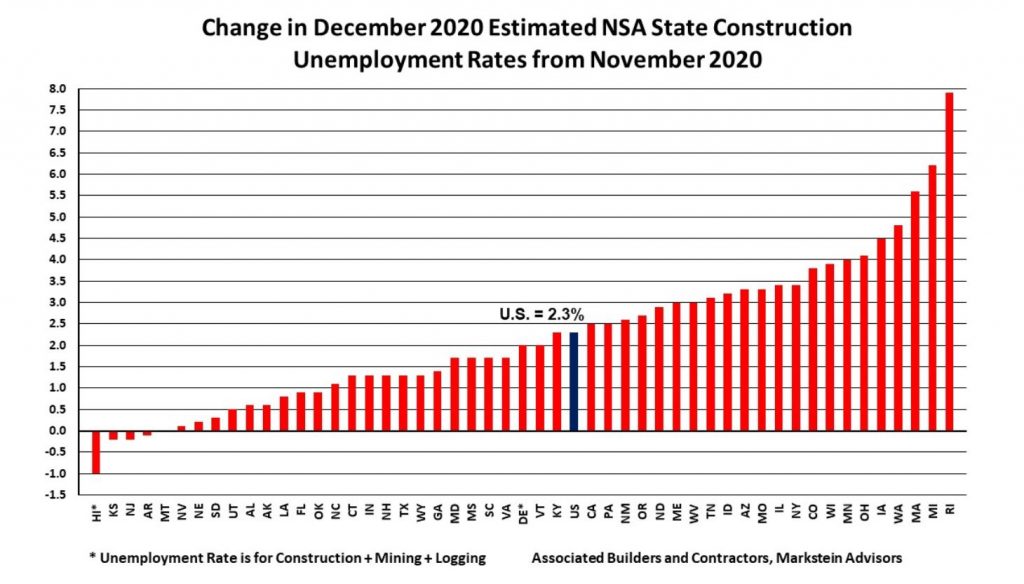 To better understand the basis for calculating unemployment rates and what they measure, see the article Background on State Construction Unemployment Rates.
Visit abc.org/economics for the Construction Backlog Indicator and Construction Confidence Index, plus analysis of spending, employment, GDP and the Producer Price Index.

Associated Builders and Contractors is a national construction industry trade association established in 1950 that represents more than 21,000 members. Founded on the merit shop philosophy, ABC and its 69 chapters help members develop people, win work and deliver that work safely, ethically and profitably for the betterment of the communities in which ABC and its members work. Visit us at abc.org.