On March 9-10, 2023, the Construction Education Foundation of Georgia's (CEFGA) CareerExpo and SkillsUSA Competition was held in Atlanta, Ga., at the Georgia World Congress Center.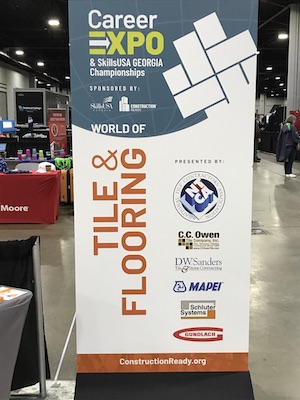 The CEFGA CareerExpo provides opportunities for both students and employers. Students get the opportunity to receive hands-on learning about different trades, as well as potential job or apprenticeship opportunities. Employers get the chance to teach the youth about their careers and possibly interview students that are ready for a career in trades such as construction, electrical, mechanical, plumbing, mining, energy, tile, and more.
CEFGA was founded in 1993 by construction leaders who recognized a need for quality construction skills training in Georgia. The CEFGA CareerExpo features hands-on displays that allow students to engage with industry leaders, equipment and materials and tap into their unique skills and interests.
This year, the event had more than 9,300 attendees, 6,600 of those were students, and 1,200 were teachers, advisors, counselors and parents. The remaining 1,500 attendees were industry volunteers and guests.
"Rod [Owen, NTCA 1st Vice President, and President of C.C. Owen Tile Co., Inc., Jonesboro, Ga.] was the genesis of this event getting tile into it and I have followed his lead," said Woody Sanders, D.W. Sanders Tile and Stone Contracting, Inc., in Marietta, Ga., NTCA 2nd Vice President. "He has been a great leader and champion of the introduction of the tile trade to kids throughout the state of Georgia," Sanders, who was one of the contributors to the tile portion in the SkillsUSA Competition, stated.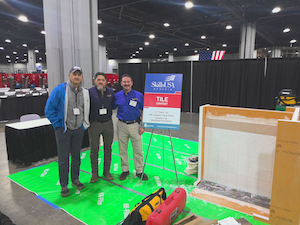 SkillsUSA
SkillsUSA is a competition hosted to put students to the test based on different trades, including tile setting. The 2023 World of Tile & Flooring sponsors included NTCA, MAPEI, Schluter, Beno J. Gundlach, ARDEX, C.C. Owen Tile Co., and D.W. Sanders Tile and Stone Contracting, Inc. There is room for growth in the competition, as this year's competition had only three contenders.
Students were tasked with demonstrating proper tile installation standards in this competition. The judges focused on two objectives: how well the tile standards were executed and the aesthetics of the installation.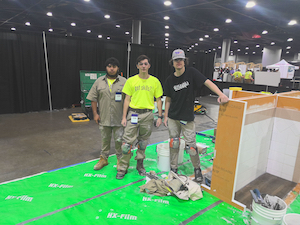 Sanders explained the process is very "paint-by-numbers" because the students often don't have any prior experience with tile. "We're playing the long game, just trying to introduce the trade of tile and stone setting to the students," he said. "Most of them would not even know this is an option."
Since the students in the Georgia area have such short summer breaks, the experience of the trades is incorporated into the school year, seeking students with the mindset and interest who are willing to be taught the trade.
"We built the test to make it simple," Sanders said, noting there is an initiative to revamp the hands-on aspect.
The approach works. A young man – a junior in high school – told Sanders he was interested in tile, and Sanders gave him his business card. "We'll see where it goes," Sanders said.
Brayan Martinez Gutierrez from Beckmar High School placed third in the competition. Austin Joyner from Lee County High School placed second and Carson Harrell from Calhoun High School took first place.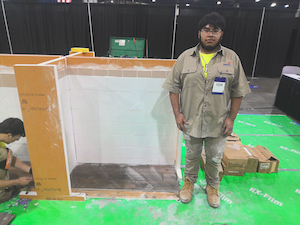 Amanda Mourelatos, daughter of John Mourelatos, Owner of Mourelatos Tile Pro, is a 19-year-old student in her second year at the University of Arizona in Tucson, Ariz., where she is majoring in journalism with a communications minor.