Livonia, Mich.—Virginia Tile Company hosted the Grand Opening of their newest facility in Elk Grove, IL on April 12th. This is one of many commitments to upgrade, improve and expand their footprint over the next couple of years. Virginia Tile continues to keep their 95 years in business going strong due to the dedication of their employees and loyalty of their customers.

Customers, suppliers, and local council members gathered to be a part of the ribbon cutting ceremony, live entertainment, cigar rolling, bourbon tasting and delicious food. Attendees were treated to a wonderful evening in an incredible setting, surrounded by their vast offering of premium tile, large format porcelain panels, natural stone, and related products within their newly renovated 51,000 square-foot facility.

"We are thrilled with the turnout for our Elk Grove showroom grand opening," said Sunil
Palakodati, CEO of Virginia Tile. "Our team has worked hard to create a beautiful space that
showcases our products and provides an exceptional customer experience. We are excited to welcome our new customers and continue to serve our existing ones in the Elk Grove area."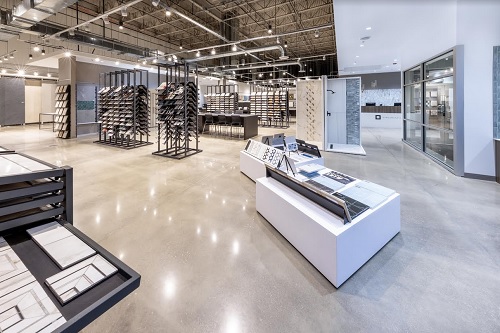 The new showroom is a well-appointed upgrade from the Wooddale location where Virginia
Tile was a staple for over 2 decades. The design community was a focus with the new facility boasting over 7,000 square-foot of showroom space. Virginia Tile is also featuring their large panel porcelain (40" x110") soon to be stocked, to stay on top of the latest design trend. Their customer service area focuses on the needs of contractors, with a friendly pick-up area to showcase a vast offering of tools and setting materials in a one-stop shop experience.
---
Virginia Tile Company
Virginia Tile Company ("VTC," or the "Company") is the leading specialty distributor of ceramic, porcelain, and natural stone tile in key metropolitan markets throughout the Midwest. Founded in 1928 by the Stephenson family, Virginia Tile serves trade professionals in both residential and commercial end markets with a broad selection of premium tile and related products. VTC was acquired from the family ownership group in 2014 and was expanded through the purchase of ISC Surfaces (Kansas) and RBC Tile & Stone (Minneapolis) in 2016.