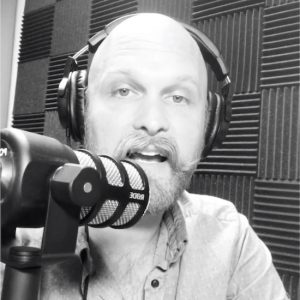 At the age of 17, Luke Miller entered the tile trade as an apprentice/tile helper in Arizona. At the age of 25 he moved to California and gained his C54 tile contractor license. It was then that he realized there were so many aspects to being a tile contractor that he started to envision ways he could share this knowledge with his peers. He, like many other tile contractors, recognized that most of his preparation and training in the tile industry focused on being a technician, and that little was provided for him related to business education and running or operating one's own business.
Luke introduced the Tile Money podcast and social media group in 2019, and NTCA – along with others – quickly saw the value and sponsored Luke's program. The Tile Money podcast and social media group focuses on the business of tiling. It has grown and evolved and has produced value to tile contractors seeking to expand their business knowledge. I caught up with Luke to determine next steps for his program.
---
What have you learned about tile contractors in the two years you have been producing and promoting Tile Money on social media?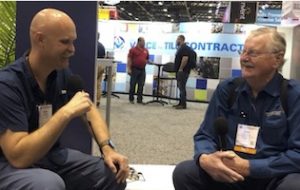 What became clear to me is that we are all so similar. It is almost like you are interacting with your relatives if you are a tile contractor. We have so many commonalities. This goes beyond just being tile installers. In our group there are a lot of artists and musicians, and creative people in general. Tile is of course at the center of our passion. When you meet each other, you feel like you have known them forever, and hours of conversation ensue. But my suspicions were also correct, which is that a lot of my fellow contractors were suffering in their business, and despite years of honing their craft at a technical level, they needed education and support, and a platform to discuss management and ownership issues.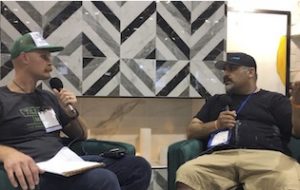 Within 12 months of starting the Tile Money podcast, I closed down my contracting business and decided to focus full time on this concept, with the goal of creating a lasting impact on our industry.
What is on the horizon for Tile Money moving forward?
We have definite plans for growth. Tile Money has become a valuable resource for tile contractors. In addition to the podcast, we are working on business courses that we are developing based on feedback and interactions with our contractor community. We are also working on digital assets and communication, and in the future we would like to get more involved in in-person business education courses and interaction. This could look and feel almost like a small business tradeshow in the future.
How do you approach promoting business education to a contracting community that was for the most part raised to be technicians or craftspeople?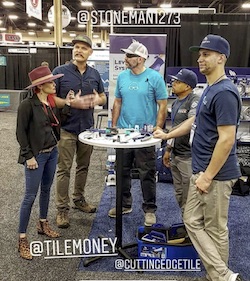 It's a good point. But I have found that the success of the podcast is that it is so easy to plug in and play for free these components of running a business that maybe in the past would have scared off some of our contractors as some daunting business training program. I also think that since I am and was a tile contractor for my whole career, it uniquely qualifies me to talk tile contracting business at a level that resonates with my peers like we do on a regular basis on a job site.
What are some of the business topics that generate the most discussion and interaction on the Tile Money podcast?
By a large margin I think that "How to price your job and your qualifications" generates the most talk. And the discussions are not only popular – they generate some controversy as well. Another important topic that gets addressed is "How to hire and recruit helpers or workers that fit your business culture." Contractors continue to be really busy coming out of the pandemic, and consumers are expanding their residential space and spending stimulus money, all leading to opportunities for contractors.
At the heart of what all the contractors seem to need and the direction I want to steer our group is how to generate and put into daily practice a business owner mindset: how to take your business with where it is today and to grow it into what you want or desire it to be; taking it beyond being self-employed and expand it to where it could operate without you.
Moving to the next level, I think we see opportunity to promote an understanding of profit and loss and how pricing impacts that both positively and negatively. Too often I think our discussions get sidetracked on price and not enough on profit or the impact of price. We will continue to work on developing content that addresses this.
What do you think our industry can do to attract young and capable people into our industry or our trade?
I tend to be really positive about the opportunities that are out there right now for young people as they relate to tile installation as a career. I see a lot of great interaction on social media channels, and really creative videos and topics generated organically by the people who are having fun with this right from the field. I see that our role, along with our sponsors like NTCA, is to help ensure that these people are trained and certified and learn to do it the right way, according to industry standards and methods. I would challenge these new influencers in our industry that are getting attraction and interest organically to join groups like the NTCA and join the various social media groups and to continue to learn with and support each other.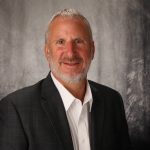 Bart Bettiga is the Executive Director of the National Tile Contractors Association and Publisher of TileLetter. Bettiga is a member of the Board of Governors of Coverings, one the largest tradeshows in North America. He has over 30 years of experience in the tile and stone industry and has served as the NTCA Executive Director since 2002. He is a well known speaker and author on ceramic tile and natural stone distribution and installation. He oversees the financial operations of the NTCA, TileLetter and the Ceramic Tile Education Foundation.