Donato Grosser's Coverings presentation looks at the sales patterns for independent distributors
---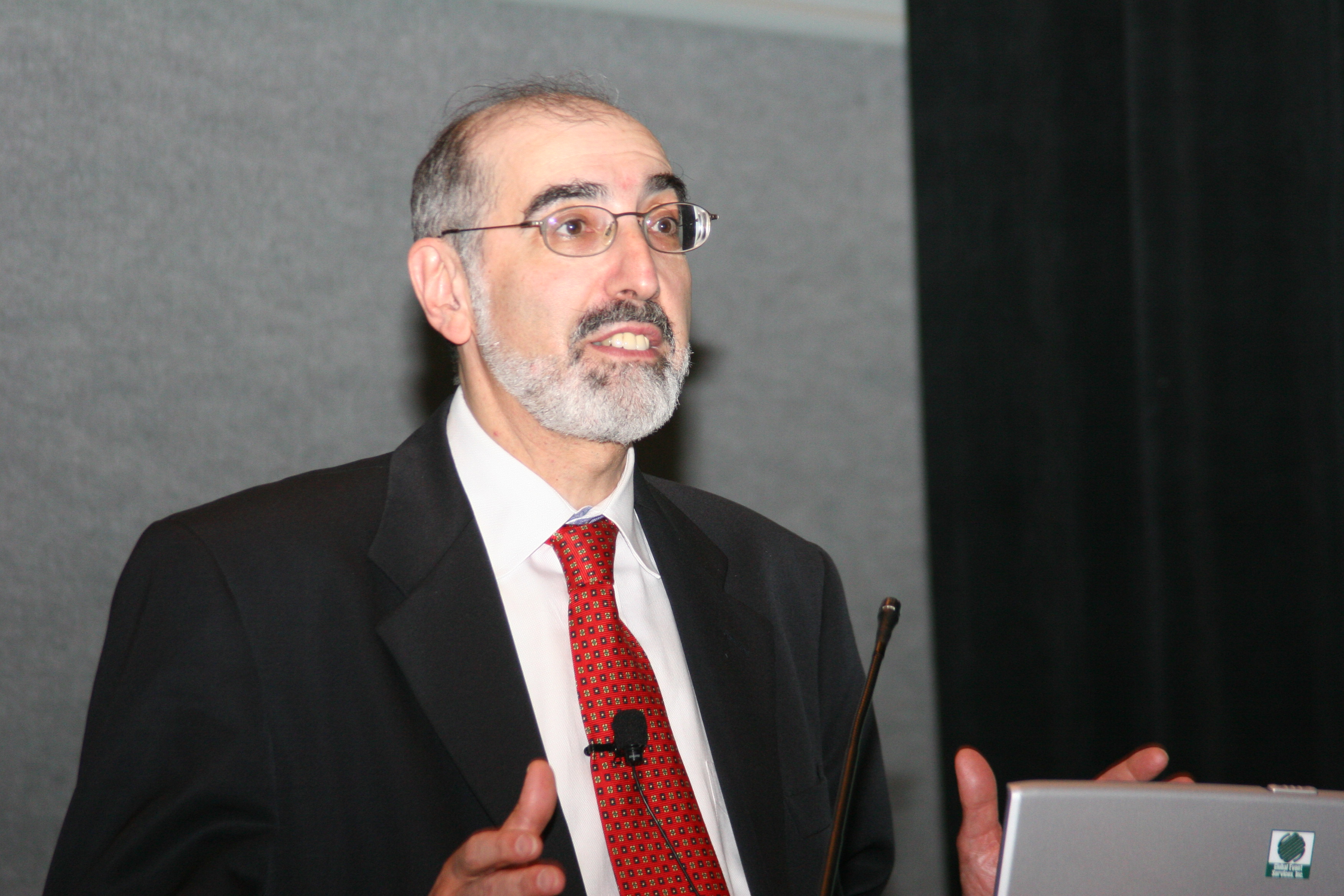 As part of the conference program at Coverings 19, Donato Grosser, principal of D. Grosser and Associates, Ltd., in New York, offered an analysis of ceramic tile business in the U.S., based on interviews with distributors in Florida, Southern states (Tennessee, Georgia, Alabama, Arkansas, Mississippi, Louisiana, Carolinas), Texas, the Southwest (Arizona, Utah, Nevada, Colorado, New Mexico), California, the Northwest (Oregon, Washington), the Midwest (Ohio, Michigan, Illinois, Wisconsin, Minnesota), New England, New York, New Jersey, and the Middle Atlantic (Maryland, Pennsylvania, Virginia).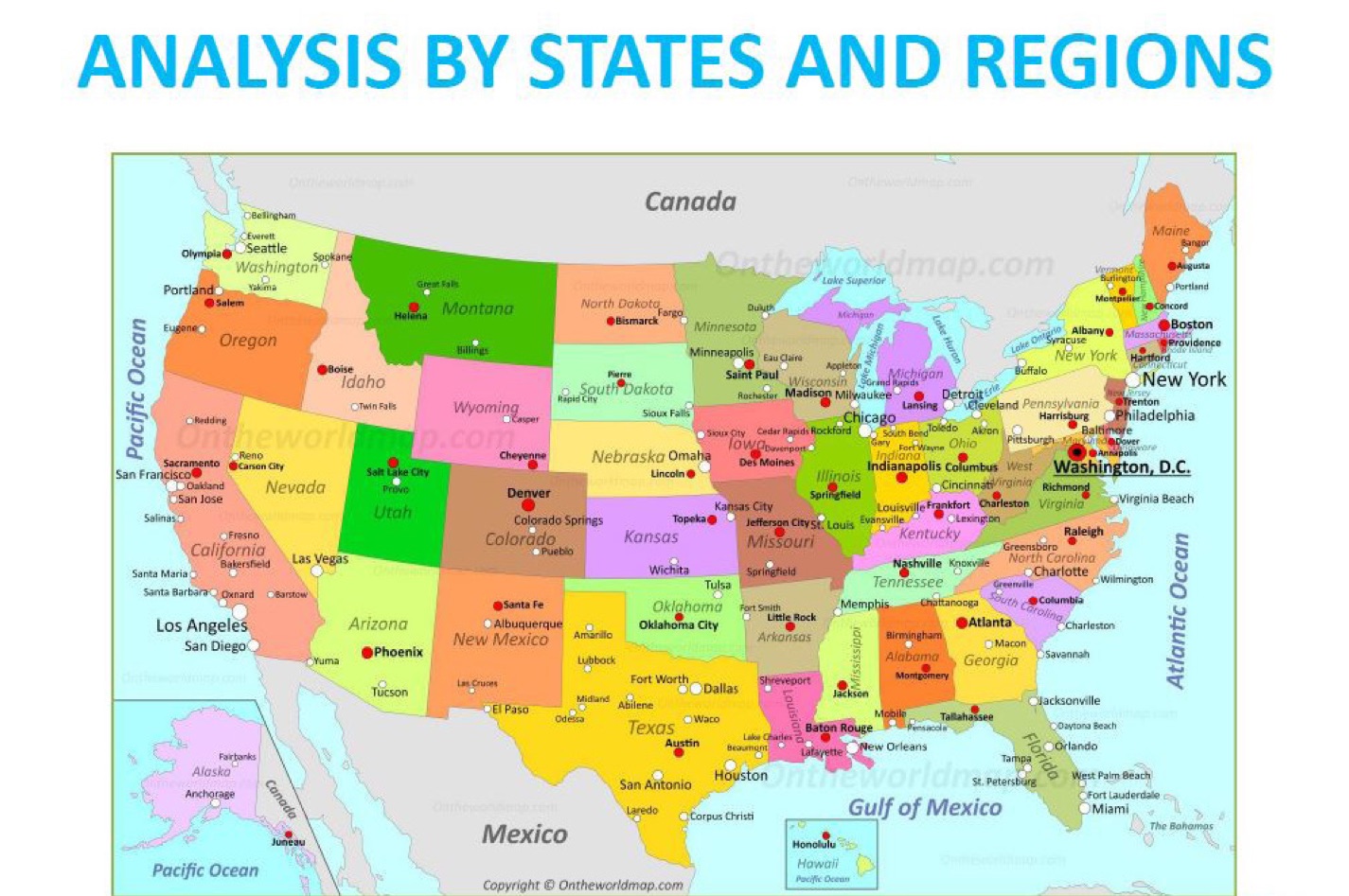 The overall findings, targeted to inform independent distributors, show that though there was a strong market increase from 2012 to 2017, a slowdown occurred in 2018. The strength of suppliers like MSI, Emser, Floor & Décor have negatively impacted independent distributor business. Other factors in sales slowdowns are the strengthening of luxury vinyl tile (LVT) and Chinese competition, as well as high cost of installation. The bright spots in Grosser's report were that remodeling kept distributors in business during the recession, and areas with high birth rates and low taxes and immigration are the strongest economically.
Number of distributors shrinks;
big companies get bigger
Grosser's research shows that although there were 21,725 ceramic tile contractors and dealers in the U.S. in 2008, now that number has plummeted to only 16, 406 in 2018, with a slight swell expected to 16, 806 in 2019. 
These trends run inverse to U.S. ceramic tile consumption, which was at a high of 3,315 million of square feet (m. sq. ft) in 2006, and dropped to only 1,959 m. sq. ft. in 2009. It has slowly increased to an expected 3,170 m. sq. ft. in 2019. Consumption was nearly flat from 2017 at 3,046 m. sq. ft. to 3,107 m. sq. ft. in 2018.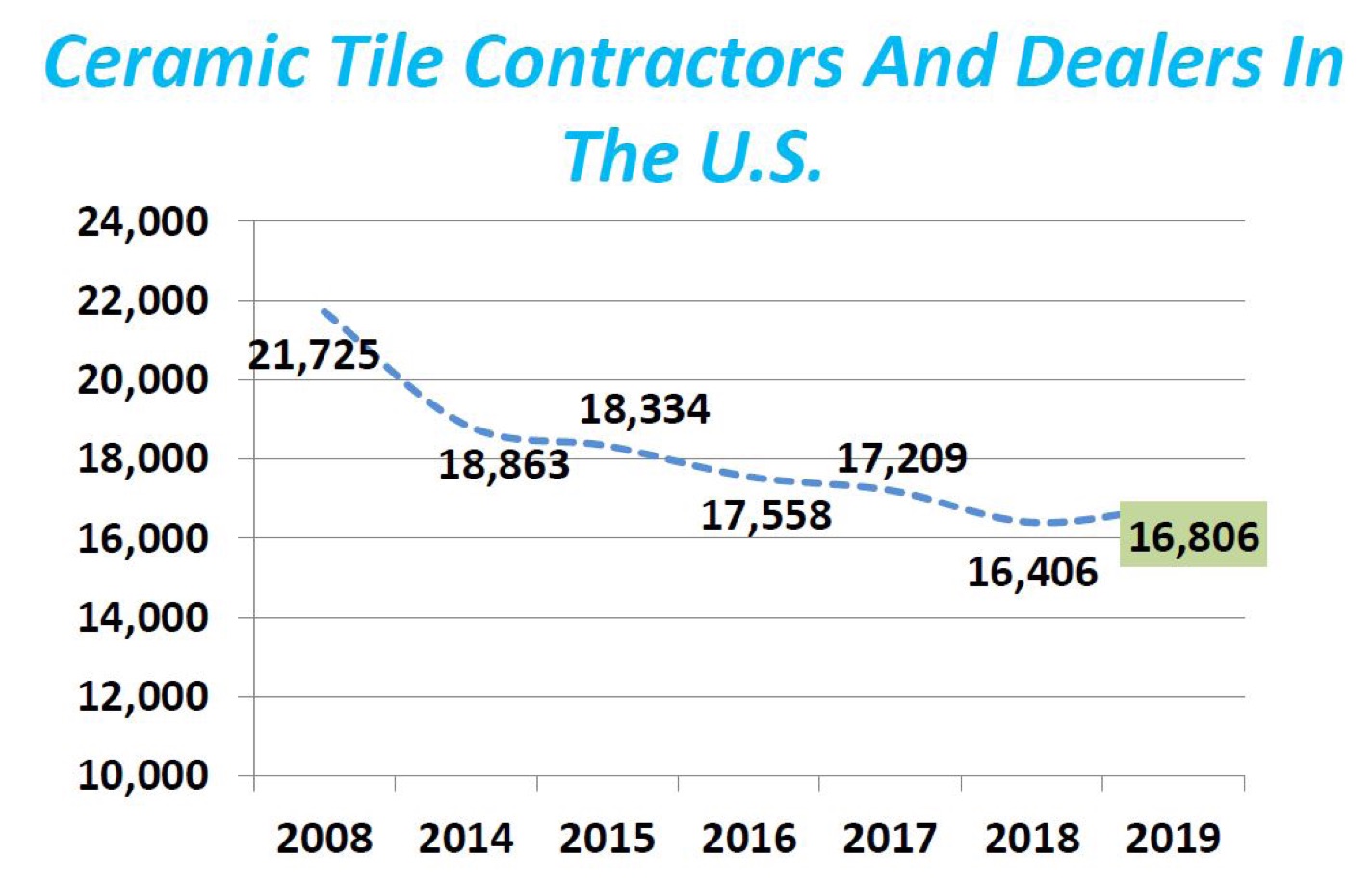 Overall, Grosser reported that the number of distribution outlets are declining, the number of ceramic tile distributors has fallen from a high of 1,376 in 2014 to a low of 1,241 today. The big are getting bigger and the small are getting smaller, with large distributors expanding and small distributors shrinking. In terms of ceramic tile sales, 2018 was nearly flat, and the growth of LVT as well as flat residential construction will keep sales low in 2019 as well, Grosser predicted.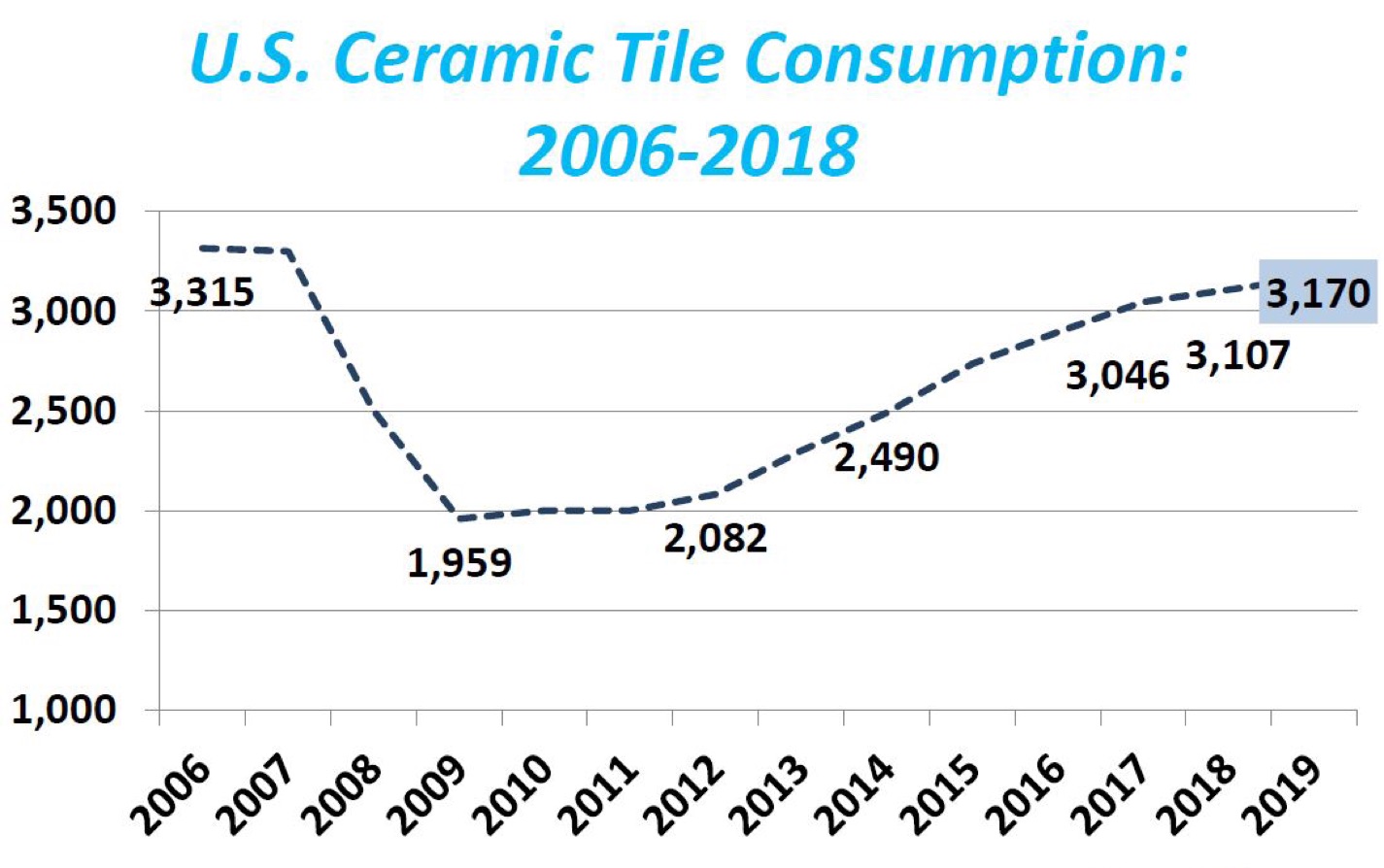 Total U.S. manufacturing capacity is now about 1,204 m. sq. ft., with usage of manufacturing capacity at about 80%:
Dal-Tile: ~613 m. sq. ft.
Italian plants (Stonepeak, Florim, Florida Tile, Del Conca, Landmark): ~430 m. sq. ft.
Other main manufacturers: 161 m. sq. ft.

Regional synopsis
Here's a synopsis of distributor activity according to region. 
Florida – After lows in 2009, sales spiked 60% in 2012-2014, with a 2017 boom for some distributors due to residential and commercial construction. Currently, most sales are for remodeling and commercial construction. Some distributors are exporting to Caribbean islands. Hurricanes turned out to be a mixed bag: sales were lost for a month, but then sales to fix storm damage surged. Negatives include an oil spill in the Panhandle in 2010, Chinese competition, and flat sales from 2017 to 2018 due to competition by Floor & Décor, MSI and Emser.
Southern states – Sales have improved across the South since 2013. In Tennessee, some distributors report a boom; others complain of sales lost to LVT. Sales are up in Georgia, and booming sales in Alabama credit high-end residential and new commercial projects. Arkansas is enjoying a boom; healthy sales in Mississippi and Louisiana are up 10-15%, and sales in the Carolinas are flat to 15% up. 
Texas – Though there was a slowdown at the end of 2018 – which some companies attributed to the mid-term elections – many companies have reported sales gains of 15-20% per year since 2014. Commercial construction, hospitality and remodeling are abundant; sales are surging in Houston due to remodeling after hurricanes. 
Southwest – New construction in residential, hospitality and restaurants is contributing to 20-30% boom conditions in parts of Arizona, especially in Phoenix. Utah is seeing sales rise 7-20% due to rise in multi-unit residential projects, mid-to-high-end residential and commercial construction. 2018 sales are up in Nevada 10-20% due to new construction and residential remodeling, though LVT is impacting tile sales as builders embrace LVT. Colorado is reporting sales increases across the board, especially in the Denver area and suburbs where high-end residential construction and new commercial construction are going strong. In New Mexico, one distributor reported 10% sales gains last year due to mid-to-high-end residential construction and new retail and hospitality construction; another distributor said he was impacted by loss of government money in the region. New construction is strong for healthcare projects.
California – The Golden State has enjoyed steady growth from 2010 to 2018, though the rate has slowed in the last six months. Bright spots are growing sales in tile slabs, large importers selling to tract housing developers and small and medium distributors supplying remodeling efforts. The interest in low-cost Chinese tile is being felt in this state. 
Midwest – After sales bottomed out in 2008-2009, Ohio distributors saw sales surge up to 20% 2013-2016, mostly for residential remodeling. Last year sales were up for commercial projects, retail, institutional and offices. Michigan saw similar growth over those years due to new hospitality and office construction, and high-and-mid-level residential, with 60% sales due to remodeling. 2018 saw a slight slowdown. Illinois saw 15-20% growth per year 2012-2018 in residential remodeling or multi-unit construction until a slowdown in 2018. Post-tornado sales in 2015 soared. Tiles are mainly used in bathrooms and some kitchens, fighting competition from wood flooring. Wisconsin is a mixed bag with some reports of booming 30% sales increases from 2017 due to high-end residential, remodeling and new commercial building; others saw sales are down due to competition from VCT and LVT. Minnesota distributors saw yearly increases of 10-20% from 2012-2016; in 2018, some reported 10% hikes, while others said installation costs are negatively impacting tile sales and one distributor said sales fell 20% due to customers switching to LVT. 
Northwest – Sales in Oregon last year spiked 5-15%, with residential construction doing well; some distributors reveal that remodeling makes up 50% of sales. In Washington, recovery began in 2013; between 2016-2018 new high-end residential and retail projects pumped up sales 10% each year. 
New England – Sales were mostly flat for 2018, declining in the second half of the year. New high-end residential and commercial fueled sales, but some distributors say companies are leaving Connecticut due to high taxes and the recently-instituted $10,000 cap on state and local taxes (SALT) that taxpayers can claim on their federal income taxes. 
New York – Though sales surged in the wake of Hurricane Sandy, 2018 was mostly flat in the area, except in high-end Manhattan apartments and suburban areas with high birth rates that spurred residential remodeling. Big-box competition, internet sales, and exodus of people to the South and West are depressing sales in the region. 
New Jersey – 2018 was stellar for many companies, though sales fell after August and some companies are reporting flat sales, depressed by competition from Floor & Décor and similar stores and high installation costs that spurred a switch over to LVT products. Sales health was found in new commercial building and residential remodeling.
Mid-Atlantic – Sales were down or flat in Virginia and Pennsylvania (except for an increase from 2011 to 2018 in Pittsburgh); Maryland is expecting an increase in the first quarter with most companies reporting 5-15% increase due to healthy mid-to-high-end residential and commercial, except in areas where construction is down.