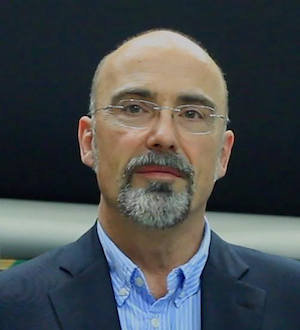 In this installment of Workplace Wellness, we continue our exploration of knee health from Lee E. Richards, founder of ProKnee Corporation, a manufacturer of knee pads that many contractors swear by. 
Richards was born into a construction family, but in high school pursued vocational training in the autobody industry. He decided that wasn't for him and returned to construction, specializing in all aspects of floor covering installation, attending Armstrong Installation School in Lancaster, Pa., and growing his business over 10 years to include nine workers.
"Then one day, after working a week of extended hours, my right knee swelled up, giving me pain to the point where I couldn't bend it, thus preventing me from kneeling down," Richards said. "After all these years the thought of not being able to do my occupation that I loved terrified me! Over the years I had used every type of knee pad available but was unable to find one that could keep me in business. At this point the decision was made that I would develop a knee pad that could protect my knees as well as the great income I was making, i.e., ProKnee was born!"
Richards delved into research on ergonomics and occupational kneeling that led to the development of the knee pads the company produces today. Early knee pads were handmade using molds, employing fiberglass and resin to produce parts.
Richards was invited to BIW, a General Dynamics Corporation-owned company that built warships for the U.S. Navy. BIW employed over 8,000 workers in the Decking/Coverings department installing hull-related sound proofing and coating materials. Richards was tasked with observing and studying the ergonomics associated with the occupational kneeling in this department and then outfitting workers with the ProKnee custom-made, custom-fit knee pads. This required extensive field testing to ensure all ergonomic and structural criteria was met before creating the expensive plastic injection molds – a precursor to today's state-of-the-art injection molds.
Today ProKnee produces parts that are protected by nine patents granted – with one still pending – in knee pads and two additional patents granted in industry-associated tools. Richards shares some well-earned perspective about ergonomics and workers on the pages to follow:
Q: What are the biggest issues that (tile) contractors/users deal with?
After studying the various kneeling positions and injuries of people that work on their knees, several observations have been made: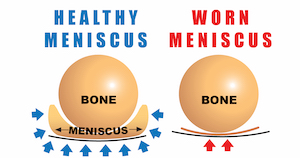 People who have sore knees often have sore backs. Why? When people are tired and sore from kneeling they often compensate by stooping over. This causes the weight of the upper body to transfer off the knees and onto the lower back area. This leads to excessive fatigue, chronic pain and injuries to the muscles and vertebra of the lower back.
When the weight of a person is concentrated in the knee area, there is friction between the bones at the joint. Sandwiched between the bones, lies a thin layer of cartilage and tissue (meniscus) that acts as a cushion that allows pain-free movement of the joint. With not much natural support to hold it together, the joint continuously works on this thin layer until it starts to wear out. This may cause an assortment of knee problems including loose joints, knee burn pain, fluid buildup and tissue swelling.
One of the typical kneeling positions is sitting back on your calf muscles with the tops of your feet flattened against the floor. The drawback is that the ligaments and muscles on the top of the foot can overstretch, causing pain and cramping that can make it difficult to walk or run after a full day's work. 
Q: Is it all about padding or are there some ergonomics to consider?
ProKnee uses super resilient, soft, cellular urethane for our cushions that provide even tension as weight is applied. This takes the shock out of the day-to-day kneeling. While the cushion is an important  consideration, we understand the ergonomics of kneeling and have set very high standards of function that must be included into a high-performance kneepad. ProKnee's design promotes proper kneeling technique, forcing the knees to respond to the therapy that the kneepads create.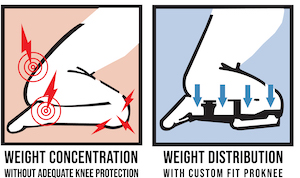 The first thing we do is surround the knee joint area with a knee cup shape, which holds the joint tight as you kneel. Next we take the weight off the joints by spreading it out over the length of the shins. Being custom fit, the knee pads ride off the tops of your feet, which allows us to locate the top straps approximately 3″ below the knee joints. This eliminates pinching and binding that can cause circulation problems to your lower legs. Balancing your body weight across the shins creates a mechanism that does not allow overstretching of the ligaments and muscles of your feet when sitting back on your calf muscles.
Q: Anything else tile setters/contractors should know about knee care/safety/how to select the proper knee pad and proper fit?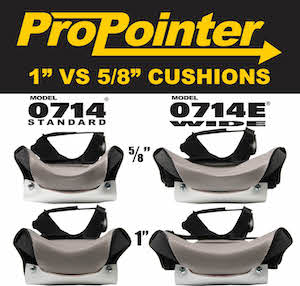 Without proper safety precautions taken, you could be setting yourself up for years of discomfort in the future. Preserving your knee health is commonly overlooked in younger years, but essential to the prolonging of one's career and overall quality of life. Awareness and proactivity are the key components to longevity of optimal knee and back health. Preventative solutions such as consistently utilizing knee pads, practicing proper lifting and bending techniques, as well as strengthening your supporting muscles will all contribute to a happier, healthier knee and back situation.
Richards also recommended trying on and fitting the kneepads in person, without shoes to get proper measurements from floor to top of kneecap and the widest part of calf with workpants on. ProKnees offer a choice between 5/8″ cushion or 1″ cushion. Many customers choose the 1″ cushion inserts that Richards recommends if you work eight hours or more on your knees, have had knee problems or surgery or if you weigh more than 200 lbs. Those with slimmer legs or smaller builds may prefer the better knee cup fit of the 5/8″ cushion.
The company's best seller is the ProKnee Model 0714/0714E. The newest version of the company's flagship model is supported by eight patents with a patented shin support system that spreads the weight across the length of the kneepads, creating a center of balance at the midpoint of the shins vs. directly on the knees. It also comes in 18 lengths and standard and wide knee seat widths.
Richards noted that all past and present models can be rebuilt from a "comprehensive offering of individual parts and parts kit options." Liners and boots wear the quickest and are the most popular replacement parts. Richards said, "Many of our customers have actually been on the same pair for 10, 15, 20+ years through the use of our replacement parts/rebuild options. In theory, you may never need to buy a new pair of kneepads ever again."
Contractors praise ProKnee
ProKnees are often lauded in the field. For instance, Vito Talamo, owner of Talamo Tile & Stone in Castle Rock, Colo., said, "I joined Local 7 South Jersey in 2001 and helped set over 90,000 sq. ft. of marble. You had to stay on your knees ALL DAY! I started experiencing knee pain for the first time (in over 10 years of prior setting). Ordered ProKnees, and haven't had pain since."
Joseph Mattice of On The Level Flooring in Greenville, S.C., said, "I haven't had any knee problems, but I credit that largely to getting ProKnees nine years ago. As expensive as they are, I'd gladly pay double if I had to. It's still way cheaper than a knee replacement."
Find out more at proknee.com  
---
Follow this link to read The Knees Have It, Part 1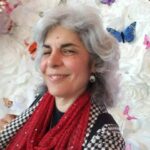 Editorial Director and Senior Writer for TileLetter and TileLetter ARTISAN
Lesley Goddin has been writing and journaling since her first diary at age 11. Her journey has taken her through a career in publishing and publicity, landing her the editor position of TileLetter and its special publications in 2006. Her goal is to educate, inspire, recognize and encourage those in the tile industry -- especially the tile and stone contractor. Other interests include the soft, purring marvels known as cats, labyrinth walking, drumming and percussion, and a range of spiritual, musical and artistic pursuits.