Changing how thin brick veneers are installed at Portland's largest affordable housing project in 50 years
It began in downtown Portland, when Home Forward, Oregon's largest non-profit developer for affordable housing and social services, planned to build the city's largest affordable housing project in more than 50 years. The building, known as The Louisa Flowers, would push the team to explore a modern and innovative solution for creating a long-lasting design – the LATICRETE® Masonry Veneer Installation System (MVIS™).
A little backstory: the building is named after esteemed civic leader Louisa Flowers, who was instrumental in establishing the town's African American community in the late 1800s. This area has experienced a major affordable housing crisis over the years, so this project is very important to the surrounding community. In addition, the building has an inclusive and diverse project team make-up, with a majority female-led team and 30% of the project value awarded to minority-owned, woman-owned and emerging small businesses.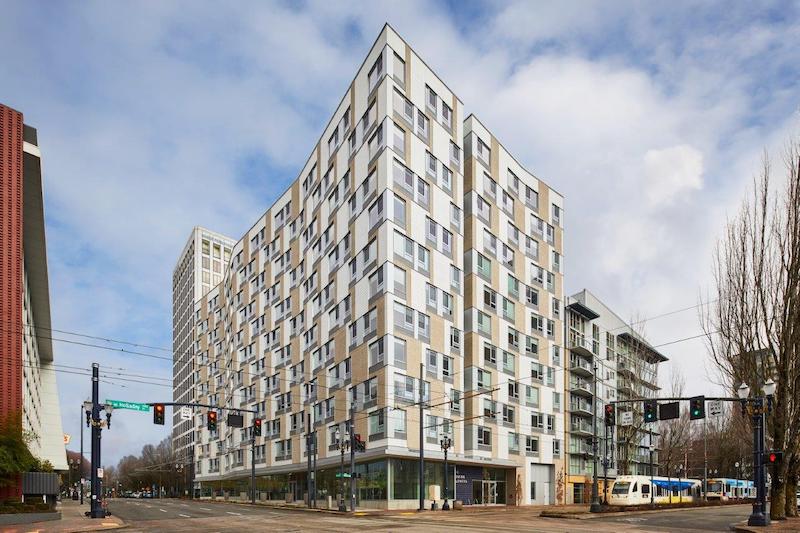 The challenges
Environmental – Situated in a densely-populated, seismically-active region, where heavy rains and freeze-thaw cycles wreak havoc on inferior building materials and installations, any construction solutions needed to provide a superior level of performance. The materials would also have to meet sustainability goals and create an energy-efficient building.
Scale – The 12-story, 177,000 sq. ft. (16,443.8 m2) building would be the biggest thin brick and masonry veneer project ever attempted by the teams involved. With a limited budget, any building solutions would have to maximize efficiency and offer a streamlined technical solution for installers.
Visibility – The biggest and tallest affordable housing community in Portland, the design had to be iconic and something that could be enjoyed by future generations, while meeting the design guidelines of the city's historic Lloyd District.
Location – Situated in a bustling urban environment, adjacent to major transportation lines, the ideal solution would need to ensure a safer, more durable installation, with reduced scaffolding and staging, without disrupting the surrounding neighborhood.
Architects designed a visually-striking building with various angles on the exterior walls and a thin brick veneer façade of two different thicknesses and textures. The thin bricks would be arranged in a soldier pattern, which requires precision and can extend install time. The project team, led by O'Neill Walsh Community Builders, Lever Architecture and LRS Architects, would need the right subcontractor to get the job done.
A LATICRETE solution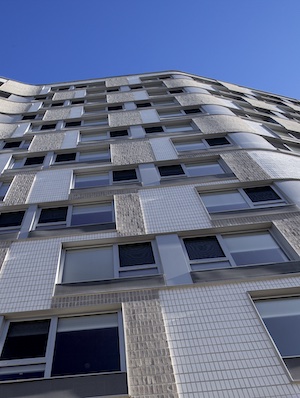 B&B Tile and Masonry won the bid to handle the brick façade, and knew they needed a better installation method. Mutual Materials Company, a company with over 100 years in the masonry business, was asked for potential solutions. They knew a thin brick veneer solution would provide various advantages and help the team stay on budget, provide a durable solution, and enable the iconic design laid out by the architects. The LATICRETE® Masonry Veneer Installation System (MVIS™) emerged as the ideal solution.
PermaBase® cement board by National Gypsum was the specified substrate for this project. Compared to traditional lath and scratch, MVIS installs utilizing an approved cement board can be done up to 35% faster. It is also safer, lighter and easier to handle than the 80-pound bags of unmodified mortar used in a scratch coat, and eliminates the use of lath, which is sharp, difficult to handle, and prone to rusting in wet environments, often leading to failures down the line.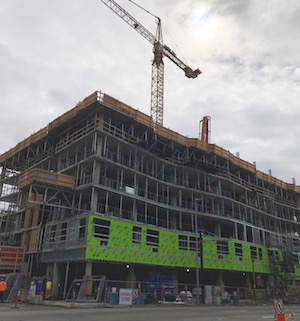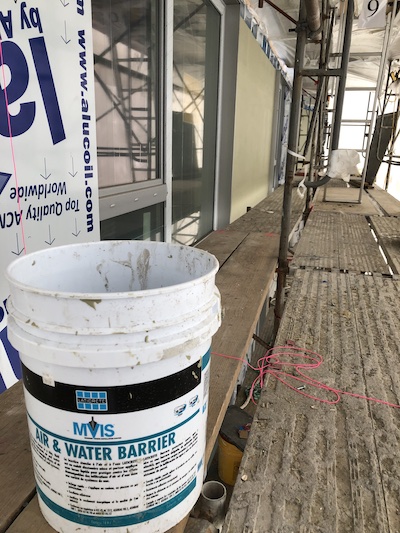 The team mitigated some of the environmental issues by applying MVIS Air & Water Barrier. Air and water barriers are vital to prevent weather-related damage, otherwise façades can experience issues with water infiltration, thermal movement, cracks, and delamination. MVIS Air & Water Barrier controls the flow of moisture vapor into and out of the structure (enhancing the building's operational energy efficiency) and is designed for the adhesion of veneer directly to the membrane, enabling water protection and crack isolation to be brought further outward in the wall assembly and protecting more of the structure.
Next, MVIS Thin Brick Mortar was used to install the thin brick veneer. Traditional mortars are typically mixed on-site, leading to greater variation in performance, and are made for stacking full-dimension brick and block, not for adhering thin veneer to walls. MVIS Thin Brick Mortar is engineered for superior adhesion, holding veneer on the most demanding of installs, including high-velocity wind zones and seismically-active regions. The mortar's non-sag performance also allows installers to set the thin brick and adjust as needed without having to use spacers or remove and replace the unit if alignment is incorrect, essential when laying in a soldier pattern.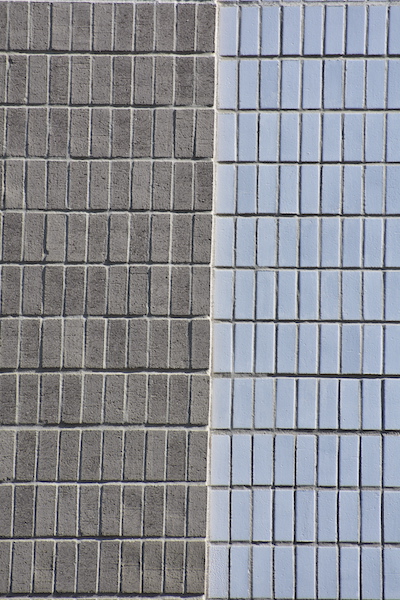 The finishing touch was MVIS Pointing Mortar. MVIS Pointing Mortar comes in a neutral mortar base and dispersible pigment solution, a unique solution that allowed designers to perfectly complement the colors chosen for the project.
"Our legacy here at LATICRETE has always been rooted in innovation," said Daniel Rothberg, Product Manager at LATICRETE. "The Louisa Flowers project is a perfect example of how our MVIS System is changing the way masonry veneer installations are done. We're proud to know that our products will help to recognize the legacy of such an important figure as Louisa Flowers, and perhaps more importantly, help provide access to homes and services for those in need."
The outcome
In the late 1800s, Louisa Flowers and her family settled in Portland and helped establish the town's African American community. Flowers opened her home as a local gathering space and purchased and developed homes for those in need. The building that honors her name and family's legacy offers 240 affordable units, serves 20 of Portland's lowest-income neighborhoods and provides residents access to various public transportation systems, employment centers, community amenities and schools. The building provides housing to the chronically homeless and survivors of domestic violence, helping residents achieve a sense of self-worth and community. The project also helps address the city's affordable housing crisis and improves the lives of those directly impacted by the crisis.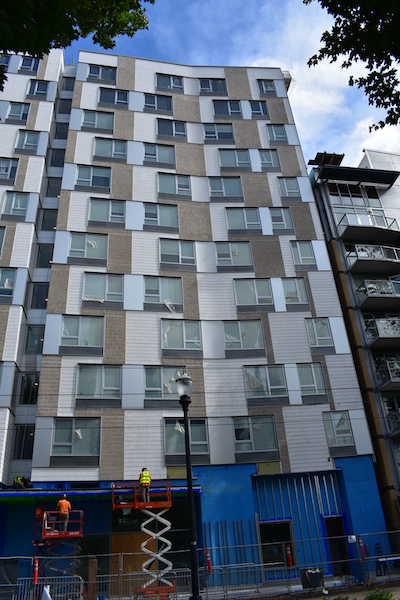 "The team is incredibly proud of the results of their dedicated and concerted efforts on the success of this project," said Ted Friedman, Project Superintendent for O'Neill/Walsh Community Builders (OWCB), an entity of Walsh Construction Co. and O'Neill Construction Group. "A housing crisis like we've experienced in Portland demands historical action, and that's what this project represents. We are proud to be a part of this historic event. To be able to provide all affordable units in a building of this scale is an impressive feat, and it's a true testament to Home Forward's deep commitment to the people of Portland, and to provide stable, affordable homes for our community."