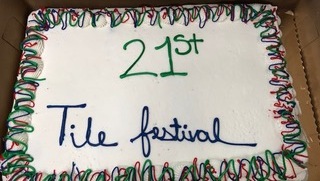 During the 21st Annual Moravian Pottery and Tile Festival held recently in Doylestown, Pa., members of the Tile Geeks Facebook group showed up en force.
The festival took place the weekend of May 18-19, 2019. It was a unique opportunity to view contemporary ceramic tiles featured by artists, dealers and collectors from around the country. Beautiful and rare examples of handcrafted tiles were on exhibit and available for purchase, and a free tour of the Tile Works was included.  Proceeds benefited the museum's artifact collection and conservation efforts.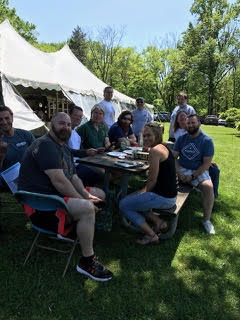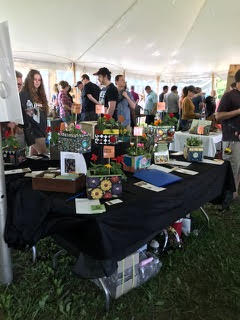 The Moravian Pottery and Tile Works is a National Historic Landmark. It's maintained as a "working history" museum by Pennsylvania's County of Bucks, Department of Parks and Recreation. Handmade tiles are still produced in a manner similar to that developed by the pottery's founder and builder, Henry Chapman Mercer (1856-1930). Mercer was a major proponent of the Arts & Crafts Movement in America. He directed the work at the pottery from 1898 until his death in 1930.
Many East Coast-based Tile Geeks attended and made Global Hand Prints for the Mural which will be installed at Tile Council of North America.  Those who attended included: Dennis Pacetti, Jon Vanarthos, Mihaela Fedor, Vincent Pellicone, Jess Labrie, James Garbe, Justin Kyle, Metin Gungor,  and Isaak Mester.
Sheila Menzies, Executive Director of the Tile Heritage Foundation (THF), said, "It was a successful event for the Tile Heritage Foundation, for the Pottery and for the artisans who were there as vendors. THF also had a silent planter box auction with work provided by local artisans and a large array of donated tiles to sell from across the country!"