Owner Ashley Singer exits 9-5 and finds her passion in tile
Ashley Singer founded her business, Tile Jawn, in 2021. From Phoenixville, Pa., Singer went through the soul-searching adventure of her life to end up where she is now.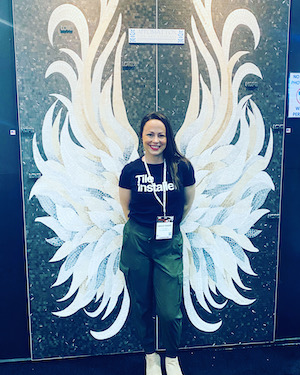 For 12 years, she worked in B2B marketing in the coffee and tea industry. On a fateful day in 2018, she was suddenly unemployed. "I found myself at a crossroads – laid off, heartbroken, and grappling with a mix of shock and relief," Singer said.
Despite the lingering uncertainty about her future, she knew she needed a change for her life. "I craved a new direction, one steeped in purpose, creativity, and personal growth," she said. "The time had come to shape my own path and embark on a journey that would redefine my future."
She decided to leave the U.S. in an effort to find herself. In Mexico City, she discovered the beauty of art through a fresh pair of eyes.
Singer recalled, "Street art here [Oaxaca] is not just about graffiti; it's a form of expression that often carries social and political messages while celebrating local culture. Murals, stencils, tile work, and intricate paintings adorn the walls, alleys, and public spaces, turning the city into an ever-evolving gallery."
She came to the realization that she wanted to be able to work with her hands and be able to create art forms like the ones she saw in Mexico.
Returning to the States, she tried hard not to fall back into that 9-5 slump, so she got a temporary "underwhelming" bartending job. She found herself asking the universe for guidance, as she knew her aspirations went beyond bartending.
Serendipity sparks opportunity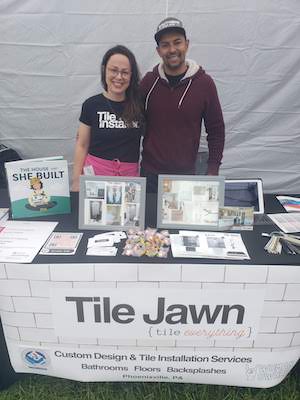 One day, a duo team of general contractors came to Singer's work for lunch. They all got to talking about home remodeling and Singer's personal list of projects she had going for her "fixer-upper house." One of the contractors was Mike Englisch, owner of 90×180 Contracting. "[He] was listening to me go on and on, and by the end of the conversation he offered me a job. Two weeks later, I quit my [bartending] job, joined his team as the grunt of the operation, and essentially became a sponge, soaking up any and all knowledge they were willing to teach me," she said.
After a year and a half of working for Englisch, she knew it was her time to get out on her own. She was ready to step into the role of owning Tile Jawn.
"From this journey of self-discovery, Tile Jawn was born in 2021 – a testament to transformation, resilience, and the power of chasing dreams," she said.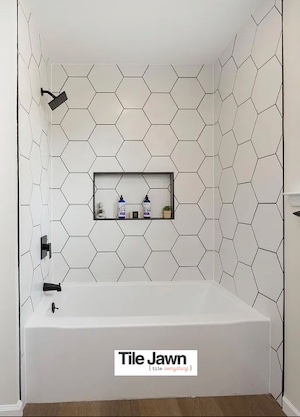 The name originated from the Philly slang term "jawn" that can mean a person, place, event or anything. Singer wanted to emphasize her locality in her business's name in addition to being fun and professional. Singer said, "It's very flattering and humbling to be able to be playful and silly but also maintain my professionalism without being too serious."
This year, Singer attended Coverings where she got to meet the "tile homies from the Facebook groups" and learn more about their businesses and lives. In addition, she was influenced to join NTCA; "It was a no-brainer to join because they make available resources to tap into when you need guidance on anything from running your business to daily operations and overcoming challenges."
She and partner Marlon Cedeno also attended TileFest at the TileWorks in Doylestown, Pa., in May. This celebration of handmade tile offered her an opportunity to represent as a woman-owned business and tile installer (which was declared boldly on her self-designed t-shirt), and to learn more about matching her clients with art and doing creative installation work.
Attention to detail; a woman pioneer
Singer believes Tile Jawn's attention to detail sets them apart from their competition because they take the time to listen to their clients' ideas and budget. Often, Singer finds that customers don't exactly know what they want as far as tile goes, or they have too many ideas. So, she offers an upcharged service to create a mood board, or a curation of different images, materials, colors, etc., for her clients. She said, "It's a bit more work on my end but the final result is a very happy client that feels engaged, and as a contractor we have a clear path with few to no change orders or hiccups during the installation phase."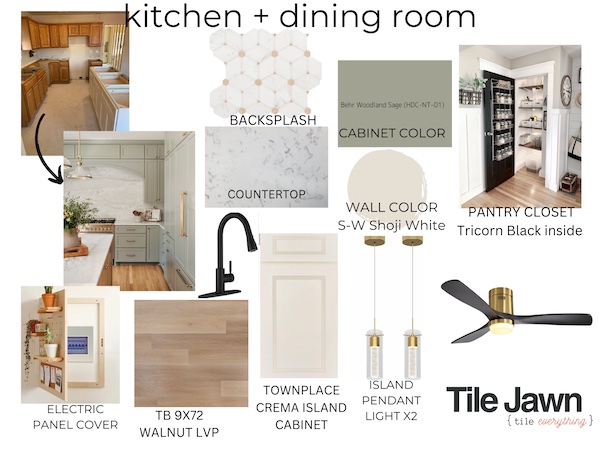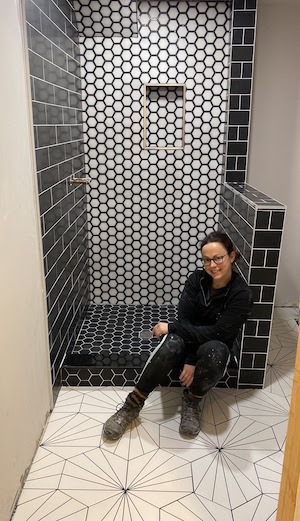 Being a woman in the tile industry can be difficult at times. The feeling of being overlooked or undermined is common, and something Singer feels sometimes as well. Speaking on female stereotypes, she said, "…if you open that small box, you'll actually find we are pioneers, engineers, creators, innovators, designers, doers, and makers, too!"
Her clients even have positive reactions towards her: "One thing is clear – clients tell me it's a dream come true to see a woman forging her way through the male-dominated industry and construction industry as a whole."
If it weren't being laid off from that 9-5 job, Singer might not be where she is today. "Life's unexpected turns have a way of leading us to the most remarkable destinations," she said.
Amanda Mourelatos, daughter of John Mourelatos, Owner of Mourelatos Tile Pro, is a 19-year-old student in her second year at the University of Arizona in Tucson, Ariz., where she is majoring in journalism with a communications minor.