Tile of Spain, the international brand representing 125 ceramic tile manufacturers belonging to the Spanish Ceramic Tile Manufacturer's Association (ASCER), announces their schedule of events for Coverings 2018. Coverings, North America's largest tile and stone exhibition, will be held May 8-11, 2018 in Atlanta, Georgia.
The Tile of Spain booth, #3718, located in the center of the Spanish Pavilion, will feature educational seminars and video presentations, including award-winning architectural and design projects and an overview of Tile of Spain manufacturers' achievements.
Visitors to the Spanish Pavilion will witness some of the most advanced ceramic tile technology and breathtaking design choices the world has to offer from the 85 Spanish ceramic and stone manufacturers exhibiting at the show.
For a booth directory of Tile of Spain's 85 exhibiting manufacturers' visit:
http://tileofspainusa.com/coverings-2018-tile-of-spain-exhibitor-directory/
Highlights of happenings at the Spanish Pavilion include:
Augmented Reality – Ceramic Trends 2018
Wednesday, May 9th at 12:45pm
Thursday, May 10th at 12:00pm
Join Tile of Spain in their pavilion as they dig deep into the broad array of micro tools that creative directors can employ to create the most effective and layered looks the world of ceramics has ever seen. Purchasers, sales-people, specifiers and end-users alike should all find valuable take-aways from this session by learning to distinguish the multiple layers of modern design and production techniques in ceramics.
Optimal Approach to 2018 Ceramics – The Building System
Tuesday, May 8th at 12:00pm and 2:00pm
Thursday, May 10th at 2:00pm
Friday, May 11th at 12:00pm
This session at the Tile of Spain reveals some key tips and tricks to getting the most out of tile in your buildings today. As a supplement to the conference session "Skin vs. System," this session will explore sales channels, specification practices and material selection models that can make the use of tile the single most important and impactful aspect of your next project.
Talk to the Expert Happy Hour
Tuesday, May 8th from 3:30pm-6:30pm
 Join Tile of Spain for an extended happy hour and the opportunity to "Talk to the Expert" about tile specification, trends and more.
The 2018 Spanish Pavilion is organized and sponsored by ASCER, the Professional Association of Ceramic Tile Manufacturers from Spain, and ICEX Spain Trade and Investment. For more information, contact [email protected] or visit tileofspainusa.com.
Connect with Tile of Spain on Facebook, Twitter, Pinterest and Instagram for more Coverings updates.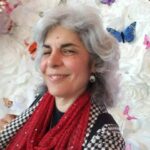 Editorial Director and Senior Writer for TileLetter and TileLetter ARTISAN
Lesley Goddin has been writing and journaling since her first diary at age 11. Her journey has taken her through a career in publishing and publicity, landing her the editor position of TileLetter and its special publications in 2006. Her goal is to educate, inspire, recognize and encourage those in the tile industry -- especially the tile and stone contractor. Other interests include the soft, purring marvels known as cats, labyrinth walking, drumming and percussion, and a range of spiritual, musical and artistic pursuits.