Trends in 2020 – what's hot and what's not? Before we embark on this journey let's make sure we define "Trend" vs. "Fad." A trend has stamina and builds up over time, while a fad fills a niche and is not a broad selling category. We have seen those come and go in our industry, but this article focuses on solid trends. The tile industry is obviously one that rides the trend cycle as it changes but we also experience the trend stages. For those who may have just been in the business for the last few years they would know that wood, marble and concrete are still categories we would call trendy, but the difference is what stage are they in. Below are a few different stages of trends.
Brand-new trend – Is it real and does it have staying power in the tile industry?
Emerging trend – This is the part of the trend where thought leaders emerge and set the tone.
Peaking trend – It's frenzy time. Everyone will be excited about the trend.
Backlash – Everybody is aware of the trend. People think the trend is overdone.
Trend Maturity – There's a lot less excitement than there used to be.
For example, when concrete looks were initially launched, this was a brand-new trend. Now concrete looks have evolved into what we may say is its "backlash" or "trend maturity stage." "Emerging" or "peaking" trends are where we look to see what's upcoming, and today many in the industry point to gauged porcelain tiles (GPT) or gauged porcelain tile panels (GPTP). This product category has emerged from the 3mm and 3.5mm thicknesses initially launched to 6-, 12- and 20-mm products that continue to grow. Once we conquer the installation education, we will surely continue our excitement on this trend.
While we all would love our trend stage to be emerging or peaking, it's important to understand we also "live" in the backlash or maturity stage. A perfect example is wood looks. While different looks are in different stages it's important to look at your product mix to ensure you have your portfolio balanced to your market requirements. It's vital to have something you feel is a brand-new trend to make certain you're delivering your customers something that may be that next trend, because if you're not, someone else will.
When pondering trends, we all think of visuals, yet Mark Seal with Emser Tile noted that "the adoption of the Ceramic Factory 4.0 model – which is the next generation of the ceramic tile factory – will feature previously unseen levels of efficiency and technology." Essentially this has allowed manufacturers to take the current trend to a new generation of looks via technological advances with even more realistic textures. He also said, "it has allowed us to be better positioned to meet the needs of our clients from the inside to the exterior of their homes."
Now for the trends we see today:
Wall tile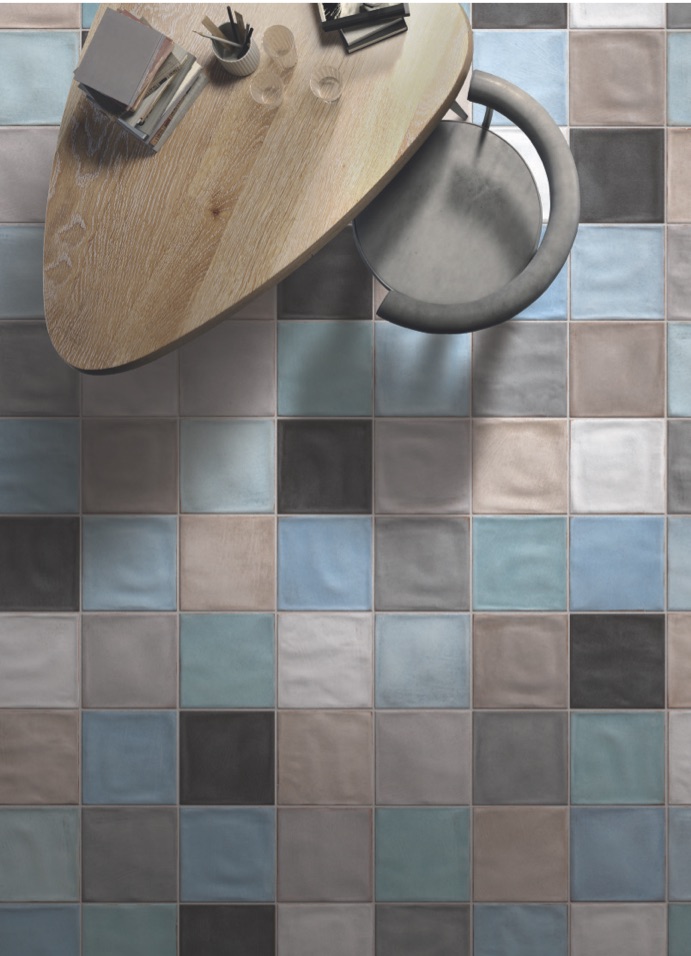 The year of the wall is here! It is imperative that distributors invest in a variety of wall tile lines as this is a growth category for our industry, vs. just focusing on floors. One of the reasons is right in front of us: as we continue to watch the growth of LVT and compete against other floor coverings the walls are ours to dominate! Come on, who can't sell against wallpaper and paint? While we traditionally focus on white wall tile, we see cool tones beginning to evolve with Pantone's Classic Blue (a calm, cool color that is the beginning of a new decade) as it's heralded 2020 Color of the Year, a definite departure from 2019's Living Coral.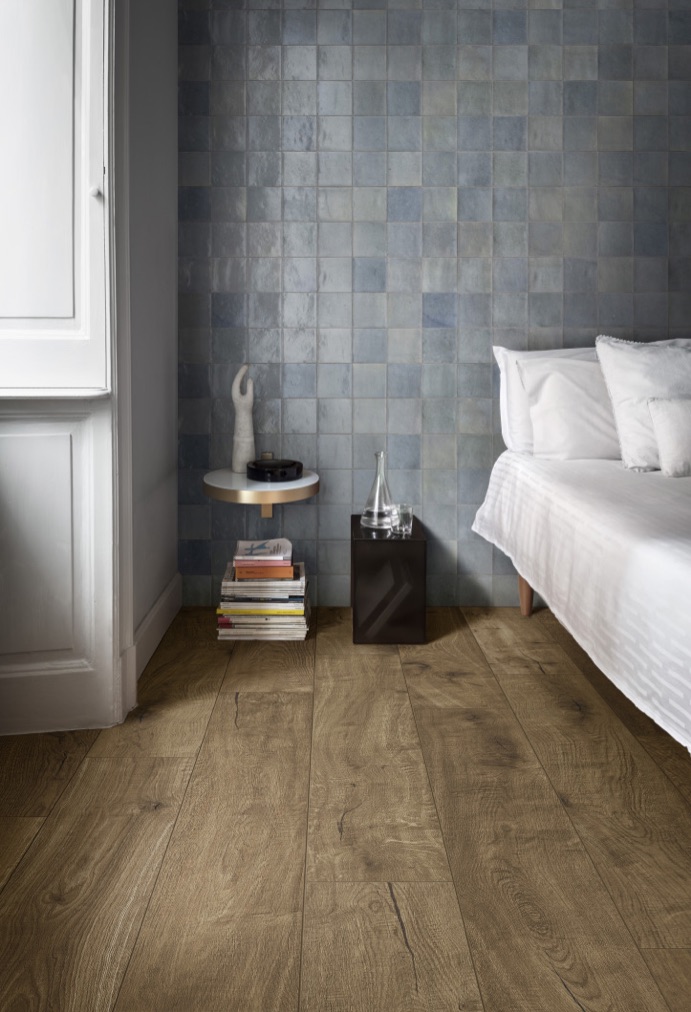 Mediterranea's Michael Mariutto, one of our industry's emerging trend leaders, developed the new Key West line as yet another example of wall's growing popularity. Additionally, Mediterranea's VP of sales George Larrazabal added, "The Key West series offers the beauty, subtle shading and colors of hand-made tiles but with the technical advantages of a porcelain rated for floors, walls, and wet areas. There are 10 colors covering traditional and modern styles and size package that can move from the wall to the floor in many applications, featuring 4" x 8", 4" x 12", and 8" x 8" sizes, which is in line with continuing trends for smaller formats and decorative tiles."
Shelly Halbert, Director of Product Design for Marazzi, commented, "Marazzi's new Zellige collection reflects the currently hot trend of 'Perfectly Imperfect' as embodied in Zellige's handmade looks, imperfections, and Moroccan style while the undulated surface and variation in color tones accentuates the natural imperfections and hand-crafted look of Zellige." Furthermore, she noted, "In general, designs are getting bolder. We are seeing a Moroccan influence in new products as well as global destinations like Portugal, Italy and Spain, as handmade tile continues to be a top trend."
Additionally, Tressa Samdal, Florida Tile's Director of Marketing and Product Management, remarked, "The wall space is an area where consumers and designers are starting to be tastefully expressive. They are no longer shying away from fashion colors, textures or unique shapes. We are seeing larger-format wall tiles and more elongated shapes. While hexagon and picket shapes are still very popular, we are now seeing some interesting trapezoids, circles and triangles."
Gauged porcelain tile panels and large-formats
As mentioned previously, gauged porcelain tile panels/slabs (GPTP) are gaining popularity with the increased decorative capabilities, from traditional looks to stone and thicknesses for countertops. The large-format sizes – which are not necessarily new – are being used more and more with commercial applications driving the volume. However, this has found its way to the residential market with the 24" x 48" formats taking the lead.
From a design standpoint, the marble look has risen to the top as it replicates the real marble with superior performance characteristics. Not to mention the 6mm panels allow designers to use this on walls more easily than a traditional marble slab.
A brand-new trend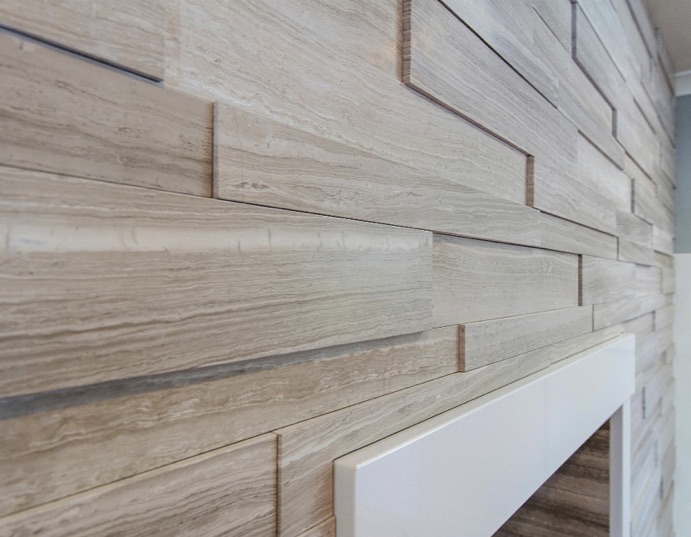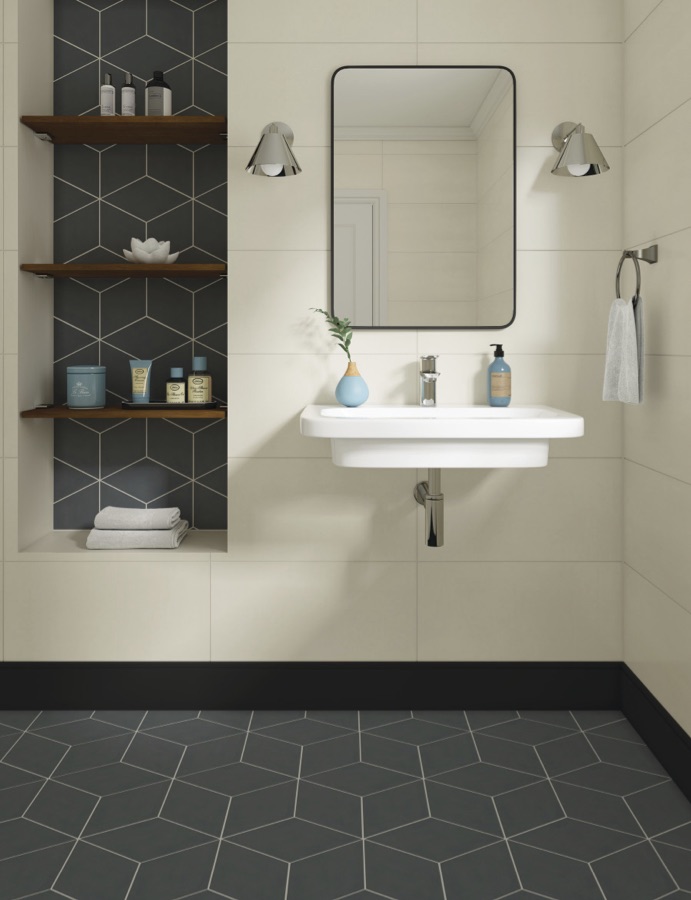 While I like to feature trends that drive volume, I also mentioned the importance of having a brand-new trend. For this I turn to a small company in Salt Lake City: 3D Stone and Tile. Rod Katwyk, owner, operator, and NTCA member, has developed a patented technology called BreakThru Backers™ to create 3D tiles from any field tile you choose, which creates an endless opportunity for designers for feature walls, backsplashes and a vast array of other installations. Katwyk declared that focusing on this trend does not impact his current positioning and therefore does not alienate his key customers. "In the past the only alternative for creating true 3D stone and tile installation was purchasing expensive stone or tile that had been specially milled to create pre-cut wedges or pieces of alternating thicknesses," he explained – a fact that drove installers like Rod out of their minds. But his special innovation enables a dynamic wall treatment of any material the customer desires.
According to Sean Cilona, Director of Product at Virginia Tile, "Importers search for new mosaic suppliers with the recent anti-dumping imposed upon China, but that is for the traditional mosaics. Many suppliers feature new shapes like triangles, trapezoids and half hexes; options like American Olean's Neocrete 3D mosaic cube."
Exteriors
And don't ignore exteriors! The industry has seen an influx of porcelain 2cm pavers, yet the key is understanding who the customer is for this type of product. MSI is one of the leaders in exterior products and Emily Holle, MSI's Trend/Design Director, explains, "Our new Arterra Porcelain Pavers bring the look of natural stone into the exterior paver market. High-definition glazed ink jet pavers offer all of the features of natural stone pavers, with the added benefits of porcelain including enduring the freeze-thaw cycles." Likewise, MSI's Dekora Porcelain Ledgers feature the same freeze-thaw benefits over natural stone, yet still emulate the beauty of the stone. Holle went on to say, "Our Dekora line gives you everything you love about ledger panels, but without any of the maintenance. Dekora features five different porcelain ledger panels; these panels come in a familiar 6" x 24" size to fit perfectly into your outdoor or indoor design."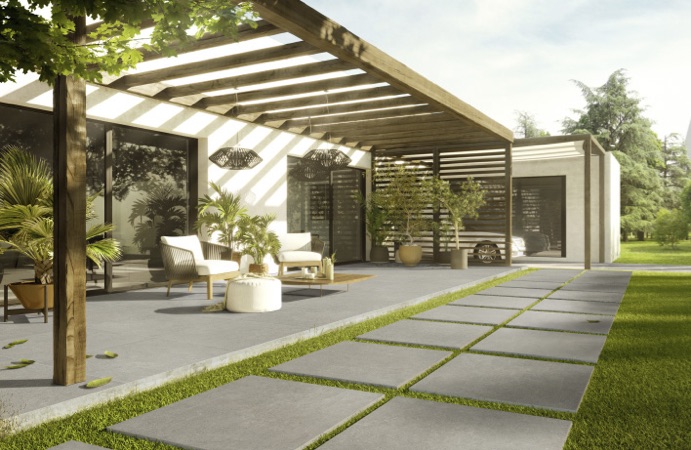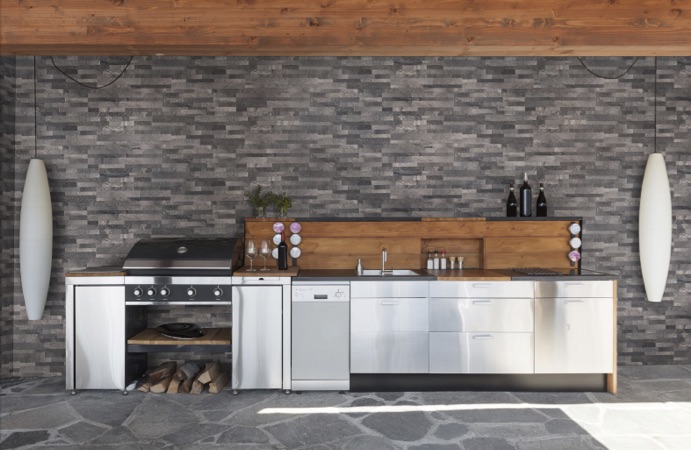 Wood looks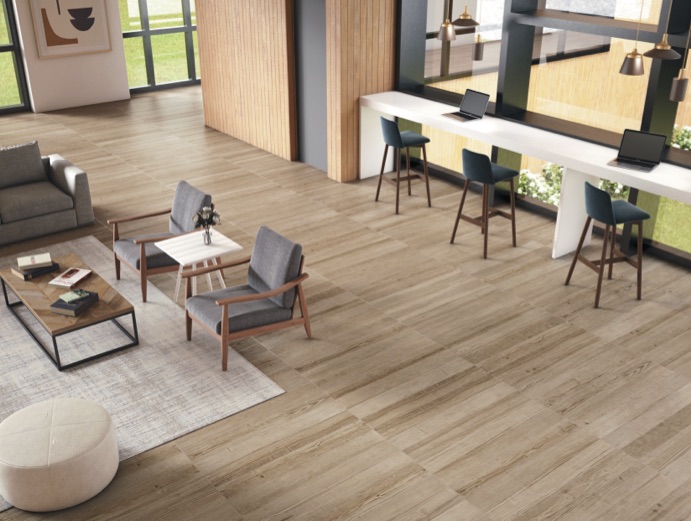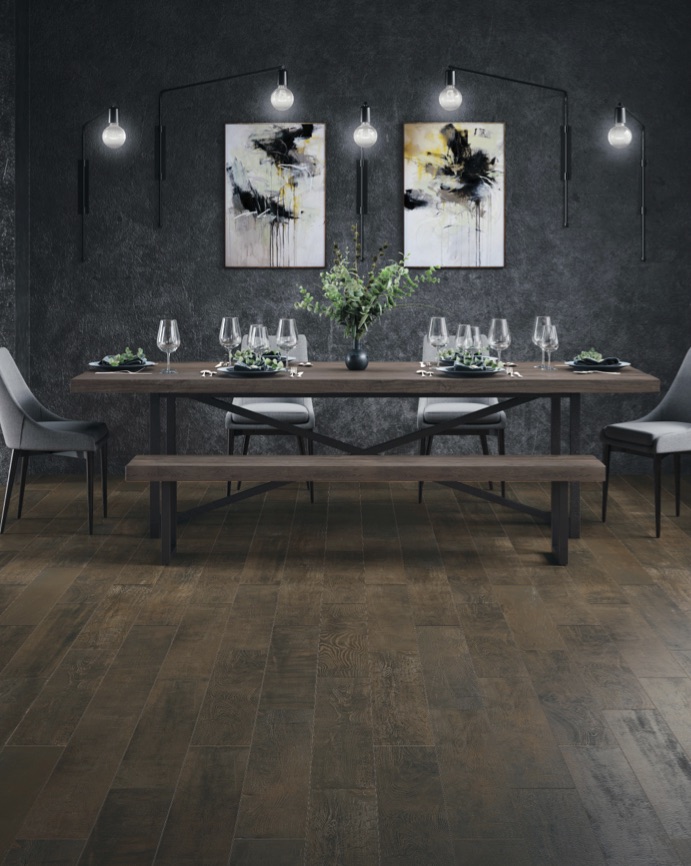 Yes, woods are still in the backlash or maturity stage of trends, Terri Marion, Product Manager – Crossville, pointed out. "With over 50% of the world's population now living and working in urban areas surrounded by steel, cement, artificial light, and recirculated air, we crave connection with nature," she said. "Current tile trends answer the desire for sensory-rich environments that remind us of natural elements." A perfect example is Crossville's Story Teller that achieves a mirrored, light-and-dark woodgrain appearance.
In addition, Crossville's Jazz Age lends itself to the traditional hardwood flooring that bears the nuances with timeworn grace. The high-low sheen of endless waxing, scuffs from chair legs, and subtle undulations from nightly foot traffic mark these floors with character and style. Now–in your newest designs, you can incorporate this authentic, aged hardwood patina.
Keep in mind there is a reason 90% plus of LVT sold in the U.S. are wood looks – those manufacturers haven't developed the technology to create the subtle and complex looks we can achieve in ceramic. So, continue to sell the benefits of tile over LVT, since – like tile – the LVT "wood look" is in its trend maturity stage, yet tile can offer many more beautiful options.
Mix of mediums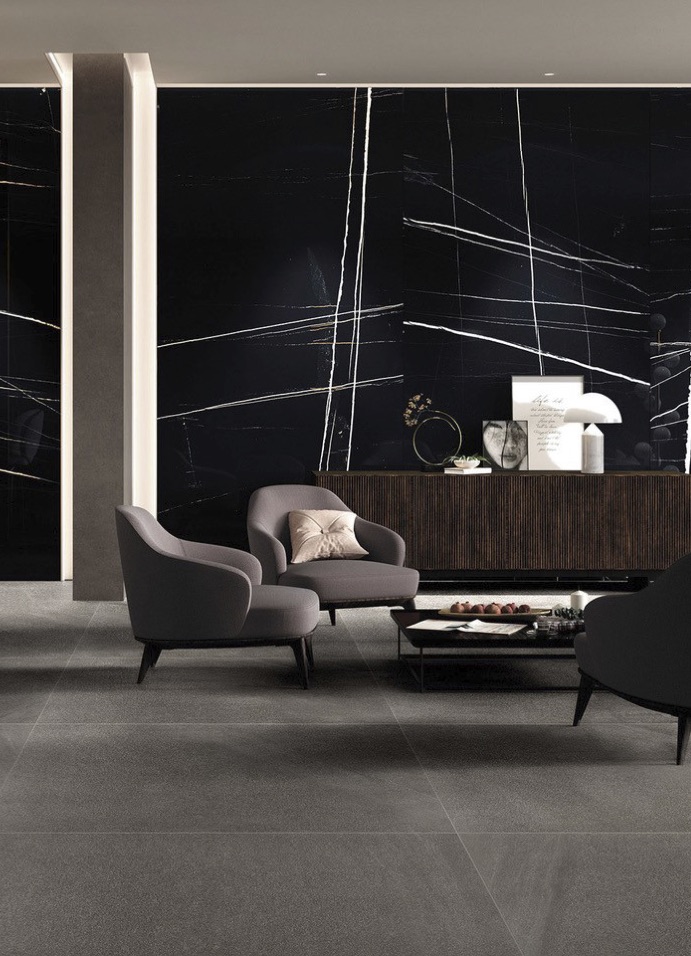 Many manufacturers have attempted and failed to accomplish the mix of different mediums; however, Portobello America's Ms Barcelona was developed with the goal to fuse materials like limestones, cements and basalts. Michael Ward Portobello's VP of sales points out, "Ms Barcelona creates a striking but minimalist surface that may use veins and elements of natural stones or cement textures with aggregates, in a balance that converges to something unique and synthetic."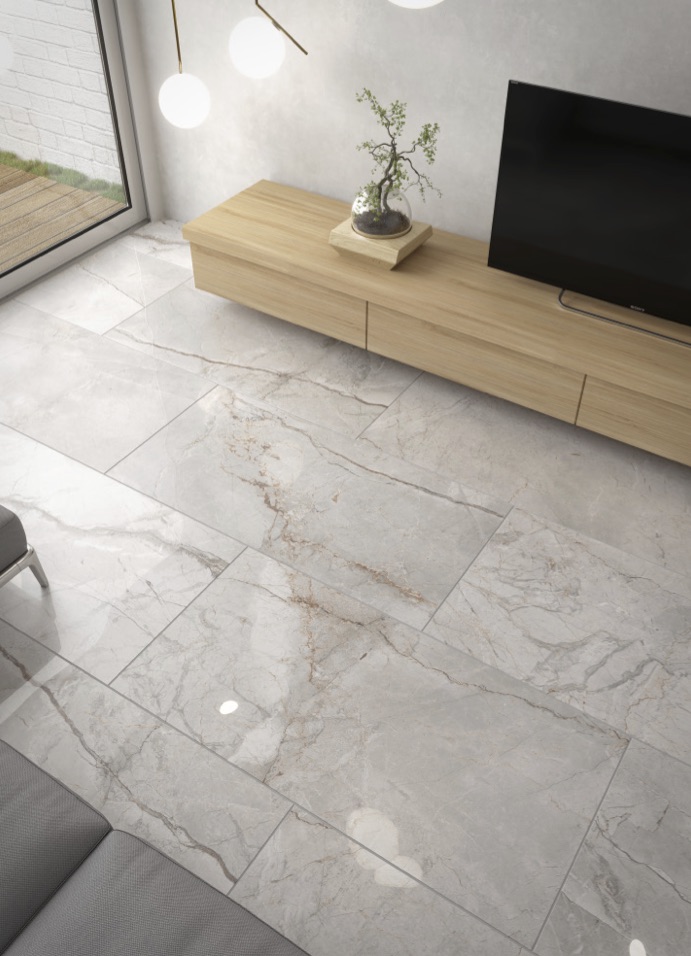 I would also note that marbles and concrete are still trends in the industry that will continue to "wow" the consumer and commercial specifiers. Most manufacturers feature a variety of options for both looks that continue to evolve with new generations of aesthetics. Just think of where we were 20 years ago when we were "selling" the feature of how many "flat screens" were used to manufacture our marble patterns.
Semih Susleyan USA General Manager for Turkish producer Yurtbay Seramik observed that, "Consumers tend towards sleeker stone looks – such as Carrara, Calacatta and Statuario looks – rather than busy marble looks. We see more people looking for rectangle wall and porcelain tiles in different (mainly small) sizes for backsplashes and shower walls, mainly in light colors." In order to meet demand, Yurtbay Seramik increased its small size wall tile capacity in the last quarter of 2019. "We have also made a new investment to increase our polishing capacity, which will be up and running towards the end of the first quarter of 2020," Susleyan said.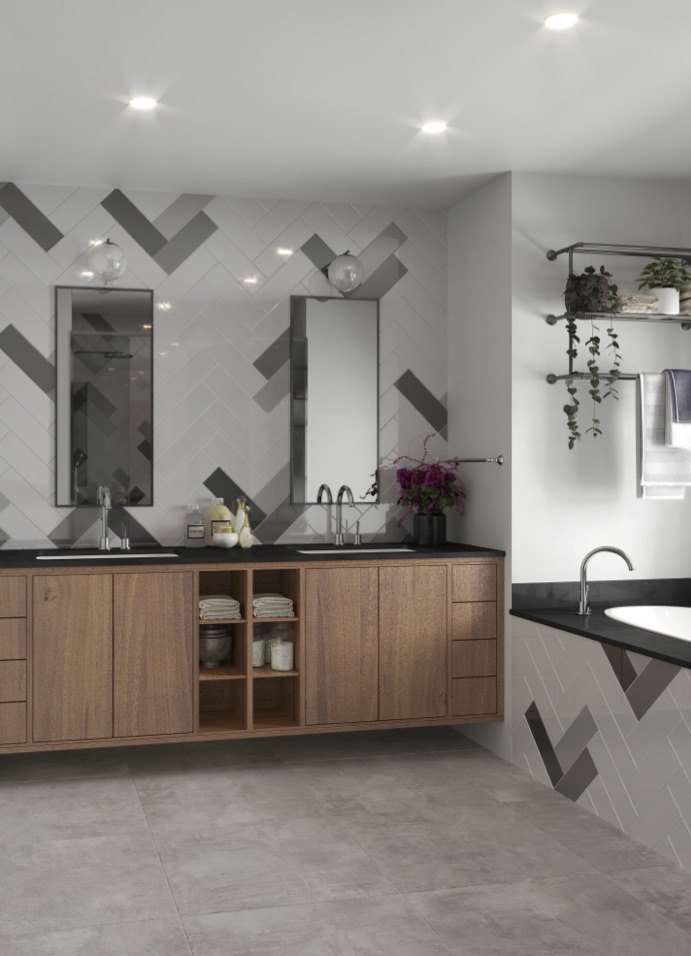 Susleyan also noted the favorable effect of tariffs on Chinese tile for Turkish tile producers, which resulted in 48% increase in Turkish exports to the U.S. in 2019 compared to the previous year. "In 2018, the U.S. was the third largest market for Turkish tile manufacturers after Israel and Germany," he said. "Thanks to increasing Chinese tariffs, U.S. became Turkey's number one tile export market in 2019."
Alp Er, of Ege Seramik, another leading Turkish tile producer, agreed. "At Ege, we benefited from this situation since most of our large customers transitioned many products from Chinese manufacturers to us." Like Yurtbay, small format wall tile and polished porcelain were the two product areas where Ege had the most gain. "Those two were dominated by Chinese manufacturers for years because of the pricing and their factory set ups," he said.
Our industry is far superior to other wall and floor covering options; we just need to let ceramic's beauty and superior performance lead the way.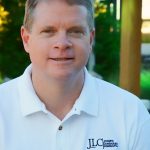 Joe is a globally recognized product and marketing expert in the ceramic and stone worldwide markets. He is the owner of Joseph Lundgren Consulting and his specialty is Business Development, Product Management, and Marketing