Here we are, about to embark on another Coverings, the only United States trade show exclusive to ceramic tile and the showcase for the trends in our industry. We are all looking for the next new trend that will carry our industry into the future and continue to see ceramic gain share over other floor and wall coverings. We see other categories attempting to steal our thunder with terms like "waterproof" and "scratchproof," where we want to say, "Hey – that's not new! These have been characteristics of ceramic tile since its creation." So, let's talk about the tile trends for 2019 as we all converge on Orlando, Fla. to show who truly is the king of floor and wall coverings.
When looking at the industry, we immediately focus on the appearance of the product to announce what's new, but in my quest to identify the next trend, I found we must look at a couple of key elements. Raj Shah, President of MSI Surfaces, commented, "We have to ask what it is the consumer wants from a performance standpoint. If you look at why other 'trends' have been created, it's not always the decorative aspect. For instance, observe the transition from marble to quartz or laminate to luxury vinyl tile. These trends were driven by easy care and maintenance, or ease of installation." 
We all are seeking the answer to an easy installation, so it makes you wonder who will be the first to bring "click ceramic tile" that solves our installation costs compared to other floor coverings. Then again, tile is a different animal than carpet or plastic floors – less forgiving and with a much longer life. Though speed is often a factor in our modern world, retaining craftsmanship and performance that result from installation by qualified installers is also a key consideration. Keep this in mind as you're searching vendor booths at the show to ensure you are addressing your customers' true requirements.
With the performance trend addressed, let's turn our attention to the visual aspect, which ceramic tile leads the floor and wall coverings category hands down. 
Technology
While we have seen other categories strive to mimic ceramic tile to gain share, we continue to develop new technologies to enhance the visual appeal, and also widen the application scope of ceramic tile. Ink jet continues to evolve to allow manufacturers to create visuals that are more realistic than ever. We have truly started to understand the opportunities that gauged porcelain tiles, panels and slabs offer for increased applications on counter tops, walls, showers and other installations with this new technology. In addition, we will see additional 2cm pavers targeted at exterior applications, which will continue to grow with a new focus on exteriors from tile distributors.
The visuals
It is critical that we continue to showcase the most desired visuals for our markets while ensuring we keep our clients engaged with what is new and trending.
Wood
Wood is obviously here to stay and is estimated to be about 30% of our industry's sales; manufacturers continue to replicate new wood looks whether they be a new species or a weathered look from antiquated buildings. 
Gauged porcelain tiles,
panels and slabs
This has been a game changer in our industry and will continue to grow with the beautiful replications of various stones. They also offer marble looks with the ease of maintenance consumers, designers and architects strive for. Daltile's Panoramic Porcelain collection is an example that offers stunning visuals and seamless design with no boundaries.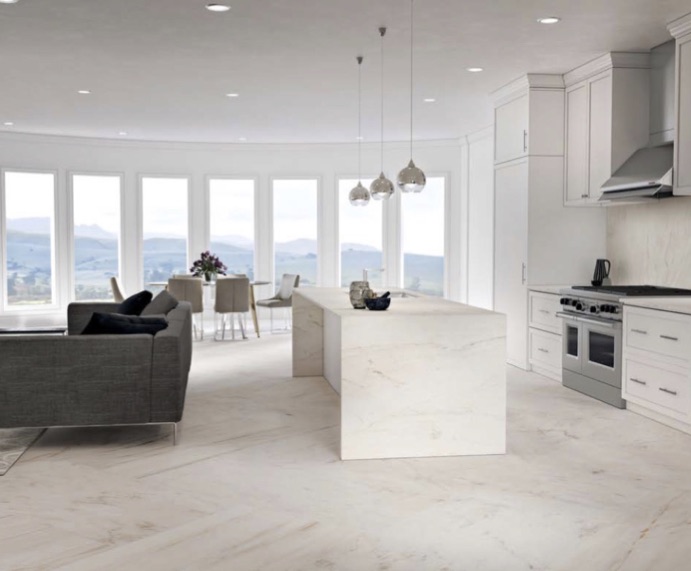 Marble looks
With the continued evolution of ink jet, we continue to see marble looks as one of the most sought-after visuals with ceramic tile. As stated earlier, the ease of maintaining a beautiful marble is now achievable and will only continue to evolve.
Encaustic looks
While this has been viewed as a niche product, you will see a wide range of variations at Coverings, like Daltile's Quartetto (pictured), which features a handmade-look encaustic tile in an 8" x 8" porcelain. It offers eight selections of decorative patterns in both warm and cool palettes, giving you a wide range of design freedom.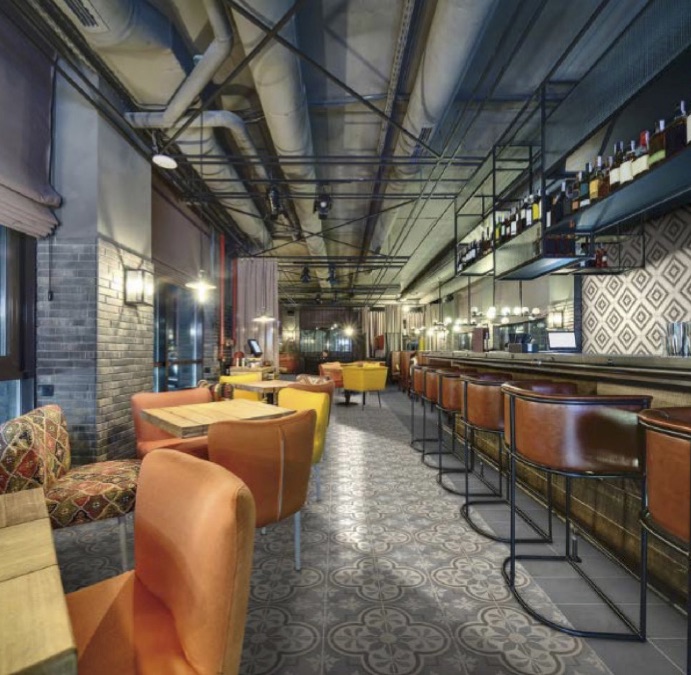 Fabric looks
Fabrics are continuing to come into the mix as manufacturers find the balance of what both the residential and commercial client is looking for.
Cement looks
Cement looks – also known as the industrial look – are still a large part of our industry's sales, and manufacturers will showcase the next generation of these. While a large portion of the sales has been commercial, we see consumers seeking the more modern or contemporary look that the cement look caters to. Furthermore, ceramic tile's performance and maintenance is far superior to stained concrete.
Metallic looks
The new iteration of metallics features a more muted appearance that lends itself to a wider range of applications. MSI's Oxide (pictured) is a good example that offers three colors each with a unique distressed metallic-look finish for lasting visual impact. This appeals to both the edgy industrial look and one that's more conventional.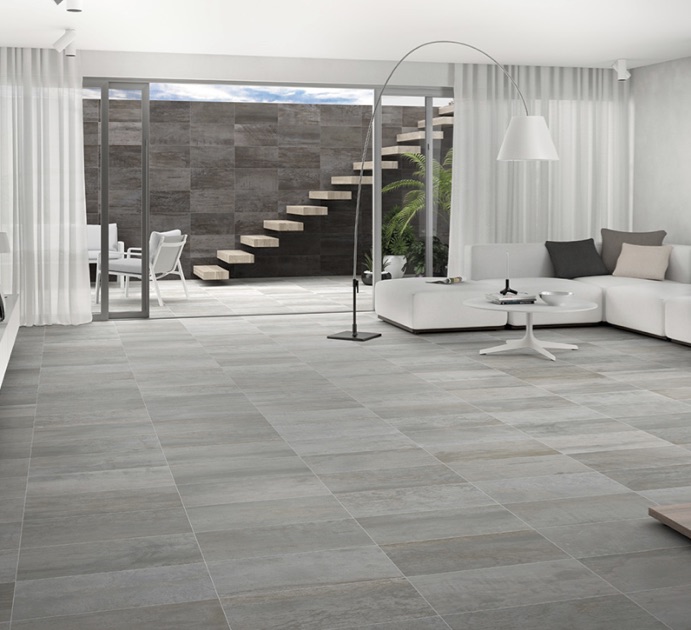 Wall tiles
While floor tiles are increasingly used on walls, many distributors have increased their selection of wall tile beyond the traditional subway tile into larger rectangular sizes and even 12"x24". Traditionally we have seen the neutral colors dominate this category; however, as more manufacturers enter this arena, we will see more design aspects like MSI's Urbano collection (pictured) that features a contemporary detail in six colors as well as 3D patterns to allow a more chic look. Daltile's Color Wheel wall program is a stunning collection of colors and formats in a program that is straightforward, easy to understand and easy to work with. This is key as we continue to increase our share of wall applications.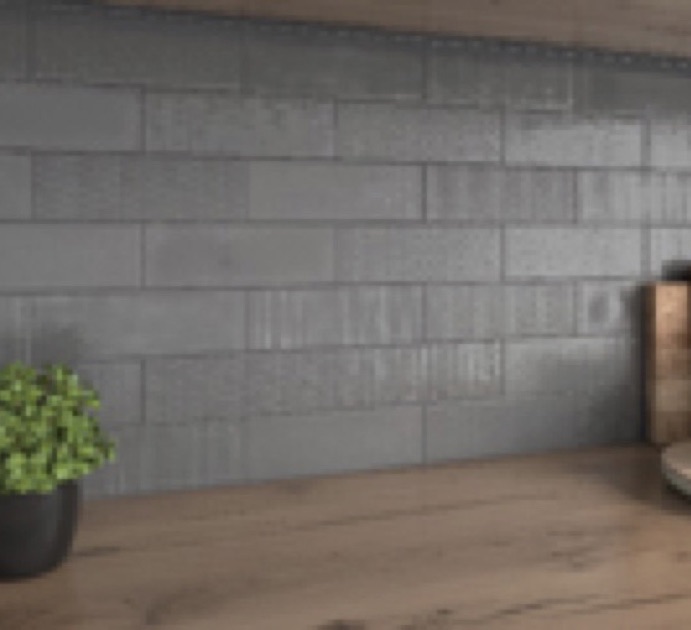 Also, Daltile's Geometric Fusion (pictured) offers nine patterns designed to be installed randomly, which creates an intentional deconstructed geometric aesthetic. Each tile features a decorative blend of metallic, matte and glossy finishes enhanced by EverLux™ Sync technology, which utilizes dry glazes with digital synchronization and creates a high-definition realism that is new to the tile industry.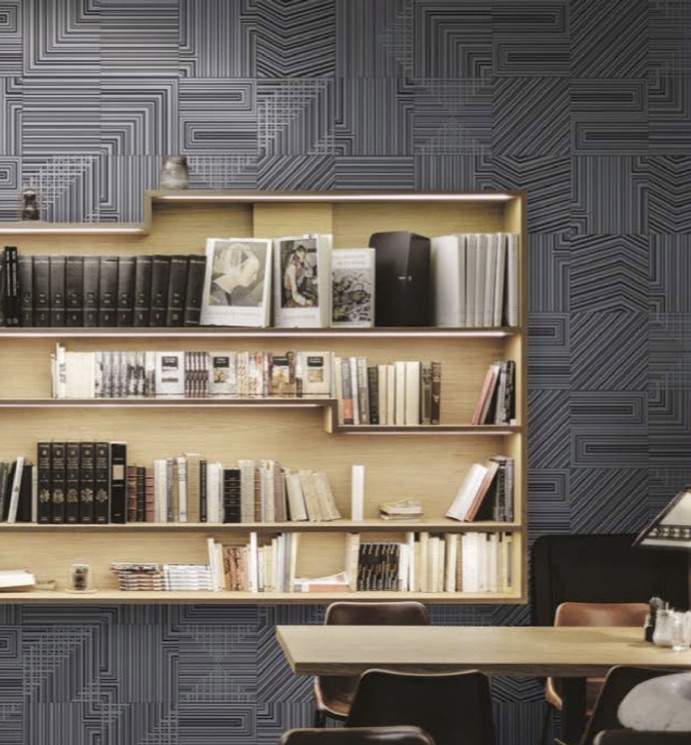 Rustic/stone
While some markets in the US have moved beyond rustic stone looks, we still have many users that seek this style without the maintenance of natural stone. Manufacturers will display new generations of these designs to enhance the installation. 
Colors: what will we see?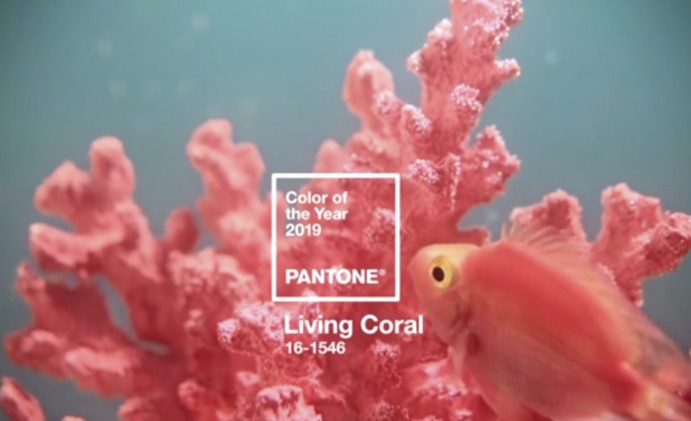 The traditional colors will continue to dominate our market since we are a "neutral" category; however, as users get "braver" we see more colors being used in tile installations. While Pantone announced the 2019 color of the year as Living Coral, we will not see this impact our core colors, but it's important to offer more color in our offerings. 
Summary
Keep in mind these checklist items as you walk the show:
What are my customers' true desires from a performance standpoint?
Do I have the core looks addressed at various price points?
a. Wood
b. Gauged porcelain tile, slabs/
panels
c. Marble
d. Encaustic 
e. Fabric
f. Cement
g. Metallic
h. Wall tiles, with an emphasis on the contemporary design
i. Rustic/stone
j. Colors – be sure to infuse this into your offering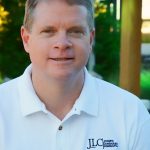 Joe is a globally recognized product and marketing expert in the ceramic and stone worldwide markets. He is the owner of Joseph Lundgren Consulting and his specialty is Business Development, Product Management, and Marketing