Sales trends for 2019
As wood looks and large-format tiles continue to dominate in the industry's "what's trending" news, other fashion-forward items are beginning to make a place for themselves, too. The following takes a peek at what's heating up the spring from several major players throughout the nation, according to the sales personnel in the field. Contributors Marazzi/American Olean, The Tile Shop, D&B Tile and Westside Tile give their take and share their insight on what the current hot sellers are, as well as how things are shaping up in the different regions of the country.
Mid-Atlantic/Southeast
According to Eric Foley, General Sales Manager for American Olean and Marazzi, Mid-Atlantic and Southeast Regions, this year has definitely seen an industry-wide trend emerging when it comes to tile formats. Specifically, large-format, gauged porcelain tile panels, subway tile, and wood-look planks are big are expected to increase in sales moving forward.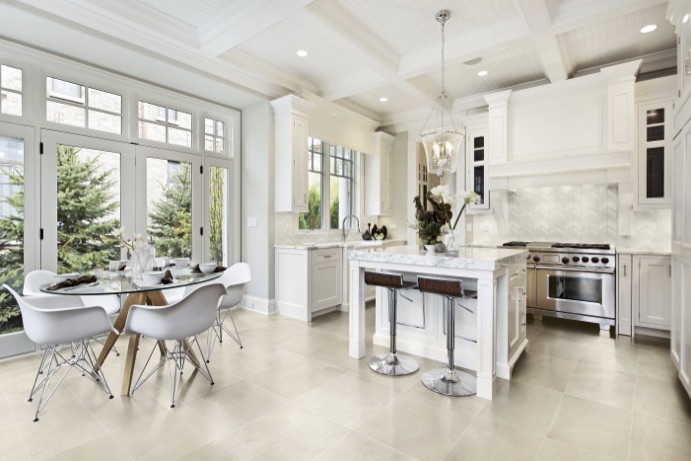 Foley noted, too, that Dal-Tile's StepWise™ technology increases slip-resistance by 50%, allowing products to offer high dynamic coefficient of friction, without a rough texture that may interfere with maintenance. StepWise products also feature SimpliClean™ that makes cleaning easy and ClimatePro™ for surfaces that are used outdoors. 
There is a huge push for 24″x48″ rectified formats and large traditional square sizes in traditional grid sets (24″x24″ and larger). Larger-format marble mosaic patterns are very desirable visuals as well – especially waterjet cut designs featuring unique patterns inlaid with coordinating porcelain or metal accents.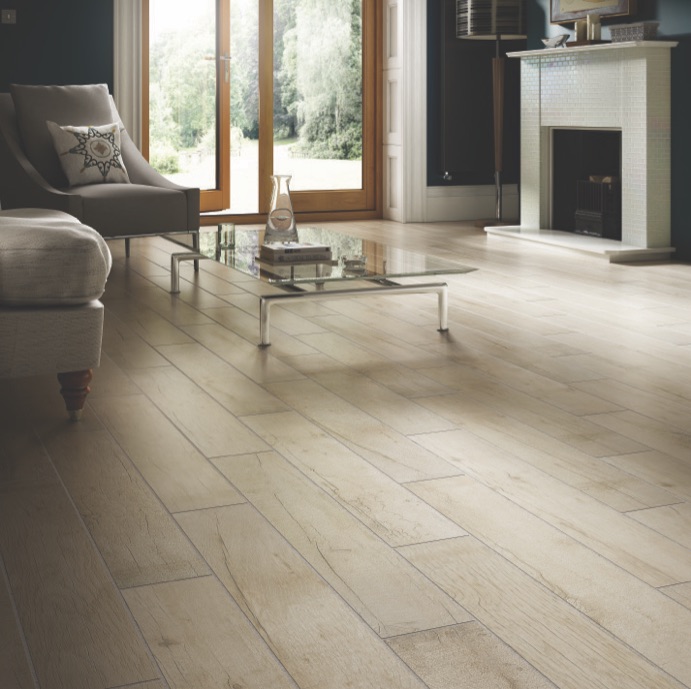 Wood-look planks continue to be very popular in sizes such as 6″x36″, 9″x36″, 8″x40″ and 8″x48″, both in pressed and rectified formats.
Another sales trend among customers is the installation of the same tile both inside and outside the home. Especially in transition areas, homeowners are using the same tile for both interior spaces and outside under covered patios and on pool decking.
Regarding wallcoverings, multiple wall formats in pressed (4″x12″,  6″x18″, 8″x24″) and larger rectified formats (16″x48″ and larger) continue to gain in popularity.
When it comes to subway tile, traditional subway tile in 3″x6″ is still overwhelmingly popular and a top choice in all markets.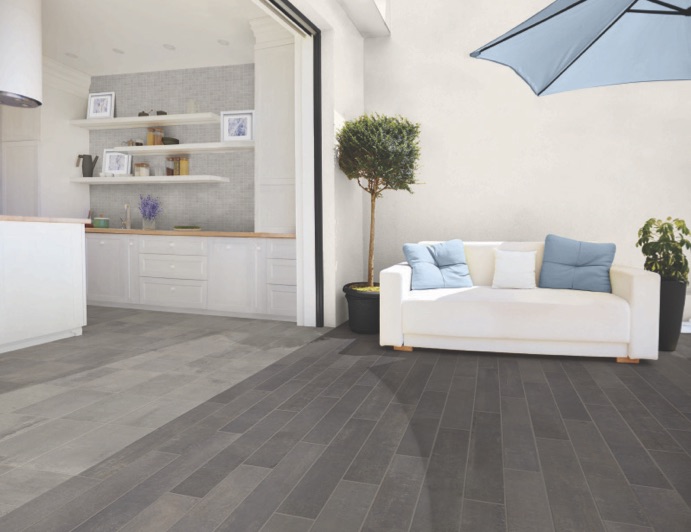 Tile that emulates wood, concrete, encaustic, glossy, hand-made surfaces, satin finishes, textiles, limestone and marble continues to dominate the market. Dal-Tile Colorbody porcelains – across brands – that offer multiple textures in the same design scheme and color palette (light polished, unpolished and textured) are also a favorite choice.
Wood visuals are overwhelmingly popular since they provide a cleaner finish, less rustic graining and softer texture.
Encaustic has recently grown in popularity among designers, especially with coordinating solids and decorative patterns.
When it comes to small-format, high-gloss wall tiles in monochromatic color palettes are selling very well (wavy hand-made, or irregular look) and raised patterns with monolithic appearance. Popular small-format tile sizes include 3″x12″, 4″x4″ and 6″x 6″.
In terms of color for this region, lighter cooler tones still reign supreme (light white/grays through charcoal grays), while beige is on a comeback, and is best if blended with cooler tones (greige).
Porcelain is still the buzz, and Colorbody is the preferred choice for commercial environments. Ceramic is more important in new construction environments and less appealing in the residential remodel category. Metal is more popular when used as an inlaid accent.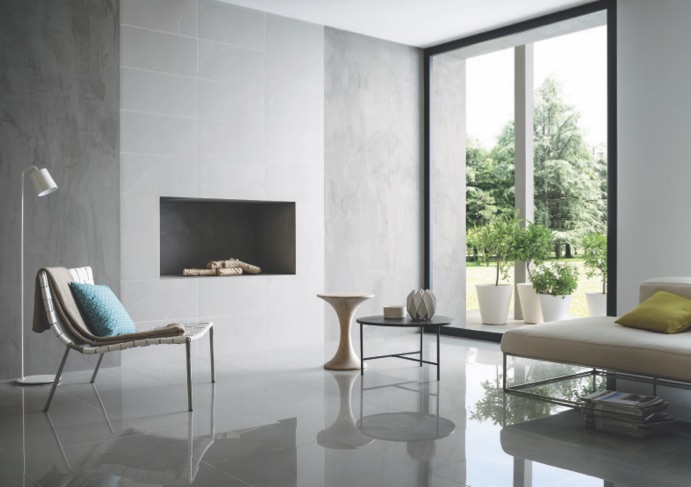 As far as pairings go, wood together with glass, concrete and metal continue to maintain popularity, while wood plank floor is very commonly used with more contemporary, or traditional stone visuals on walls. Concrete visuals can stand alone with industrial worn visuals (repurposed stained concrete floors with mix of previous floor covering still visible).
Popular layout/installation patterns in this neck of the woods center around clean, traditional tile set in rectangular sizes. Tile in 12″x24″ format is seen as the favored choice on floors and walls. Also, wood-look planks in herringbone patterns are still popular in 6″x 24″, 4″x28″ and 6″x36″ sizes).

Foley said Dal-Tile is a vigorous sponsor of education in the industry, reaching out to dealers, tile contractors, builders, vendors and the A&D community with information about qualified labor, and the benefits of premium installation materials to support high-performance installations. This is of primary importance when using popular large panels and large-format heavy tile. 

One such product is large-and-heavy tile mortar (LHT) that supports the weight of large-format tile and assures that there's enough coverage, based on industry standards and recommended spread rates by the manufacturer. In product knowledge presentations, the company recommends back-buttering tiles before depressing in mortar bed, to assure recommended coverage on the tile during installation. To ensure a lippage-free installation, leveling spacers are recommended for the corners of each tile during installation. This prevents high or low corners that are easily detected in environments with natural sunlight and wall-wash lighting, and are the lead complaint by consumers in the marketplace.
Midwest/Northeast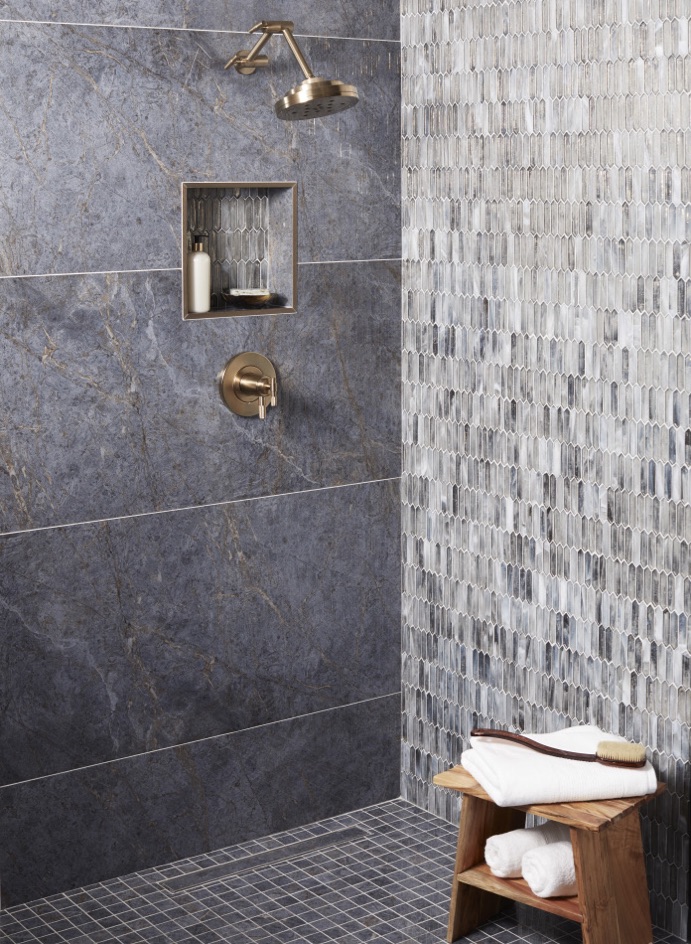 When it comes to the top sales directions in tiles, Minnesota-based The Tile Shop sees trends going in both directions as far as large-format and subway tile. Large format is definitely taking off thanks to fewer grout lines and a cleaner, more modern look. The company also sees the opposite trend, as people clamor for handcrafted looks, keeping subway tile a top category. 
Wood-look planks continue to dominate, presenting natural wood aesthetics without the maintenance.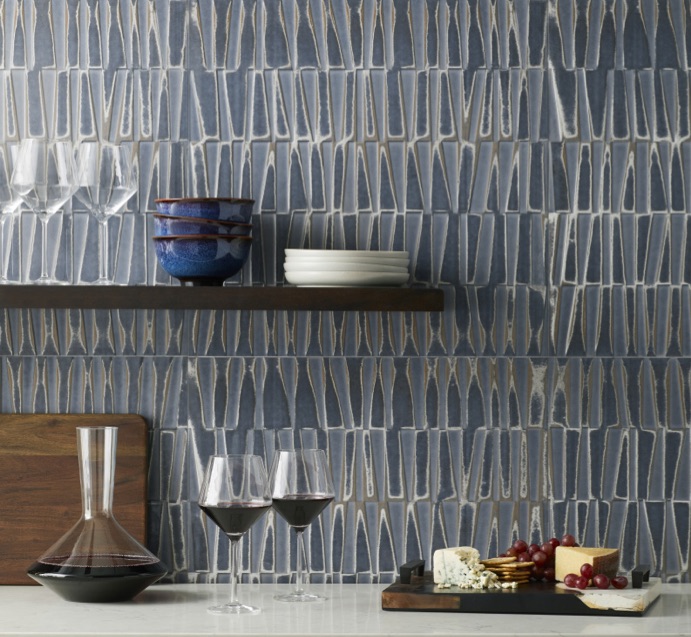 Another popular format for the company is the hexagon, connecting with clients' love for the old-world/handcrafted feel. Rectified tile is also sought after for its clean, sleek and contemporary feel. It allows for smaller grout joints, which play into the large-format tile trend.
When it comes to the look and design of a tile, technology has definitely played its part recently. As printing and glazing techniques advance, natural stone looks have improved immensely, producing authentic white marble looks that are in demand. And natural stone is on the rise, as well.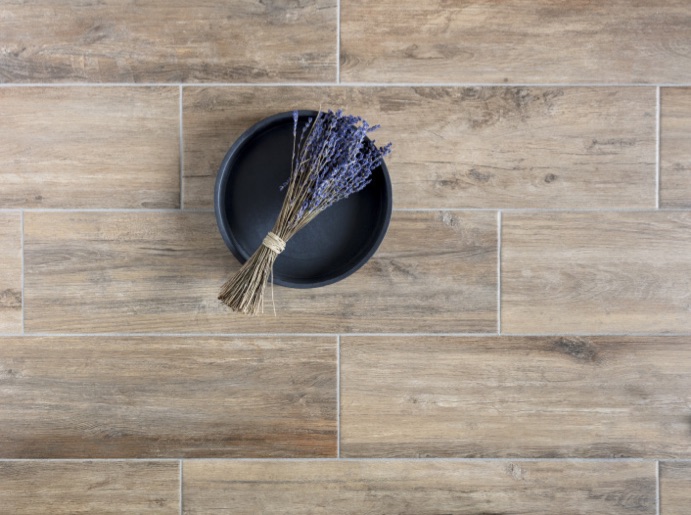 Modern farmhouse design continues to be popular and includes encaustic-look and subway tile. And textiles are making a statement in tile. The Tile Shop is seeing more and more wallpaper-effect tile with subtle nuances of texture and a 3-D quality. Designers love the ability to use these tiles to tie the overall look of the room together.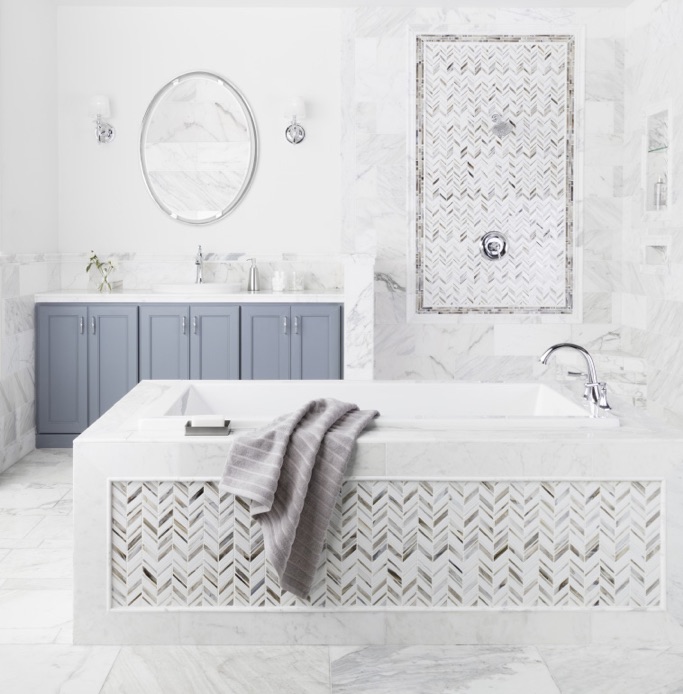 White and gray continue to be dominant in the Midwest/Northeast, paired with pops of color to make a statement. Two-tone or three-tone patterned tiles (such as encaustic-look) continue to be popular.
People are looking for something to personalize their space and make it different. Each category of material – whether it be porcelain, ceramic, glass, metal or wood – takes off due to its design quality rather than what it is made out of. The only material that The Tile Shop noted people specifically request is porcelain, due to its durability, but the design aspect takes precedence in most cases, with two-tone or three-tone designs, and mixed-material waterjet mosaics that offer elevated design capabilities. People are using these designs in new and innovative ways to add subtle pattern or a make a bolder impact in their spaces. Mixing natural stone with man-made products is always on-trend because it allows high-level design and affordability.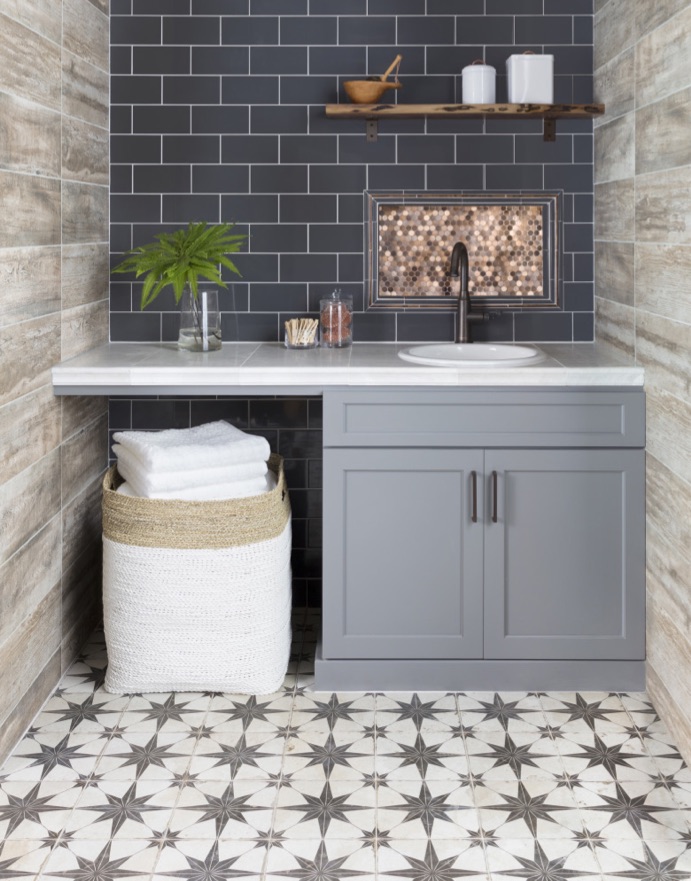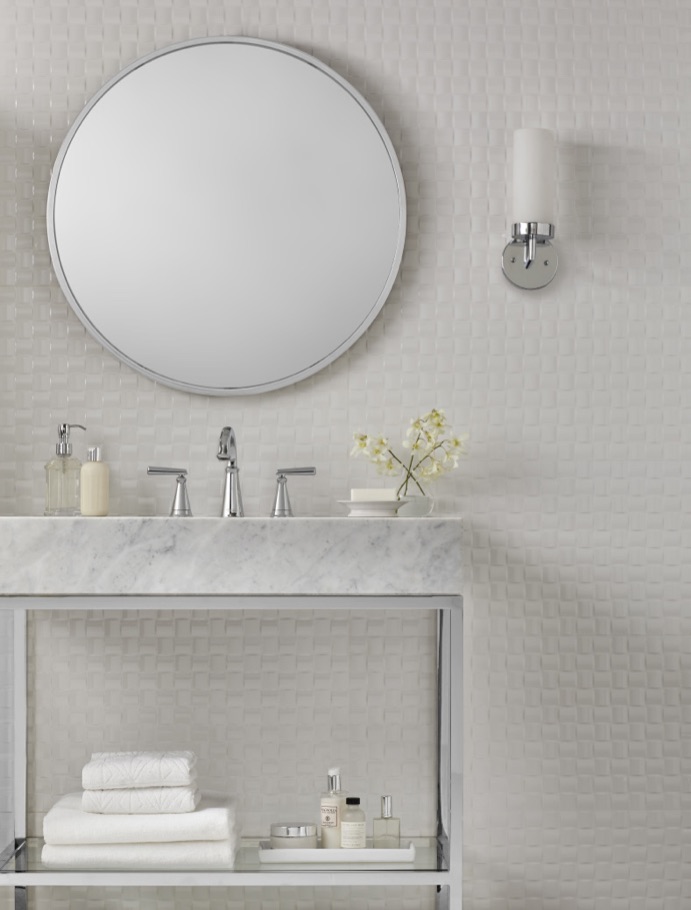 The Tile Shop noted that installation patterns are dependent on the type of material used. Subway tile still tends to be laid in the most traditional way as a half-offset or brick pattern. It also observed a strong rise in the patchwork look, where multiple patterned tiles are mixed together on a single surface.
The company is educating its clients through events such as NTCA educational workshops and wedi certification events. Its Pro Network market managers also work closely with its pros, making sure they are choosing the best installation products to get the job done right.
Southeast/Florida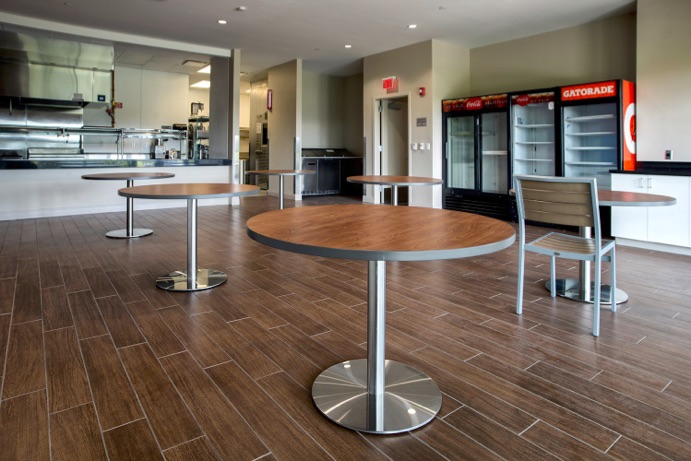 At D&B Tile Distributors, with a multitude of locations in Florida, the top tile sales trends include porcelain wood planks at 48″, edging up to 60″ lengths. Tiles 36″ and under are commodities in the company's territory.
Large-format porcelain, polished and matte, in 30″x30″, 30″x 60″, 24″x 48″ are popular, as are subway tile and mosaics. Popular colors include gray, silver, greige, white, and white with gray as in Calacatta looks.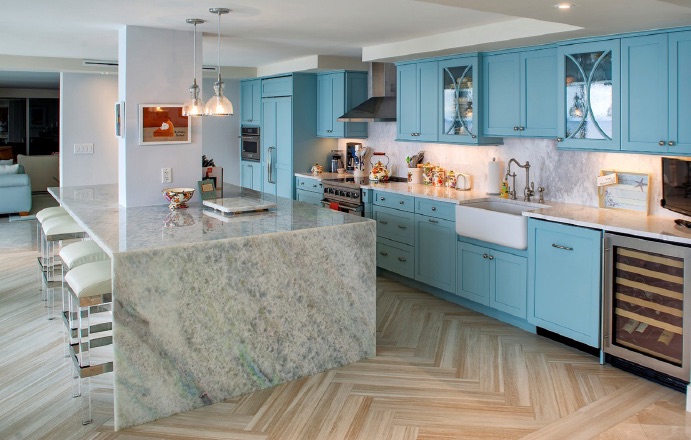 Porcelain is the primary material for walls and floors, with a small percentage of decorative ceramic tiles such as wave looks, since the ceramic tile body allows depth to be created in manufacturing.
When it comes to pairings in the Southeast, wood and concrete work well together; so do glass and stone mosaics, porcelain, glass and metal mosaics, and combinations of various materials and shapes in mosaics.
Popular layout/installation patterns include rectangular tile set in 1/3 offset or straight. If square, then it's traditional square installation, moving away from tile set at a 45 degree angle.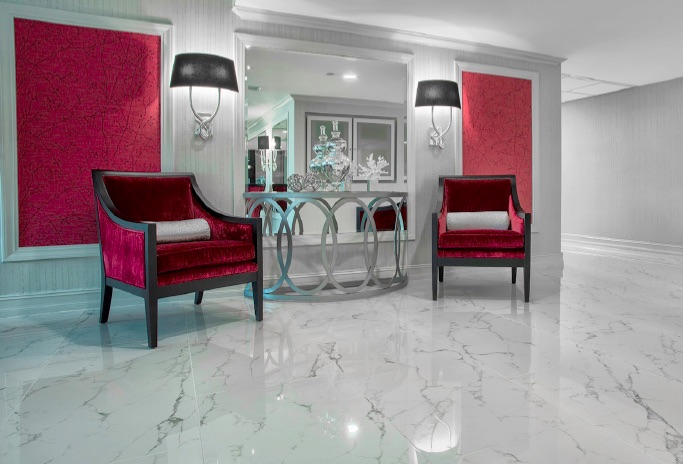 The company educates its internal clients every day so that they provide proper consultation to external clients. Contractors are educated with product knowledge at the company's branch locations and at industry educational events, such as NTCA/CTEF workshops, and LATICRETE/Crossville thin-gauged large porcelain presentations. 
In another effort to promote qualified labor, D&B lists the best licensed local contractors/customers on its website in a separate "find a contractor" page. Certified Tile Installers are sorted at the top, which gives D&B's customer the best, most qualified options first.

West Coast
At Westside Tile and Stone, as the Los Angeles housing market continues to boom and construction is seen in every neighborhood, the tile industry continues to evolve to accommodate everyone's taste. Many homeowners are spending more time in their homes and want to create an oasis in their bathroom and a kitchen that will be the envy of the neighborhood. 
With the increasingly abundant tile options available in the marketplace, sustainable goods are becoming more sought out along with unique materials that will differentiate one installation from the next. While most trends are revolving around the wood-look tiles, the company is seeing Carrara marble or Carrara-like porcelain tile in bold colors and patterns starting to pop up.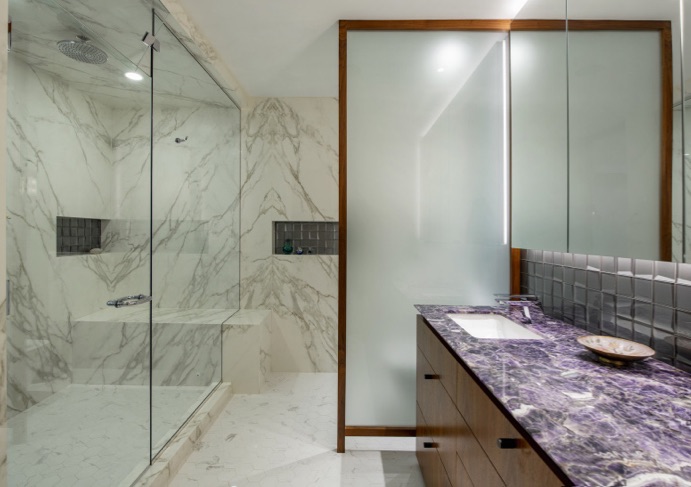 Wood-look tiles are increasingly being used in new construction as well as remodeled homes with authentic features like knots, textures, and grain in abundant variation. The variety of colors and sizes in these tiles allows them to be used not only for flooring but also in shower wall applications, where they provide natural looks while being impervious to moisture and easy to maintain. Since these tiles are being used in both traditional and contemporary installations, they are installed in unique patterns such as chevron, herringbone, or staggered brick.
Carrara marble is a fashionable finishing option on the West Coast. Its unique blend of colors and tones creates a timeless look. Since it comes in a variety of sizes, finishes and mosaics, it can be used in all sorts of residential applications and allows kitchens and bathrooms to take on both cool and warm tones that blend a variety of styles together.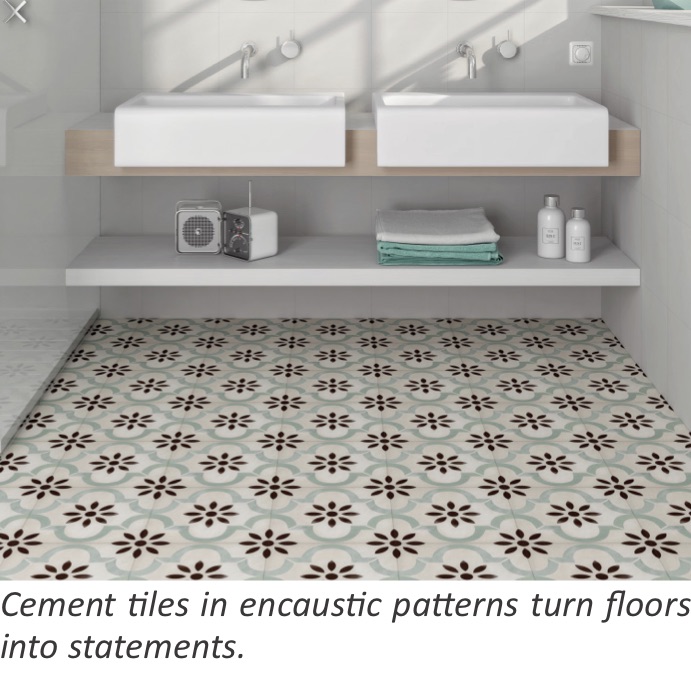 The rise in use of Carrara marble has spurred an abundance of porcelain tiles meant to resemble it. Digital-print technology refinements have allowed porcelain tiles to look exponentially better than before, with an ever-growing amount of variation found as in real marble. Porcelain Carrara tiles offer the look of natural stone without staining or discoloration. 
Cement tile is moving into bolder patterns and colorways than before. These patterned tiles are being used in bathroom floors as statements, and allow for simpler wall tiles to be used. Encaustic patterns have brought back the ability for floors to be the center of attention in bathrooms, laundry rooms, and even kitchens. 
Chinese tariffs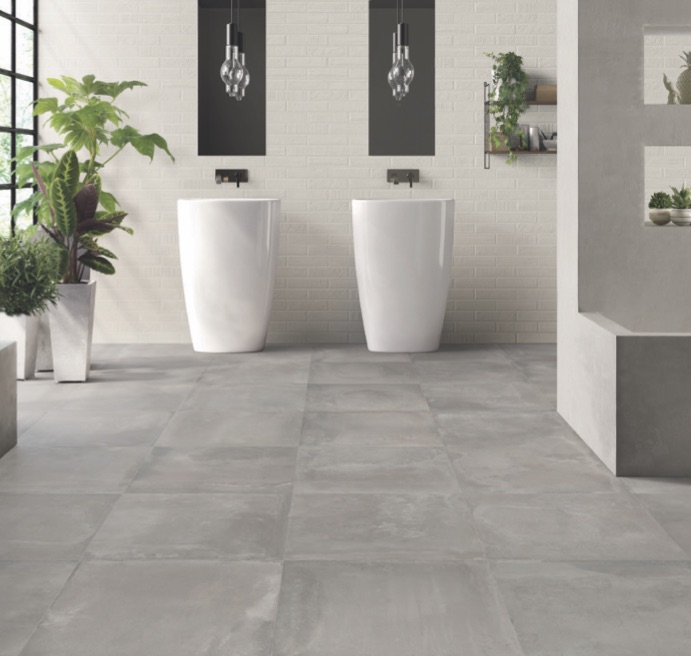 Tariffs the current administration has imposed on tiles from China have gotten some attention, but what is the impact on the industry?
Most of our contributors say the tariffs have little effect on pricing. Eric Foley, of Marazzi and American Olean said, the Dal-Tile Corporation is largely immune because most of its series are produced in North America or able to be sourced from elsewhere around the globe, including its own production in Europe. It has, however, seen a spike in opportunities based on inquiries from customers that are dependent on Chinese material, particularly from the builder channel. 
D&B Tile Distributors got a jump on the situation as it started moving away from Chinese tile in 2017, so tile products aren't feeling a pinch. However, tools and sundries the distributor imports from China are experiencing price increases, but currently D&B is confident that it won't affect sales.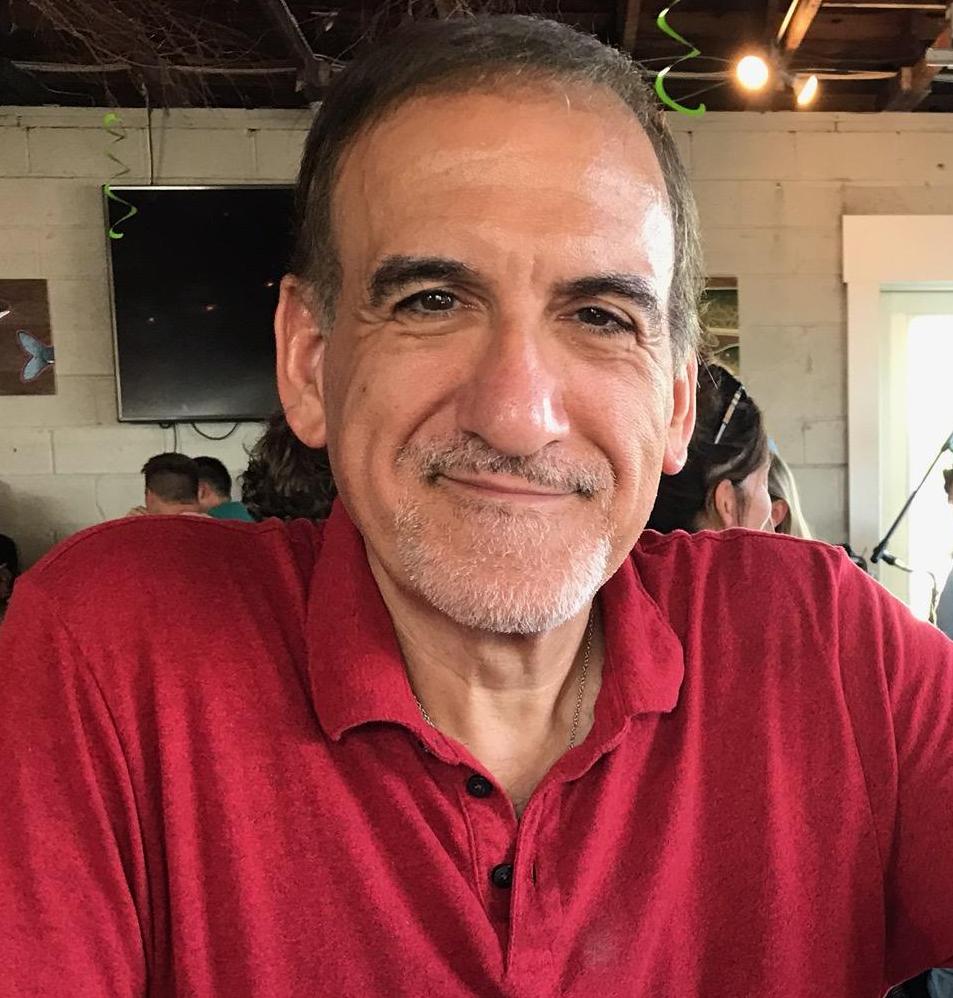 Louis Iannaco is a contributing editor to TileLetter magazine.