A sound tile installation begins with a firm foundation that is level, flat and treated for crack isolation and, if necessary, waterproofing. Detailed attention to the underlying needs of the installation sets the stage for not only a desirable finished product, but one that will perform for years into the future. With the growth of large, thin gauged porcelain panels, the proper support for the tile system is a must.
Manufacturers have placed a huge amount of effort and money into developing state-of-the-art membrane prep solutions to fit most situations and ways in which contractors like to work, including membranes, lightweight foam-core units, roller-applied and uncoupling membranes.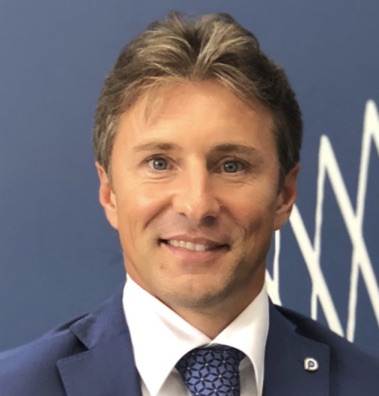 As Dennis Bordin, CEO, Progress Profiles noted, products nowadays provide several and different functionalities. For example, the company's systems "can be at the same time waterproofing, uncoupling and neutralizing vapor pressure, supporting load distribution, crack isolation, drainage, drying etc., besides being designed to allow higher adhesion to the support and anchoring of the floor, and to optimize their performances."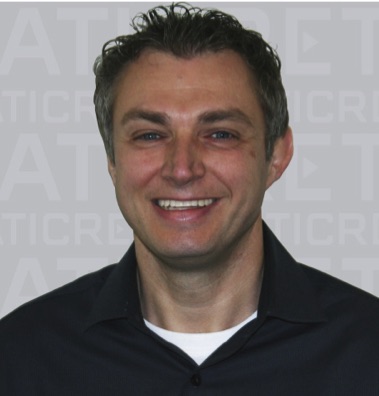 "New technological advancements continue to make it harder to find membrane products that serve a single purpose," said Arthur Mintie, Senior Technical Advisor for LATICRETE. "New products focus on including a variety of benefits to suit the overall project, for example, underlayments that can be topped with flooring materials or have the ability to be polished and used as the final flooring product."
"Choosing the right membrane or underlayment can protect from water intrusion, damage and cracking, as well as provide sound reduction properties," he explained. "These products can also help to present a better overall surface to adhere the finished flooring, so while they may not be the first product thought of on the jobsite, they continue to be vital to the success of installations and a focal point for manufacturers to invest in perfecting."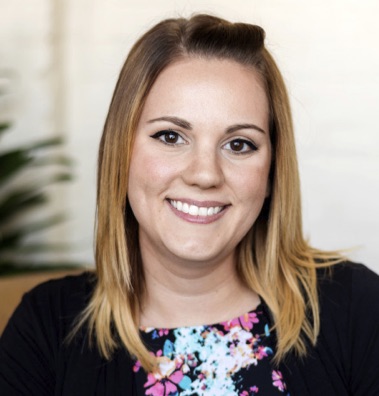 A common need among contractors, builders, tile setters and even designers is finding a product that can save time, money and still provide 100% waterproof solutions for wet areas, noted Kate Schaddelee, Marketing Coordinator, wedi Corp. "At wedi, we provide an easy-to-use premium product that can be tiled upon same day, extensive warranty programs, along with on-site training and support." The company is addressing customer needs with new vapor-stopping building panels and sealants, and a kit that allows a wedi shower base to be recessed into wood floor construction without cutting into floor joists.
---
Membranes
1 ARDEX Americas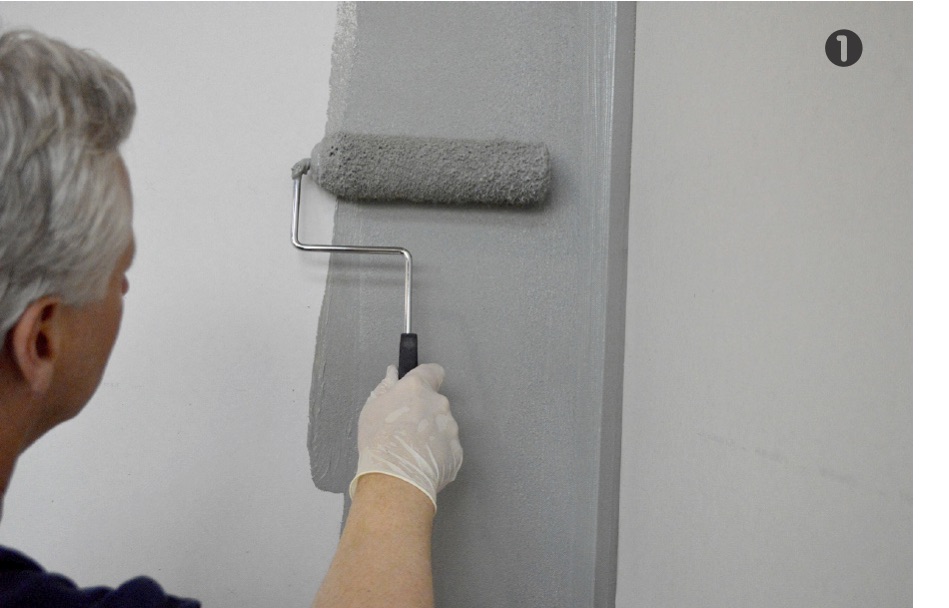 The company's ARDEX S 1-K™ is specifically designed for use in bathrooms, showers and other wet areas prior to the installation of tile. Recommended for use over a wide range of substrates and finishes, the product's workable consistency can be applied with a paint roller or brush, while minimizing drips and splatters. Flood testing for the waterproofing and crack isolation membrane can begin after just 12 hours. ARDEX S 1-K is also ideal for isolating minor, in-plane substrate cracking up to 1/8" (3 mm) and is available in two sizes: large 3.5 and small 0.7 gallons. ARDEX S 1-K exceeds ANSI A 118.10, ANSI A 118.12, and is IAPMO certified. ardexamericas.com
2 Bostik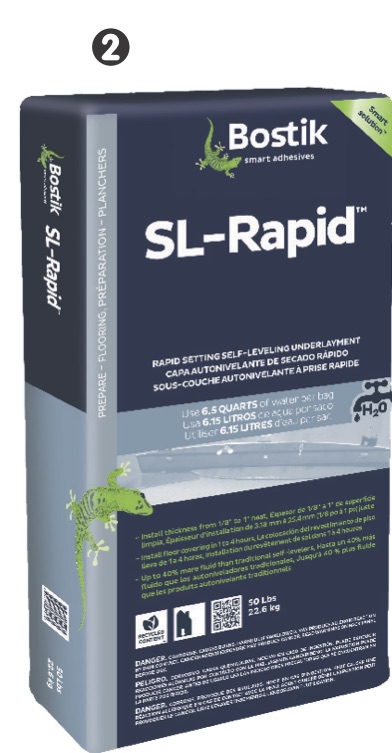 Bostik's SL-Rapid™ self-leveling underlayment is a rapid-setting, cement-based, self-leveling underlayment designed to create a smooth, flat and level surface prior to the installation of floor coverings. Its rapid-setting properties, low shrinkage and leveling properties make it an effective product for time-sensitive and demanding applications on, above, or below grade. Install thickness from 1/8" to 1". Tile can be installed as soon as one hour after it becomes walkable; moisture-sensitive floor coverings can generally be installed four hours after it's walkable. bostik.com
3 Custom Building Products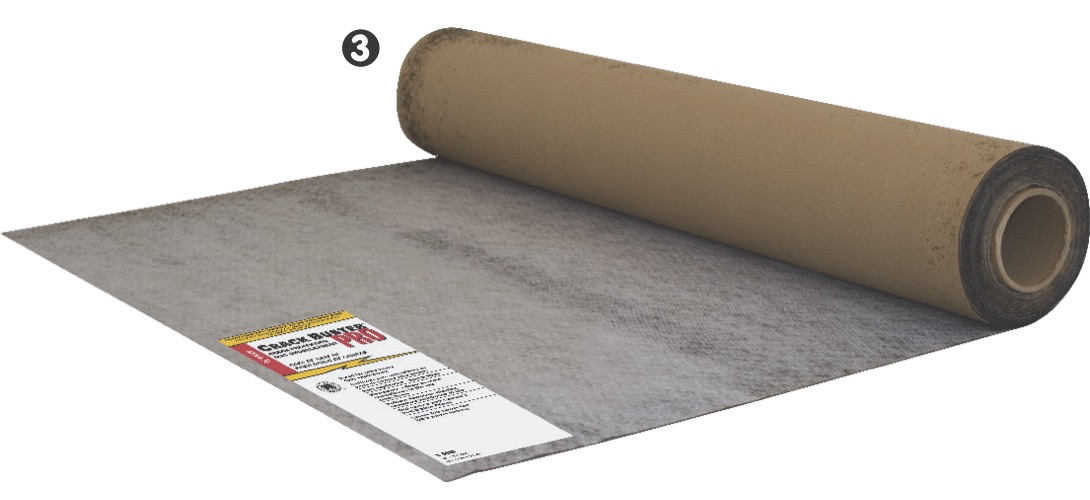 The company's Crack Buster® Pro Crack Prevention Mat Underlayment is a self-bonding, fabric-reinforced asphaltic mat that is designed to provide protection in extra heavy-duty service conditions. Crack Buster Pro meets ANSI A118.12 for high performance and isolates in-plane substrate movement up to 3/8-inch. The mat is appropriate for TCNA Detail F125 full and partial treatments to address existing shrinkage cracks and help prevent crack transmission though the tile and grout. Crack Buster Pro also delivers an impact sound reduction value of 18 dB in multi-story construction. It is formulated to be easy to install and tile can be bonded immediately to expedite fast track projects. custombuildingproducts.com
4 LATICRETE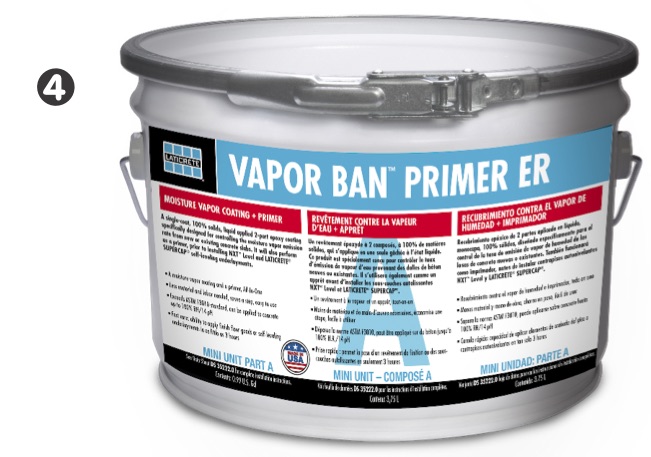 Vapor Ban™ Primer ER eliminates the need for broadcasting sand into a moisture barrier or applying a primer after a moisture barrier has cured, saving installers time and money. Vapor Ban Primer ER is an ASTM F-3010-compliant, epoxy-based all-in-one moisture vapor barrier and primer, and is ready for self-leveling underlayment placement in as little as three hours. This product can be used for the installation of vinyl, rubber, VCT, carpet, wood, ceramic tile, stone and other moisture sensitive floor coverings and floor adhesives. laticrete.com
5 MAPEI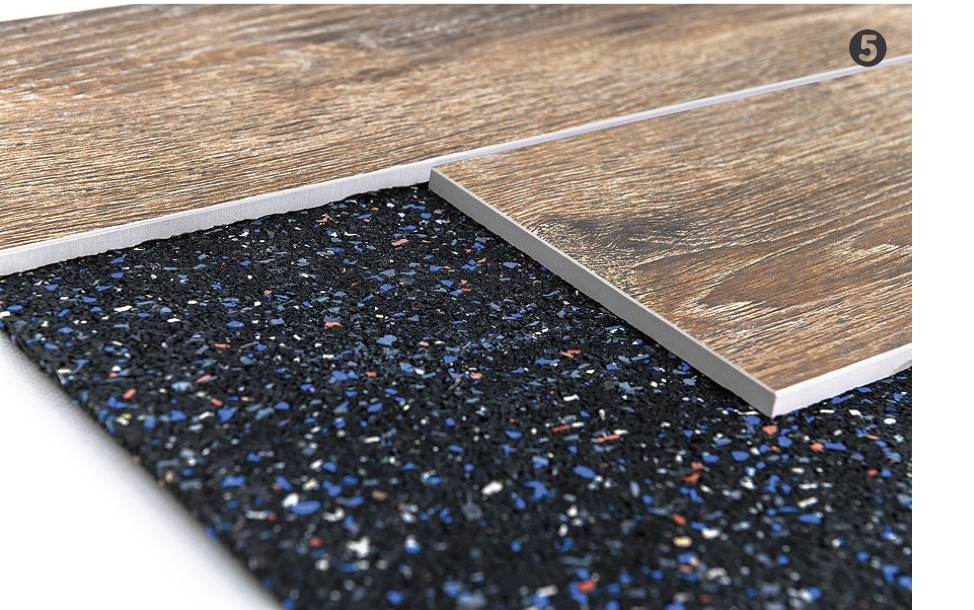 Mapesonic™ RM is a high-performance acoustic underlayment designed to reduce the passage of ambient and impact sound transmissions for ceramic tile and stone installations. Composed of dense post-consumer rubber, the product reduces sound transmission and provides crack isolation. It is recommended for multi-floor arrangements like apartments, condominiums, college dormitories, classrooms and office buildings. Mapesonic RM carries a lifetime warranty when it is used in combination with MAPEI's tile and stone installation products. mapei.com
6 Noble Company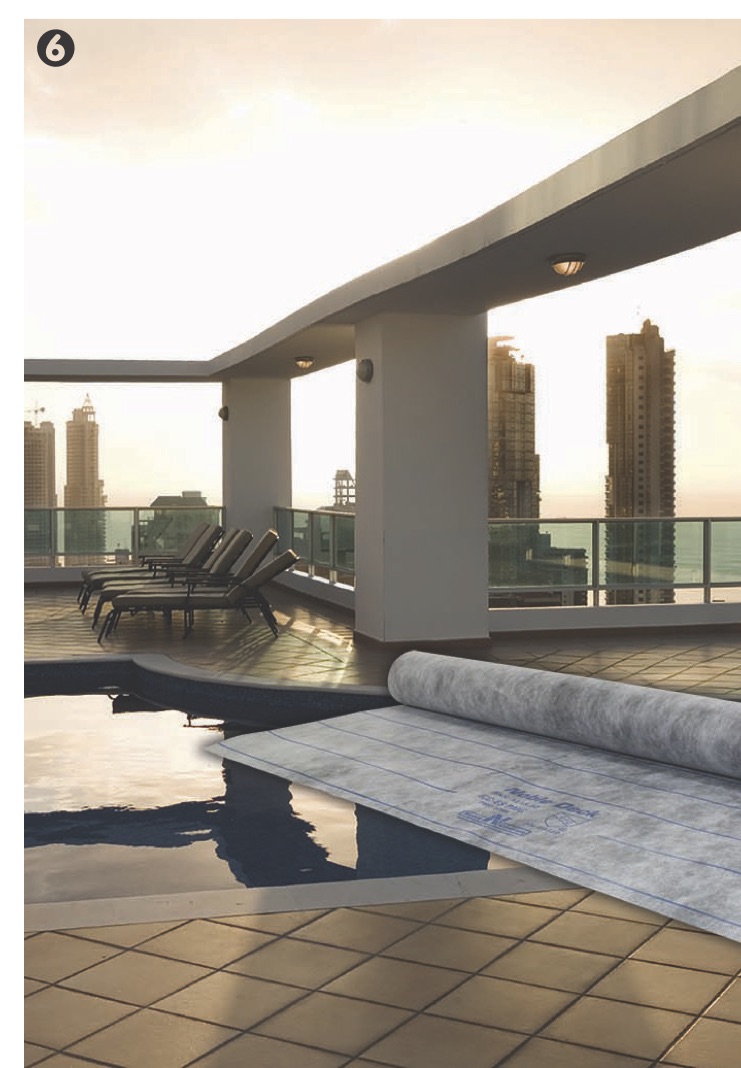 NobleDeck is one of the only sheet membranes approved for primary waterproofing in exterior applications over occupied spaces. NobleDeck exterior-rated sheet membrane is engineered for outdoor use providing waterproofing and high-performance crack isolation for thin-bed tile installations. Tile can be bonded directly to the NobleDeck substrate or can be used under a pedestal system. noblecompany.com
7 Progress Profiles
Prodeso® Sound Membrane is an uncoupling and soundproofing membrane, with a thickness of 2,3mm, which, used with Prodeso Sound Tape and Proecofon, guarantees a reduction of impact noise up to 17dB. The high-density polyethylene membrane is topped with a polypropylene spun-bond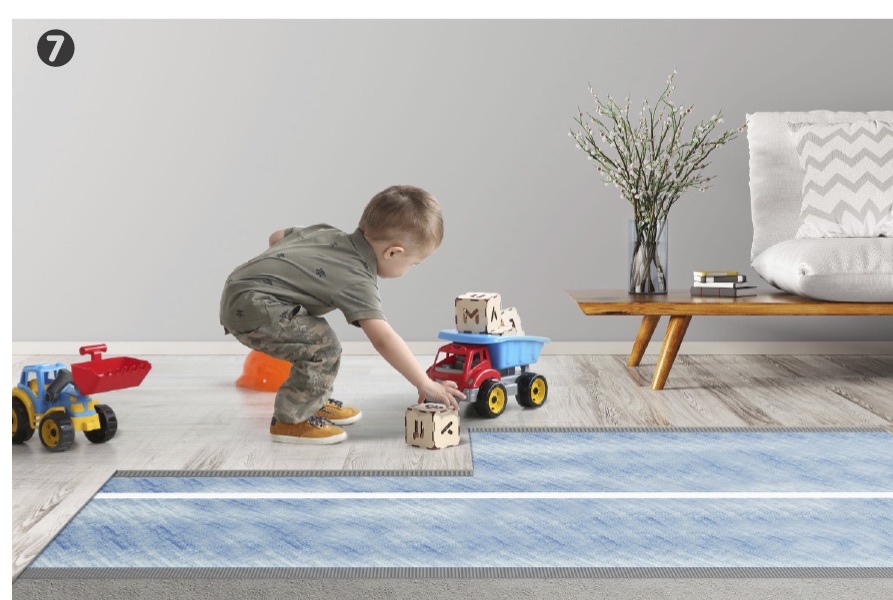 cover and backed with a non-woven polypropylene fabric, both thermo-welded to the polyethylene sheet to guarantee the adhesion of the membrane with the adhesive. The product allows installation and soundproofing in any indoor environment, even with problematic supports and old tiles. progressprofiles.com
8 USG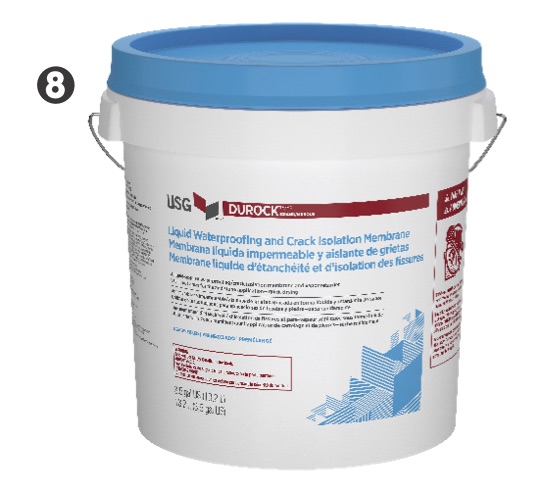 The USG Durock™ Brand Liquid Waterproofing and Crack Isolation Membrane is a liquid-applied waterproofing and crack isolation membrane and vapor retarder for use in residential and commercial tile and stone applications to waterproof floors and walls in showers and other wet areas, including continuous-use steam rooms. It provides anti-fracture protection up to 1/8" (3 mm) over shrinkage and other non-structural cracks, features a perm rating of 0.38 perms at 20 mil dry thickness (per ASTM E96, Procedure E) and is fast drying. usg.com
9 wedi
Just released in 2019 is Vapor 85, a variant of the wedi® Building Panel and designed for installations in steam showers and steam rooms. It serves as a strong vapor retarder and exceeds the minimum requirements set by the Tile Council of North America (TCNA) for vapor retarders used in continuous steam rooms. It also offers all the benefits of the traditional wedi® Building Panel: light and strong, it comes with a fully vaporproof seam and fastener sealant system. wedicorp.com
Membrane overview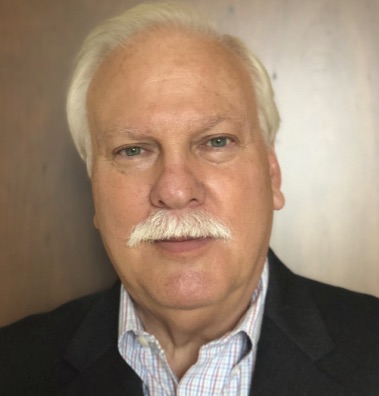 Tim P. McDonald, former CEO of Mer-Kote Products, Inc./Mer-Krete Systems, took a long look back at the evolution of thin-bed waterproofing over the years, from where it all began to where it is now.
Since the inception of "thin bed waterproofing," (liquid membranes designed specifically for tile/stone application), early in the 1970s, the category has grown significantly. Early latex membranes were compounds – two-part systems – composed of powders and latex additives such as LATICRETE 301/335 or Mer-Krete 300. These were great membranes, rapid-curing, and 100% water tight; however, they had little to no elongation. Single-component liquid membranes followed, allowing for easier application. No mixing or measuring, they were easy to use in roll-on applications with fabric reinforcement.
Sheet-applied membranes direct from the factory with gauged thicknesses such as Compotite or Nobleseal were the favorites of plumbing officials, since their application was more familiar to the building inspectors who were used to seeing the age-old "hot mop" systems, or the dinosaur days of lead pans. These early sheet membranes were also not designed to have tile set directly to them.
This author can attest – as I'm sure others of this time can – changing the mindset of both the tile installer and building code officials was a monumental task. Tile contractors had yet to see the advantages (and the profit) in installing their own systems. Building officials were slow to grasp the new concept and its importance. So where are we now, and where are we going? 
Advancements in chemical technology have allowed for excellent upgrades to formulations over the last four decades. Elongation, rapid curing and increased adhesion are a few of the changes. We even see new chemical compound changes such as urethanes entering the market. Application methods, however, remain mostly unchanged even though we see less and less fabric as part of the overall installation methodology. The future seems status quo for now until new components and chemistry advance. The need for faster-drying membranes and quicker application is something the applicators would welcome overall. As we see building methods change and we move deeper into the 21st century as the saying goes, necessity will always be the mother of invention.
More to come!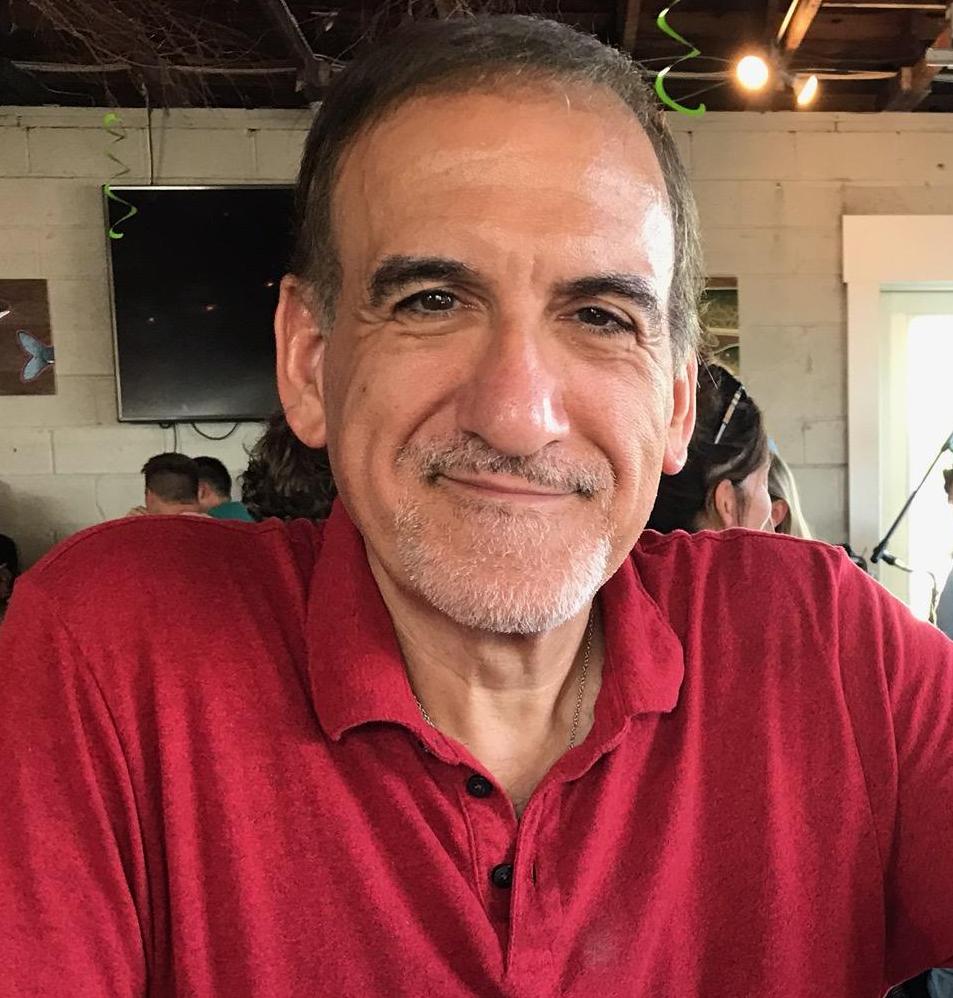 Louis Iannaco is a contributing editor to TileLetter magazine.