This month's Hot Topics article gets literal – how do tile installation professionals deal with the challenges of managing hot, oppressive weather, both for the success of the project, and staying hydrated and healthy while doing it?
Much of the solution to this age-old problem has to do with creating an atmosphere on the jobsite where keeping as cool as possible is the top priority, while seeking ways for allowing productivity to flourish under strenuous conditions.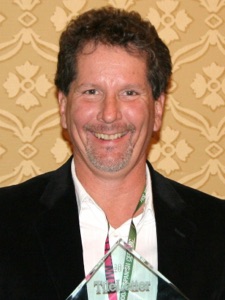 "Living in South Texas all of my life and having been in the tile industry since I was 18 years old, I never really thought about the issues we have in a hotter climate because it was something you just dealt with," said Anthony Jung, founder and president, Jung Tile Services, Victoria, Texas.
The most paramount issue, he noted – and a common theme among all the professionals interviewed for this article – was employee safety. "Staying hydrated and taking breaks often is critical."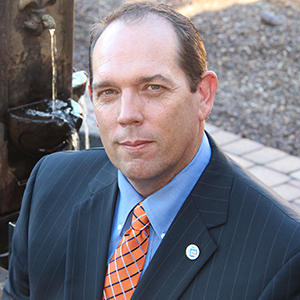 Like Jung, James Woelfel, president, Artcraft Granite, Marble and Tile Co., Mesa, Ariz., believes the most important issue is keeping hydrated and making sure his people are not showing signs of heat stroke. "This is a real problem in Phoenix," Woelfel said. "The human aspect is far more important than the tile installation aspect. We know that 118 degree weather is hot – and even though I've been told a million times it is a dry heat – so is an oven."
There is no doubt these are harsh conditions, Woelfel stated. "We start earlier and use tents," he said. "We finished an exterior water feature in September of last year. We would start work at 3:00 a.m. and finish at 11:30 a.m., two to three hours before the [highest] heat of the day. We would keep our dry-set mortar and grout in the shade before mixing it for use, and made sure if large areas of grout, mortar or waterproofing/crack isolation were going to be needed, that work was done as early in the morning as possible. We made sure we had time for our people to hydrate."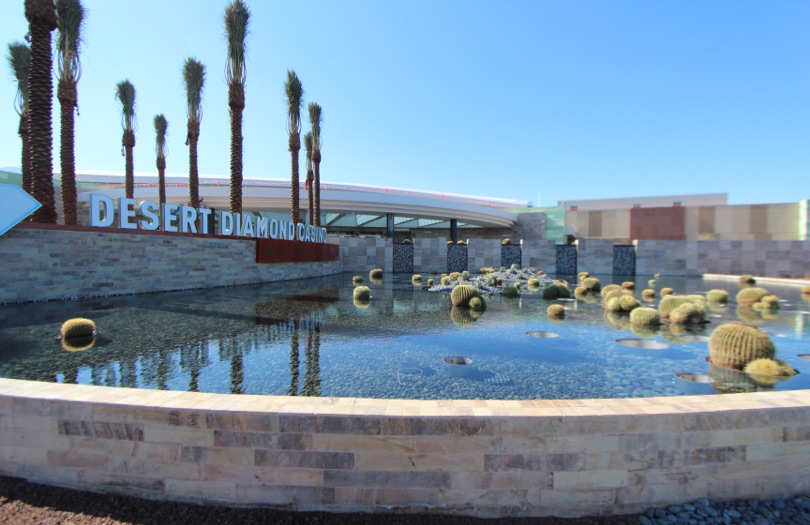 Working in hot weather is commonplace, and the use of tents is the best weapon, Woelfel noted. "As I mentioned earlier, trying to ice jobsite water is impossible and there is not enough cooling to make much of a difference. The most important potential issue to look out for is the over-mixing of water into the dry-goods products. This will create a weaker and faster-setting issue with these products. We dampen the surfaces that receive these products to slow the curing process just a little, and we remember to just dampen the surface, not saturate it."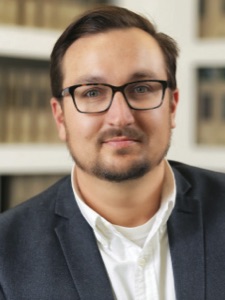 Ben Lowery, vice president, operations, Cornerstone Commercial Flooring, Baton Rouge, La., also has experience in hot and humid conditions, when applying grout can become problematic. "We live and work in the Deep South; heat and humidity go together like cornbread and turnip greens down here," he said. "These conditions create multiple challenges when it comes to setting ceramic tile and stone. This is especially true when it comes to grouting.
"Both ambient and surface temperatures play a role in the success of a grout installation," Lowery said. "When the air is hot and/or the substrate is hot, all grouts will perform differently than in normal temperatures. Your plan for grouting must start early in the life of the project and take the working conditions into account."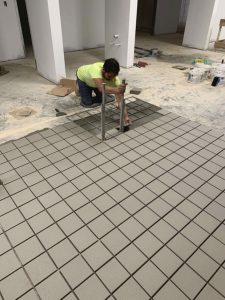 Referencing MAPEI's technical bulletin 010404-TB, Lowery noted steps that can be taken to protect industry professionals from the heat in order to get through the job successfully. When using grouts that must be mixed in full such as epoxy, he noted, "you should reduce the size of the containers purchased (when available). Hot weather causes grout to have less open time, which leads to waste in the mixing bucket." He also recommended cleaning smaller areas of grouted tile, thus removing excess grout before it dries and hardens due to heat.
Lowery said workers should research the technical data of the grout they use for acceptable installation conditions. "Most grouts have a substrate temperature range requirement," he explained. "Use an infrared thermometer to ensure substrate temperature is within the limits." Another tip is to store grout in a cool area. "Store bags in an area that is 70 to 80 degrees, 24 hours prior to installation. Also, grout during cooler times, such as the mornings or evenings."
Shawn Stonecipher, principal, Creation In Tile & Stone, Boerne, Texas, also recognizes that hydration is critically important when on a hot jobsite. "My greatest hot weather problem is not with tile products but with my body," he said. "I eat bananas and pickles and drink lots of pickle juice [to stave off] potential cramps. Staying hydrated is a challenge and I bring a case of water a day for my guys. I'd say the greatest challenge is to make sure everyone knows the signs of dehydration, heat exhaustion and heat stroke. It's important for us to be careful and listen to our bodies."
Several years ago, Jung recalled, his company had a large project, installing tile on the exterior of a federal building in Laredo, Texas, a much drier location than Victoria, the firm's home base near the Gulf of Mexico. "It was summer and we would start work at sun up and install tile on the west side of the building until noon. After lunch, we would then move to the east side of the building just so our substrate would not be burning up from the heat of the sun. Shade is key if you have any when working on an exterior environment during the hottest time of the year.
"Always remember to stop and drink water whether you feel thirsty or not," Jung concluded. "If you wait until you're thirsty, you will never catch up. So if you have to work in the heat, take breaks and stay hydrated."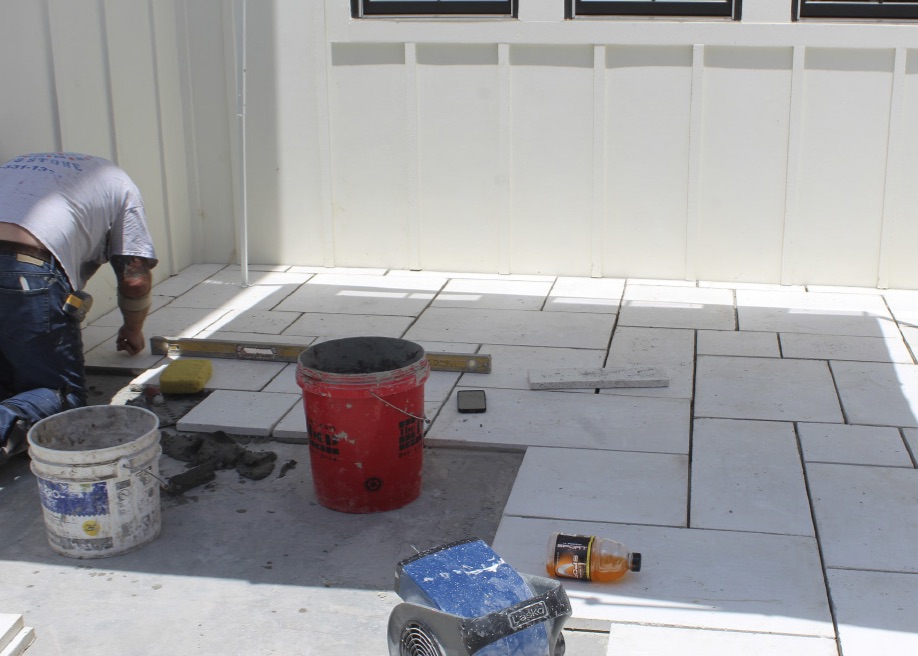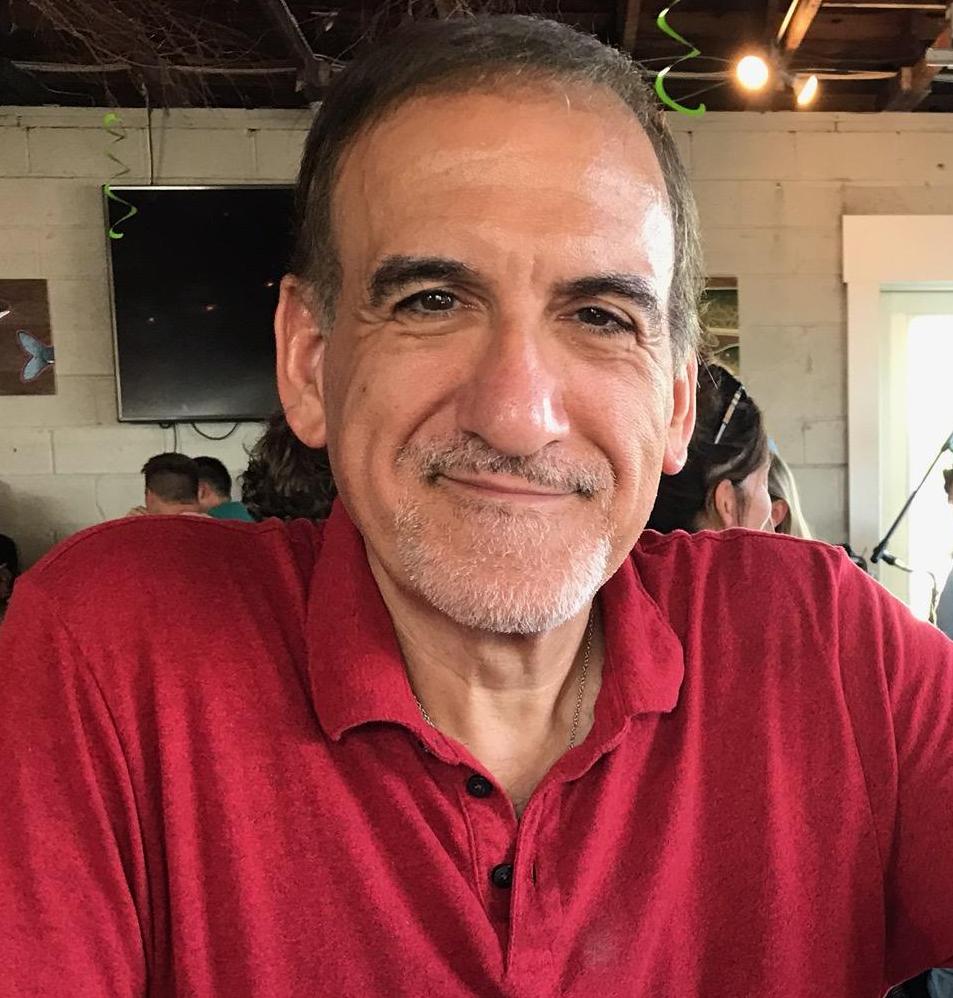 Louis Iannaco is a contributing editor to TileLetter magazine.