Obra Blanca Expo, what's that? Well, I'm here to educate you! 
This is a construction finishes show that started in 2019 in Mexico City. It was spun off from the construction show called Expo CIHAC, a very similar story to the Brazilian tile tradeshow Revestir.
Obra Blanca Expo is owned and operated solely by Tile Council of North America (TCNA). With their vast experience of running Coverings in the U.S. market, this show started with a great foundation, with the core leadership team of TCNA Mexico's own Fernando Lozano and Martha Salazar. Plus it has the full support of the core Mexican domestic manufacturers including Porcelanite-Lamosa, Interceramic, Daltile and Vitromex.
The name "Obra Blanca" hearkens to a concept commonly used in Mexico to refer to the final stage of the construction, which loosely translates to "the drywall stage of the project." However, to get a better understanding of the show's name I spoke with Enrique Alvarez, Daltile Mexico's Marketing and Product Director who explained the shows target audience. He stated that "Obra Blanca Expo targets those finishes from the drywall (hence Blanca) throughout the interior" (hence the project). Additionally, Alvarez stated, "Therefore you will see ceramic tile, marble and stone, wood, sanitaryware, and other finishes inside the project, as well as installation products."
After a very successful initial year, 2020 was cancelled due to the pandemic but 2021 it came back on the scene and just recently had over 13,000 visitors in mid October, 2022.
Some may say Mexico does not have enough factories to warrant a visit, however I suggest you rethink that notion in light of the current state of the global ceramic tile market. Plus a significant amount of capacity has been added to the country over the past two to three years. If you consider the historical sources of tile like Turkey with its hyperinflation and gas shortages which has impacted all of Europe, these have been our premier places from which to source ceramic tile. Brazil is still a viable source and is dealing with high freight rates even though we see them coming down.
However, if you look at Mexico, with the northern factories supplied with natural gas by the U.S., and Pemex supplying those in the South, it is one of the most stable countries you can source product from currently. The interest was shown by a big increase of U.S. distributors visiting Obra Blanca to establish themselves with some of the major players who were exhibiting. . This included, of course, Lamosa Group with its multiple brands of Porcelanite, Lamosa and Firenze, as well as Interceramic, Daltile with its soon-to-be other brand Vitromex, and some of the smaller players that are not as well-known like Castel and Dune, a viable source for high-end wall tile options and decorative elements. The show will continue to add domestic and international suppliers. Even as we see domestic factories joining the show, stay tuned for importers — Porcelanosa has been showing since the inception of the show.
In today's ever -hanging market it's imperative to stay tuned to the world market, and in my opinion Mexico and Obra Blanca Expo are players. We are all speculating on "who" to buy tile from, when we should be thinking "where" to buy from. Do not make the mistake of overlooking Mexico!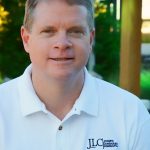 Joe is a globally recognized product and marketing expert in the ceramic and stone worldwide markets. He is the owner of Joseph Lundgren Consulting and his specialty is Business Development, Product Management, and Marketing