Welcome to the Green Issue of TileLetter! Each year, we take a look at some eco-centric issues that impact the tile industry in our August issue. In this issue, TCNA staff examines the revision process of OSHA's Table 1, as it relates to the Respirable Silica Rule. We also feature a Letter to the Editor from James Woelfel that takes a different perspective on the feasibility of OSHA regulations in protecting worker health.
Terri Hogan Dreyer, managing partner/principal, NANO Architecture|Interiors, discusses how natural materials like tile and stone are foundations for her firm's quality control process. TCNA's Bill Griese tours us through the latest version of LEED – LEED v 4.1 – that generates more achievable objectives that build on expanded product life cycle considerations and are favorable for tile.
Our Training and Education feature explores the recently DOL-approved NTCA National Apprenticeship Guidelines for members, which provides a career road map in the tile trade, explaining the process of developing this program and how this will benefit members and the entire trade. NTCA's Becky Serbin takes it a step further in the NTCA University Update, describing how the establishment of the apprenticeship program will mandate more course development to support the finisher and setter tracks.
We meet Jake Swoboda in our Member Spotlight, one of the younger members of the industry, and learn how he is carving a path to tile setting success, based on familial training from his uncle, and augmented by his CTI credentials and membership in NTCA.
In this issue, we also bid a sad farewell to a beloved member of the tile industry and all-around nice guy, Steve Rausch. Though he will be deeply missed, all of us who knew and worked with him are richer for having known him. His sudden passing reminds me to let people who are important to me know I appreciate them – personally or professionally. Maybe there's an opportunity for you to do the same in the coming month.
God bless,
Lesley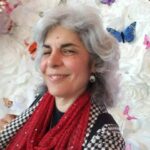 Editorial Director and Senior Writer for TileLetter and TileLetter ARTISAN
Lesley Goddin has been writing and journaling since her first diary at age 11. Her journey has taken her through a career in publishing and publicity, landing her the editor position of TileLetter and its special publications in 2006. Her goal is to educate, inspire, recognize and encourage those in the tile industry -- especially the tile and stone contractor. Other interests include the soft, purring marvels known as cats, labyrinth walking, drumming and percussion, and a range of spiritual, musical and artistic pursuits.