JUNE 2023, New key exhibitor in 2024 at The International Surface Event (TISE): SURFACES | StonExpo | TileExpo is Cambria, a leading manufactured surfaces supplier, who brings the high standards of an American company and the passion of a family-owned business to everything they do.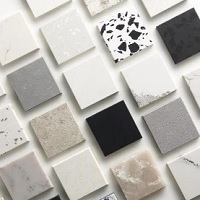 "We are pleased to have Cambria join SESA and participate in the TISE event. We feel their presence will make the experience better and even more relevant for fabricators seeking
information on all the products they work with daily." ~ SESA President, Mike Schlough

"The event team is so excited to welcome Cambria to TISE 2024 and the opportunity to add an even wider breath of surface materials for attendees." ~ Dana Hicks, Group Show Director, The International Surface Event
In partnership with the Stone Equipment Suppliers Alliance (SESA) who has selected TISE as their exclusive exhibition for stone equipment and tools, and the International Surface Fabricator Association (ISFA), a longtime partner to TISE, the 2024 event edition will present manufactured surfaces such as quartz, solid surfaces, large format porcelain tile, and more with Cambria leading the way. This rapidly expanding product segment in the industry is in high demand by industry professionals attending the event and will benefit attendees and participating manufacturers by fostering one-stop product sourcing, product education, and installation training for these specialty categories.

SAVE THE DATE 2024
Cambria will be at TISE 2024 in the Mandalay Bay Convention Center, Las Vegas, January 24–26, 2024. Complimentary tickets to The International Surface Event (TISE): SURFACES | StonExpo | TileExpo will be available through Cambria and the partner associations, SESA and ISFA, when registration for TISE 2024 opens in September. To be notified when registration opens, join the TISE Notify Me list, www.intlsurfaceevent.com.com/notifyme.

EXHIBIT IN THE MANUFACTURED SURFACES PAVILION
Manufactured Surfaces Suppliers are encouraged to contact the TISE Show Manager, Kerry Cree, to gather more information and secure their spot. Spaces will be booked on a first-come, first-served limited space opportunity. Inquiries to [email protected] or call 800.547.3477.
---
ABOUT INFORMA MARKETS
Informa Markets creates platforms for industries and specialist markets to trade, innovate and grow. We provide marketplace participants around the globe with opportunities to engage, experience and do business through face-to-face exhibitions, targeted digital services and actionable data solutions. We connect buyers and sellers across more than a dozen global verticals, including Pharmaceuticals, Food, Medical Technology and Infrastructure. As the world's leading market-making company, we bring a diverse range of specialist markets to life, unlocking opportunities and helping them to thrive 365 days
of the year. For more information, please visit www.informamarkets.com.