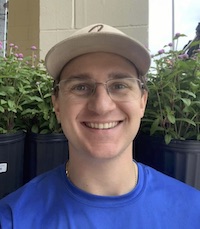 Back in May, Mark Heinlein held a Facebook "Lunch with Mark" interview with Cody Cox. Cody is successor to the Cox Tile empire, begun in San Antonio, Texas, by past NTCA President John Cox in 1974. The company does high-end residential work, never turning down a challenging project, and excelling in taking on what others can't or won't.
Cody took a circuitous route to arrive as Cox Tile's General Manager, but he set the stage for his destiny by working every summer with his dad since he was young.
"I was involved with the company since 12, here there and everywhere," Cody said. He shoveled sand eight hours a day, six days a week. "It wasn't my favorite and not the most fun thing I have ever done in my life," he added. "But the food on the table and roof over my head was my trade off."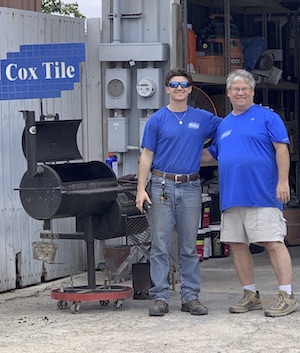 Cody originally had his sights set on a degree in physical therapy. In between obtaining his Bachelor's degree and applying for grad school, his dad invited him back to work in the business. But this time he was more involved with customer relations, designers, crews and management. "Taking dreams and making them reality gets me fired up," he said. "I can talk about tile all day long." At that point, he switched gears, and went back into the business.
With 10 employees on staff at Cox Tile, plus Cody and John, Cody is "trying to jam 40+ years of experience in as fast as I can – bidding, estimating, trying to learn all the skills. All our guys are Certified Tile Installers and true craftsmen."
Cody is putting what he learned in school to use, too, using physical therapy principles to keep everyone safe. "It's all about biomechanics – I like bringing that to guys to keep them healthy and in shape," he said. "You need to use the right mechanics when you are picking up something heavy."
Working in the business is not Cody's only focus – he's become an NTCA Ambassador to help support the industry. "No matter the business… if you want to be successful and stay on the cutting edge, it's important to be involved in the industry to progress your company as well as the industry," he said. "My father was a one-man show and he discovered it was what he loved, and he joined and got involved with the NTCA."
Reaching out, attracting young talent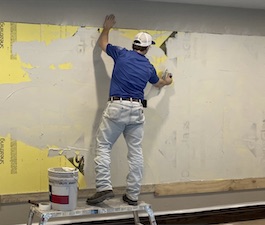 Cody is active in promoting the tile trade and construction as well, visiting high schools, and schools with a construction focus. "It can be overwhelming to figure out what you want to do the rest of your life," he said. "I go and speak at several high schools and job fairs. I show them that this is a step ladder and this is the height you can reach, and encourage them to get involved in NTCA – it will only push you to be better."
Talking at high schools can be a challenge. When he sought camaraderie with the high school audience, but told them he was 25, "the entire auditorium laughed!" he said. "I'm not THAT old," he lamented. But he heard their concerns: 'Everything is different when you started and when we started.' They like having different avenues and options, goals they can set." He offers them some options in construction, pointing out the necessity and longevity of construction. He also
saw a lot of interest in students learning about new ways to express their artistic side, and encouraged them to get the wheels turning about how they can use the skill in a construction job.
Cody reaches out to guidance counselors and college career counselors, being genuine about helping them guide students to an alternative to the ever-more-expensive and time-consuming college career path. When speaking in construction schools, he builds excitement by bringing in Revolution tile saws, and showing them they can be creative: "It's not just a single cut all day long," he said. "Tools, materials and knowledge – as long as you have one or two of those, you can build the others."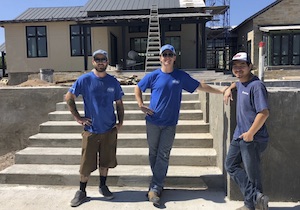 He noted, however, that when talking in high schools, he's found that "people shy away from super hard, strenuous work, but they are technologically savvy, with computers and such." Though he nudges students to "get out there, get your hands dirty and make some work," he also acknowledged the role that technology plays in the business – being ready to adapt platforms and technology to more effectively advertise and market one's business. This is a practice Cox Tile employs itself – "We ask 'What is our goal? What are we trying to get across to this audience?' We scroll through and view other people's marketing and ask how we can apply it to us and then do it a little bit better."
Pushing beyond the limits
Cox Tile has achieved numerous milestones, and achievements from NTCA and Coverings. But they wanted to do more. "We had a come-to-Jesus moment," Cody said. "We decided 'Let's do some things to win awards and national recognition; whether we get them or not, we'll know we pushed ourselves and worked our tails off.'"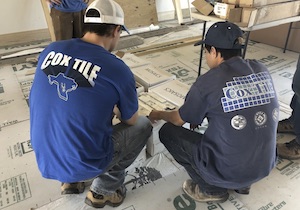 One of those types of projects wrapped up recently: The Children's Bereavement Center of South Texas (read about it in detail in the TileLetter ARTISAN Fall issue). Cody said, "every now and then there is a curveball that we accept and try to hit out of the park." The Children's Bereavement Center project, which entailed creating a 76' walkway with a field tile path embedded with mosaics and scribed with mosaic butterflies, dragonflies, lizards and aquatic creatures and other elements was "the most intricate and unique job I've ever done in the history of the company," Cody said. It took not only the entire Cox Tile staff but also family members to hand-place over 2,000 pieces of glass tile. Cody's mom Lori was involved with this project too – creating lizards and butterflies out of glass. "She loves the creative aspect…and she is an absolute saint. I have no idea how she puts up with us. She's a very patient woman," he said.
NTCA membership was a boon for this project as well. Cody said Cox Tile called several different people in the association on this project who had experience with what they were dealing with to ask how they approached similar challenges, and what mistakes they made so Cox could avoid making them themselves.
Finally, with wisdom beyond his 25 years, Cody offers these suggestions for success: "Find a mentor and an association, a group of likeminded individuals that you can reach out and ask questions. Find people who will help you succeed. Fly with eagles or sit with the pigeons. Be happy with what you are doing. Give 187% and the next day give 188%."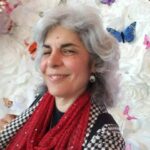 Editorial Director and Senior Writer for TileLetter and TileLetter ARTISAN
Lesley Goddin has been writing and journaling since her first diary at age 11. Her journey has taken her through a career in publishing and publicity, landing her the editor position of TileLetter and its special publications in 2006. Her goal is to educate, inspire, recognize and encourage those in the tile industry -- especially the tile and stone contractor. Other interests include the soft, purring marvels known as cats, labyrinth walking, drumming and percussion, and a range of spiritual, musical and artistic pursuits.