Our hope is when they start their careers as architects and designers, they become proponents of tile in their projects.
Coverings takes place this month at the Las Vegas Convention Center, running from April 5-8. The show is an inspiration for the entire industry, and includes special education, features and programs for architects and designers. It reveals the latest tile and stone trends from across the globe, keeping A&D professionals and clients on the cutting edge of design, technology and standards for proper installation of tile and stone products.
This year, NTCA and industry partners are reaching out to the next generation of architects, currently studying at The University of Nevada Las Vegas (UNLV), in conjunction with Coverings. This group will create a special student Outdoor Pavilion project at the show, with eight custom, student-designed benches and a serpentine wall.
"Coverings is so excited to partner with UNLV for the Outdoor Pavilion at Coverings," said Elena Grant, Vice President of Marketing at Taffy Event Strategies, the company that manages Coverings. "The opportunity for students to learn about and work with tile during their class – and while developing the project – is beneficial for the industry. Our hope is when they start their careers as architects and designers, they become proponents of tile in their projects. I look forward to seeing what they produce onsite."
As a foundation for the creation of this project, 27 UNLV architecture students enrolled in a class to learn tile industry standards and methods for writing tile specifications, best practices for specifications and for installing tile, tile design intricacies, qualified labor, tile types, setting material, substrates, and tile tools, including their application and usage.
Following two months of planning, partners from Coverings – the sponsor and organizer of this program – Tile Council of North America (TCNA), National Tile Contractors Association (NTCA), MAPEI, wedi, QEP, Arizona Tile and iQ Power Tools met in person with instructors at UNLV during the first week of February. Mark Heinlein, NTCA Training Director, finalized instructional plans with UNLV staff and began student training in mid-February. Instruction included an introduction to tile industry standards, methods, best practices, tool application and usage, design tips, material identification and usage.
The students and staff at UNLV worked for several weeks to create a general Pavilion on campus for the benches. Each bench allows seating for one or more persons positioned along either side of a serpentine wall, featuring a variety of porcelain and glass tiles from Arizona Tile.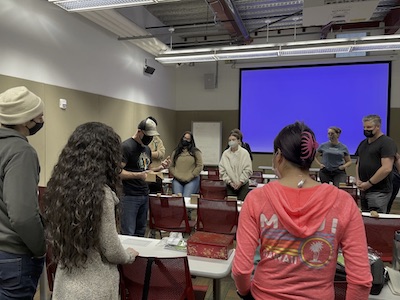 This is truly an industry-wide effort. TCNA has provided the TCNA Handbook, the industry bible for standards to be used in training. MAPEI is providing technical guidance, technical instruction and all setting materials. wedi is providing the substrate for the benches, adhesive, membranes and related materials and technical instruction. iQ Power Tools is providing tools and equipment and technical instruction. QEP is providing tools and equipment and technical instruction. Arizona Tile is providing the tile and technical instruction.
Throughout February and March, UNLV School of Architecture students met with UNLV professors and instructors inside and outside of scheduled class time to finalize bench designs including scale renderings, tile and grout selection, etc. Mike DeMello, MAPEI Technical Expert, continued student education at UNLV on March 1 and Mark Heinlein returned to UNLV on March 22.
Prior to Coverings, all benches have been fully designed, erected and tiled from start to finish on the UNLV campus. Completed modules and the serpentine wall are being transported to a special show booth at the exhibit hall where they will be displayed for the duration of the event. Following Coverings, the benches and wall will be relocated to a prominent permanent location on the UNLV campus to be enjoyed by all for years to come.

"The student plans for the benches, the wall and the pavilion are ambitious, Heinlein said. "We are grateful for industry partners and UNLV for giving students this grounding in all the elements that form a foundation for successful specifications based on recognized tile industry standards, methods and installation best practices. I made certain to let these future architects know that tile professionals across the county are aware of this class and are cheering them on. These tile professionals are anticipating the future specifications they will write that specify flatness and prep, movement accommodation joints and qualified labor, among other requirements."
NTCA's Bettiga added, "As NTCA celebrates its 75th year as an association, we are delighted to work with the next generation of architects for the Coverings show. We are inspired by their work and their vision, and are thrilled that they are seeking best practices for specifications and installing tile and learning the importance of developing a relationship with qualified labor on their projects."  
Student Outdoor Pavilion Partner staff
Elena Grant – Taffy Events / Coverings
Josh Vermillion – UNLV School of Architecture Associate Professor and Assistant Director
Paul Morrison – UNLV School of Architecture Craft Studio Principal
Mike DeMello – MAPEI Technical Services
Logan Reavis – MAPEI Technical Services Manager
Jim Whitfield – MAPEI Technical Services Director
Leslie DelPozo – QEP Vice President for Marketing and Communications
Brad Miller – QEP Vice President for Global Innovation
Jeff Moen – QEP Technical Services
Sarah Williams – iQ Power Tools Marketing Director
Paul Guth – iQ Power Tools President
Chrissy Witter – wedi Senior Inside Sales and Customer Service Manager
Bastian Lohman – wedi Vice President for Marketing, Sales, Technical Support
Kathy Meyer – TCNA Director of Marketing
Mark Heinlein – NTCA Training Director
Bart Bettiga – NTCA Executive Director and Coverings Board Member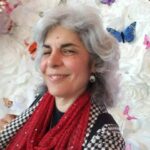 Editorial Director and Senior Writer for TileLetter and TileLetter ARTISAN
Lesley Goddin has been writing and journaling since her first diary at age 11. Her journey has taken her through a career in publishing and publicity, landing her the editor position of TileLetter and its special publications in 2006. Her goal is to educate, inspire, recognize and encourage those in the tile industry -- especially the tile and stone contractor. Other interests include the soft, purring marvels known as cats, labyrinth walking, drumming and percussion, and a range of spiritual, musical and artistic pursuits.