Wayne Olivier weathered bad advice, sought skills to grow his business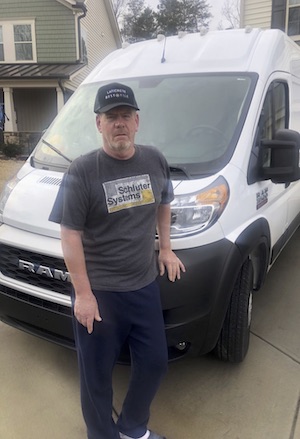 Wayne Olivier of Wayne Olivier Ceramic Tile, LLC (waynetileandwood.com) in Mebane, N.C., had early beginnings as a tile nomad, starting in business in New York in 1985, and relocating to Florida in 1997, then Hendersonville, N.C. in 2007 and finally this year moving to his current location to be close to family. What drives him is "seeing the joy on my customers' faces and surprising designers with my work," even when they initially didn't think he could "pull it off."
Olivier pointed out that in the early days – sans internet or social media – all his referrals were word-of-mouth. In 1997, his nephew helped him build his first website, but it took a few years until he could grab a significant market share. After relocating to Hendersonville he grew his reputation through work he did for Salon Blue Ridge, a local showroom that was thrilled with his work ethic and quality. "I built strong relationships with a few builders servicing the Asheville/Hendersonville area in North Carolina and business began to improve," he said. "What set me apart from the competition at that time, aside from my custom, quality work, was the fact that I could float mud, which helped with custom shower pans and setting drains."
In 2014, he started pursuing workshops at the Ceramic Tile Education Foundation (CTEF) in Pendleton, S.C., and was invited by Scott Carothers, CTEF Director of Certification and Training, to take the Certified Tile Installer (CTI) exam. He put it off for two years, but passed as CTI #1068, saying "I should have done it much sooner." He added, his CTI credential to his business which he called "a big help." He dug into education even further, attending workshops to "enhance my ability to do my own topical waterproofing, which the builders loved." Now in Mebane, N.C., he has a good relationship with Best Tile. "They have welcomed me and made me feel like family, and already sent work my way," he said.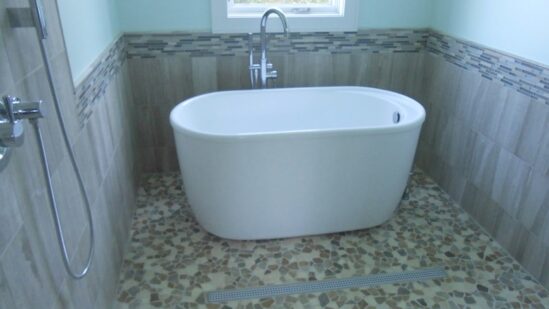 2014 was also the year he joined NTCA. His business had grown and he hired help to save his back and knees: Mikey Harwood and Matt "The Kid" Hughes. "I don't find myself to be much of a teacher, so I joined the NTCA to be able to get them the training they needed – as well as myself – on proper technique and installation procedures," he said. Always willing to travel to get the desired training, Olivier and his team attended NTCA Workshops, Crossville trainings on gauged porcelain tile, and Best Tile for waterproofing and uncoupling. "They invited us to the events, even though we were out of their area," he said. "I was amazed at how educational the workshops were, and my team and I learned a lot very quickly." The training Olivier and his team received took his business "to the next level and excelled my quality of work to new heights," he said.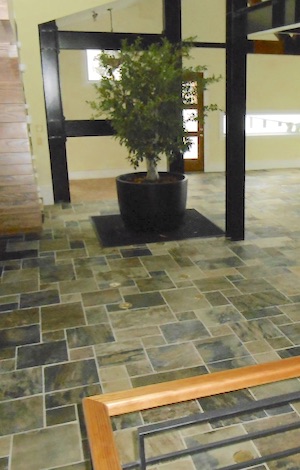 Today, as an NTCA Ambassador, his list of training attended from Crossville, Cosentino/Dekton, Schluter, and NTCA is long and impressive.
Since Olivier didn't have access to a lot of education and training when he was starting out, he is grateful for the prolific opportunities for education today's tile setters have. "I want the younger guys to seek it out and take advantage of it," he said. "Learn the right way right from the start."
He said just trying to get through to a manufacturer was a struggle – calling from pay phones and hoping they had a "contractor hot line." So, "advice" sometimes came from the supplier's warehouse – "advice" like:
Tile and grout are waterproof.
Use this cement board, it is 100% waterproof.
No worries about expansion; tile doesn't move.
This mastic is for wet areas.
Step by step instructions on how to do a "Jersey mud job".
Olivier said, "It's a good thing that times have changed. We now we have a 'computer' in our pocket that you can find answers on instantly, and send a text or make a call. And the internet is full of information. You can contact the NTCA, CTEF, and your manufacturers' reps quickly and know the correct way to do an installation."
He said this access to information is the biggest advantage of being an NTCA member, "not to mention all the great people you meet. You cannot help but raise the bar on your business."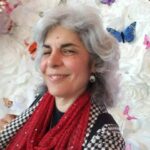 Editorial Director and Senior Writer for TileLetter and TileLetter ARTISAN
Lesley Goddin has been writing and journaling since her first diary at age 11. Her journey has taken her through a career in publishing and publicity, landing her the editor position of TileLetter and its special publications in 2006. Her goal is to educate, inspire, recognize and encourage those in the tile industry -- especially the tile and stone contractor. Other interests include the soft, purring marvels known as cats, labyrinth walking, drumming and percussion, and a range of spiritual, musical and artistic pursuits.